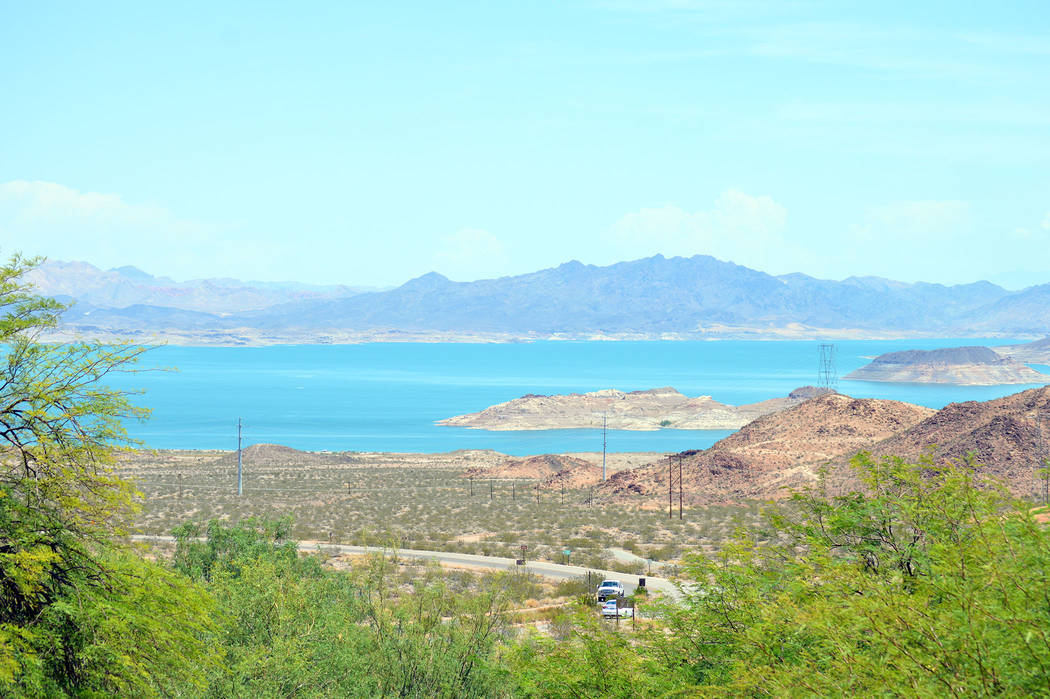 Opening date set for Interstate 11
A grand opening ceremony for Interstate 11 is set for 11 a.m. Thursday, Aug. 9.
According to Monika Bertaki, spokeswoman for the Regional Transportation Commission of Southern Nevada, the grand opening will be directly on the interstate, and the road will open to traffic later that day.
The celebration is open to the public, but reservations are required. They can be made at http://rtcsnv.com/i-11-invitation.
Construction on the 15-mile stretch of four-lane interstate began in April 2015. The highway includes interchanges at U.S. Highways 95 and 93, 10 bridges, four wildlife undercrossings, one wildlife overcrossing, an off-highway vehicle crossing and a scenic parking area overlooking Lake Mead.
Overall, the project cost $318 million, with $249.2 million coming from federal funds.
The Nevada Department of Transportation and the Regional Transportation Commission of Southern Nevada have been working simultaneously to build the first two phases of the interstate highway, which will eventually connect Las Vegas to Phoenix.
NDOT plans meetings about I-11
The Nevada Department of Transportation will host public information meetings in July and August to provide updates on corridor selection for the future Interstate 11 connecting the Las Vegas Valley and northwestern Nevada.
Northern Nevada alternatives will be discussed during a 2 p.m. meeting Tuesday at NDOT's headquarters in Carson City. It will be broadcast live on NDOT's Facebook page and by video conference at its district office, 123 E. Washington Ave., building A, Las Vegas.
Additionally, a meeting will be held from 4-7 p.m. Aug. 9 at the Santa Fe Station, 4949 N. Rancho Drive, Las Vegas. It will be an open house format, with a formal presentation starting at 5:30 p.m.
NDOT hosted a series of meetings in March to gather input on specific routes within the vicinity of U.S. Highway 95, the path the new interstate will generally follow. Each option was ranked, and that information will be presented at the meetings.
The new road corridor, designed to connect international trade through the American West, was designated in 1991. The first segment of I-11 is set to open Aug. 9.
Construction of the approximately 450-mile interstate could be phased over future decades as environmental studies are complete and funding prioritized. I-11 is envisioned as a limited-access, four-lane divided interstate.
"The future I-11 will not only further connect our state, but the entire West. It will bring enhanced mobility, traffic safety, freight and other opportunities for Nevada," NDOT Director Rudy Malfabon described.
Further information is available at I11study.com. Those unable to attend the meetings can e-mail feedback to kverre@dot.nv.gov.
Bail raised to $1 million for man who blocked dam bridge
An Arizona judge raised bail to $1 million on Tuesday, July 17, for a Henderson man facing terrorism charges for using an armored vehicle to block a bridge near the Hoover Dam.
The ruling by Judge Billy Sipe came in response to a defense motion asking him to lower the $25,000 bond for Matthew Wright, 30, in connection with the June 15 incident.
Wright's public defenders noted that Wright had no known previous criminal history and could reside with an aunt and uncle in Phoenix and commute to Kingman for hearings while his case is pending.
But Sipe saw things differently, proclaiming Wright a danger to the public and questioning his mental stability.
"I find that $25,000 is an extremely low bond for these type of cases," Sipe said, making comparisons to the Oct. 1 massacre in Las Vegas last fall and other deadly shootings at schools and churches across the nation. "I am gravely concerned with his conduct."
The judge also noted handwritten letters that Wright arranged to be sent from jail to President Donald Trump, members of Nevada's congressional delegation and local, state and federal law enforcement agencies. He told Wright that the communications certainly put him on the radar of the Secret Service, if he wasn't there already.
The letters bore the motto of a right-wing conspiracy group known as QAnon.
Wright, sporting a handlebar mustache after having shaved the beard he had when he was arrested, sat still and listened intently during the hearing and had only a couple of quiet exchanges with his attorneys.
Authorities say Wright parked his homemade armored vehicle on the Mike O'Callaghan-Pat Tillman Memorial Bridge, triggering a 90 minute barricade situation before he drove south into Arizona and was arrested after his vehicle was disabled. No one was injured in the incident, but police found an AR-15 rifle, a handgun and several magazines of ammunition in the vehicle.
Sipe noted that conviction on the terrorism charge would bring a minimum 10-year sentence and that possible punishment ranged up to life in prison. Wright is also charged with aggravated assault, unlawful flight and two counts of misconduct involving weapons.
Lake Mead marking Latino Conservation Week
Lake Mead National Recreation Area is celebrating Latino Conservation Week with a virtual film festival and bilingual activities at the Alan Bible Visitor Center, 10 Lakeshore Road.
The event, which runs now through Sunday, July 22, is an initiative of the Hispanic Access Foundation that celebrates the role of Latino cultures in conservation and stewardship.
"The films were selected to showcase the intrinsic beauty of the planet, cultural traditions and commitments to resource stewardship with the global preservation community," said Aiyesha Ghani, Lake Mead's Latino heritage intern. "They encapsulate and illustrate the journey, narrative and values that are at the core of Latino cultures as they relate to conservation of our public lands."
The film festival can be viewed on the park's Facebook account at https://www.facebook.com/lakemeadnps/.
In addition to the film festival, Ghani will join rangers at the visitor center today, July 19, to discuss volunteer opportunities, answer questions about the park and introduce some of the park's native plants. Children can also participate in a program to earn a junior ranger badge.
"As a Latina, I'm proud to share the contributions, perspectives and stories of our people with my fellow Americans," Ghani said.
Visitors are encouraged to show off their Latino Conservation Week experience by using the hashtag #LCW2018.