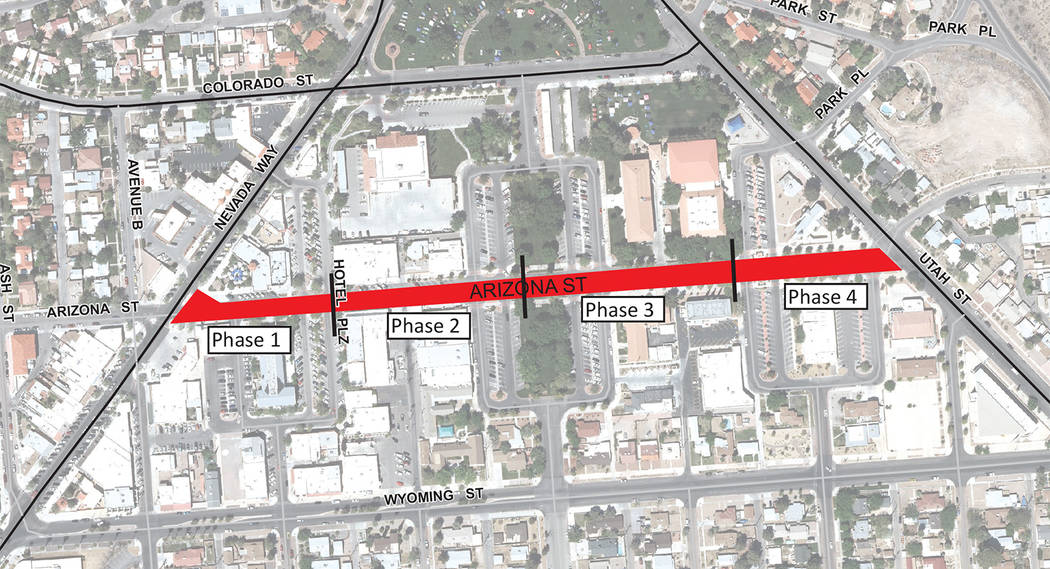 Teenager arrested for making threats against students
On Tuesday, April 24, a 14-year-old male student from Garrett Junior High School was arrested for threatening others.
Boulder City spokesperson Sue Manteris said that he was charged with making threats concerning acts of terrorism against other students. The threats were not made against the school itself.
According to the police department's dispatch report, they received an anonymous tip about the student on Monday evening. He was allegedly threatening to shoot people the next day at school, possibly during an assembly in the cafeteria. He was also telling people who he was close to not come to school the next day. The person who called in the tip heard about it through Snapchat.
The investigation is ongoing.
Arizona Street reconstruction project begins Monday night
Work is set to begin Monday, April 30, night on Arizona Street to install and upgrade utilities, concrete and asphalt paving.
The reconstruction project will be done in four phases, through four construction contracts, so the roadway from Nevada Way to Utah Street is not torn up for the duration of the project, according to the city's public works department.
The first phase, utility conduits, will go from Nevada Way to Hotel Plaza and include trenching, installation of conduits, utility vaults, junction boxes, transformer pads and temporary trench patching. Work will be done from 9 p.m. to 7 a.m.
Permanent patches will be installed as part of the concrete and asphalt phases.
The other phases will begin after the utility contractor has progressed to the point where the others won't disrupt work.
Contracts for the work requires access to all businesses and residences along the street throughout the project at all times.
Petition denied in felony case against local police officer
A petition to show the validity of why suspended Boulder City police officer Jeffrey Grasso's liberties have been restrained that was filed by his attorney Brian Smith has been denied in District Court.
In January, Grasso was indicted by the Clark County Grand Jury on 14 nonviolent felonies for allegedly exploiting and stealing from his handicapped son. He was placed on unpaid leave from the department.
In February, Smith filed a writ of habeas corpus, seeking Clark County Sheriff Joseph Lombardo to appear before the court and "return the cause" of Grasso's restrained liberties. In it, he also wrote that the state committed misconduct when it presented "an incompetent witness" to the grand jury. The witness is the victim of the crimes, Grasso's son Giulian. He suffered a traumatic brain injury in 2012 in a skateboarding accident.
Smith said the state's use of Giulian and failure to inform the jury of a prior declaration of incompetency invalidated the indictment. In its reply, filed March 5, the state said that Grasso was "confusing competence to testify with a finding of incompetency in guardianship proceeding" and Giulian's condition "was not in any way concealed" from the grand jury.
On April 9, Grasso's attorney responded and said the grand jury process can be invalidated on grounds of due process, the mental defect or derangement can create incompetent testimony, and that the jury may still not have known about the condition.
On April 18, his petition was denied. Grasso's trial is scheduled for 1:30 p.m. Aug. 6.
Committee seeks opinions about historic preservation
The Boulder City Historic Preservation Committee has created a community survey about how residents and businesses want to treat historic properties and to increase awareness of the benefits of historic preservation.
The survey asks if historical preservation creates a sense of community, attracts residents and tourists, whether it is a worthwhile goal, how it fits in with city codes and ordinances, how the city government is handling preservation efforts, and whether there should be financial incentives, among other topics.
The survey has 21 questions and has a place to add comments.
To take the survey, visit http://www.bcnv.org/612/Historic-Preservation-Survey.
Historic preservation focus of daylong event
As part of May's observance of National Preservation Month, the city's Historic Preservation Committee is partnering with the Boulder City-Hoover Dam Museum and Los Angeles Department of Water and Power to present a Historic Preservation Day. Scheduled for May 12, the day will include speakers, lunch, a survey about historic preservation and a tour of the historic Six Companies Lodge that overlooks Lake Mead.
The event will begin at 9 a.m. with registration at the Department of Water and Power Building, 600 Nevada Way. Tours are scheduled to start at 10 a.m. and the day's activities will conclude at 4 p.m.
Among those scheduled to speak are Mark Hall-Patton, administrator of the Clark County Museum; Dennis McBride, director of the Nevada State Museum; Leslie Woodbury, development officer of the Boulder City-Hoover Dam Museum and Alan Stromberg, a local architect. Heidi Swank, a Nevada assemblywoman and executive director of the Nevada Preservation Foundation, will serve as moderator.
There is no cost to participate, but advance tickets are required for the tour of the lodge.
Additional information will be available on the city's website, www.bcnv.org, in the near future.