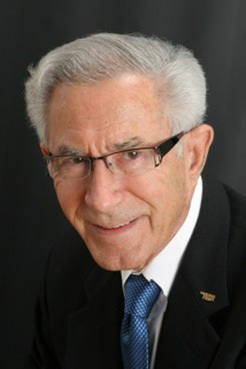 Holocaust survivor to speak at high school
Holocaust survivor Ben Lesser will speak at Boulder City High School Tuesday night. He will speak about his experiences living in the ghettos of his native Poland and his time in the Auschwitz, Buchenwald and Dachau concentration camps.
Lesser was born in Krakow, Poland, in 1928. Out of his immediate family of seven, only Lesser and an older sister survived.
He came to the United States in 1947 and settled in Los Angeles, where he met and married his wife, Jean, in 1950. They have two daughters, four grandchildren and one great-grandchild.
He became a Realtor and retired in 1995, moving to Las Vegas where he has devoted his time to sharing his experiences at schools and colleges. His presentation will begin at 6:30 p.m. in the gymnasium and is expected to take approximately two hours.
There is no charge to attend and all are welcome.
Lesser will have copies of his book, "Living a Life that Matters: From Nazi Nightmare to American Dream," for sale in the lobby. Additionally, donations will be accepted and given to Lesser's Zachor Holocaust Survivor Foundation, which aims to continue spreading the word about the Holocaust so that future generations will be inspired "to recognize, combat and ultimately extinguish the hatred that breeds genocide."
Farmers market returns to senior center
A weekly farmers market is returning to the Senior Center of Boulder City starting May 13.
The Green Chefs Farmers Market will be open from 8 a.m. to noon each Friday featuring a variety of local and regional produce, plants, flowers and herbs. There also will be homemade baked goods, as well as gardening workshops and cooking demonstrations.
The market accepts cash, credit, debit and EBT (SNAP).
The farmers market is sponsored, in part, by www.cowgirlcrunch.com.
The senior center is at 813 Arizona St.
For more information, visit www.thegreenchefs.com.