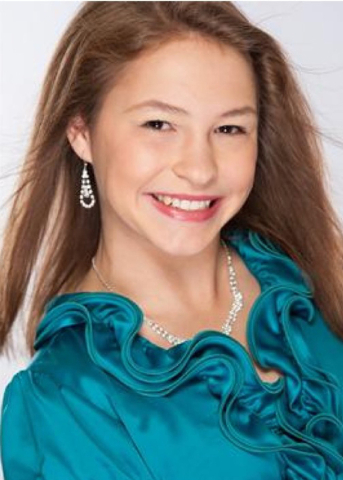 BC teen seeks Miss Nevada's Outstanding Teen crown
Taylor Blatchford of Boulder City, daughter of Doug and Cindy Blatchford, will compete for the title of Miss Nevada's Outstanding Teen at the Las Vegas Academy Lowden Theatre May 31 and June 1. Blatchford, an eighth-grader at Greenspun Junior High School in Henderson, holds Miss Boulder City's Outstanding Teen title.
At the pageant, Blatchford will compete in interview, talent, fitness, onstage question and evening gown. She will play the violin for her talent presentation.
If she wins the state title, she will represent Nevada in the Miss America's Outstanding Teen Pageant in Orlando, Fla., in July.
Blatchford, who has played the violin for 10 years, is a member of the advanced orchestra at her school, as well as having performed two years in the school district's Middle School Honor Orchestra and four years with Las Vegas Youth Orchestras.
As part of her commitment to volunteer service, Blatchford has created a charitable platform entitled ArtsSmartYouth with the goal to collect 1 million pennies in Southern Nevada to assist underprivileged young musicians in paying for private lessons and participating in youth orchestras.
Additionally, she is a member of the National Junior Honor Society and attends St. Andrews Catholic Church. A self-taught Miss America trivia expert, Blatchford said she aspires to obtain a degree in finance and become CEO of the Miss America Organization one day.
Tickets for the Miss Nevada Pageant are available at www.missnevada.org, with talent competitions for both teen and miss contestants taking place at 3 p.m. May 31 and the finals at 3 p.m. June 1.
Bad fuse causes brownout
A blown fuse caused a brownout that affected thousands of people in Boulder City for nearly an hour Monday morning.
According to Rory Dwyer, Boulder City electric utility administrator, the city first experienced the problem at 8:37 a.m. when a 69,000-volt fuse went out at one of the city's electrical substations near Adams Boulevard and Avenue B.
Two-thirds of residential customers in the area near the substation had their electrical power cut in half until 9:24 a.m. Dwyer cited old age as the reason for the blown fuse. He also said the 50-year-old substation is one of the oldest in Boulder City.
The fuse was replaced.