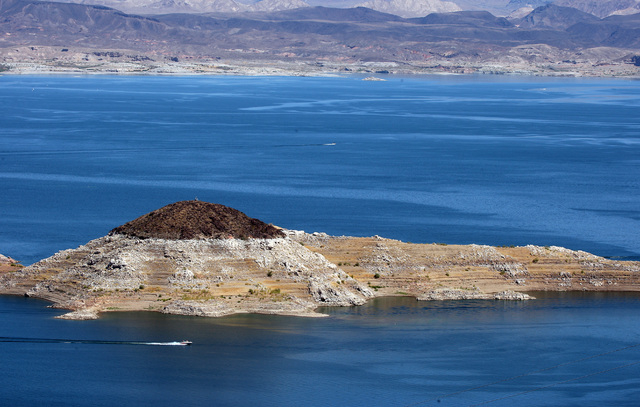 Woman connected to 2013 burglaries sentenced
A local woman who pleaded guilty to three charges of burglary in March in connection with a rash of robberies late last year was sentenced Monday in District Court.
Alyssa Koligian, who has already served 60 days in Clark County Detention Center on other burglary charges, received three concurrent sentences of 16 to 72 months, which were suspended. She was placed on probation for no more than three years and was ordered to continue with a counseling and vocational training program.
In addition, she was ordered to pay $178 in restitution for court costs.
Hacienda owner purchases casino in Laughlin
For the second time in less than a year, the Las Vegas-based parent company of tavern operator Dotty's has bought an underperforming hotel-casino in Southern Nevada.
Nevada Restaurant Services Inc. announced last week it was paying $6.75 million to buy the River Palms in Laughlin from Atlantic City-based Tropicana Entertainment. The deal is expected to close in September.
Last fall, the company acquired the Hacienda for an undisclosed price. The 289-room hotel-casino closed for a week in December and is being renovated. It will be renamed the Hoover Dam Lodge.
In a statement, Nevada Restaurant Services said it would close the River Palms for an undetermined time period while the 1,000-room resort is renovated.
"Nevada Restaurant Services is excited about the opportunity to operate the River Palms in the Laughlin market," President Craig Estey said in a statement.
The company did not announce specific plans for the River Palms, which was built along the banks of the Colorado River by Laughlin developer John Midby. The property, which includes a 25-story hotel tower, has had several owners since it opened in 1984.
The casino has 600 slot machines, 13 table games and a sports book operated by William Hill. The River Palms was originally operated as Sam's Town Gold River by Boyd Gaming Corp. until 1991.
Nevada Restaurant Services operates more than 80 Dotty's taverns statewide.
Man's body recovered at Lake Mead
The body of a Las Vegas man who went missing at Lake Mead about 9 p.m. July 2 was recovered less than 24 hours later, according to the National Park Service.
The Clark County coroner identified the man as 36-year-old Shayne Robert Baker. According to the Park Service, Baker was found about 12:30 p.m. July 3 at Calville Bay Marina.
Witnesses told emergency personnel that the man was not wearing a life jacket when he disappeared July 2, according to the Park Service.
Park Service spokeswoman Christie Vanover said there were six boating call for assistance during the Fourth of July holiday, but no deaths were reported over the weekend.
Lake Mead dropping even more
Drought in the Southwest is depleting Lake Mead to levels that haven't been seen since Hoover Dam was completed and the reservoir was filled in the 1930s, according to a report from The Associated Press.
U.S. Bureau of Reclamation officials in Nevada said Tuesday the water level at the reservoir serving Las Vegas, Phoenix and Los Angeles should be about 1,080 feet above sea level by November.
That will be below the 1,082 feet recorded in November 2010, and below the 1,083 feet in April 1956 during another sustained drought, AP reported.
The lake level is a little under 1,082 feet, and 39 percent full.
Bureau regional chief Terry Fulp says water deliveries will be met this year and next year to cities, states, farms and Indian tribes.
Dispute over land needed for bypass resolved for $4.6 million
CARSON CITY — An eminent domain dispute over land needed for the Boulder City bypass was resolved Tuesday when the state Board of Examiners approved a $4.6 million payment for the property, far less than the last $33 million demand from the landowner.
The settlement for 3 acres of the Jericho Heights property in Henderson was approved on a 2-0 vote by the board, which includes Gov. Brian Sandoval.
The owner had at one time valued the land at more than $100 million. The state initially valued the 3 acres at less than $1 million.
The state needs the parcel for the first phase of the bypass to Railroad Pass.
There is still an anticipated financial settlement for mineral rights, but the amount is expected to be modest.
Work on the bypass is on hold while a company tests for naturally occurring asbestos identified as being in the construction zone. The firm, Tetra Tech, received a $500,000 contract to perform the testing, which is expected to be completed in August.
Park Service reports 70 distress calls during storm
National Park Service rangers and other emergency personnel conducted multiple search and rescues at Lake Mead Tuesday after a thunderstorm formed over the Boulder Basin.
The storm began around 3:45 p.m. and created 5-foot waves and reports of 8-foot swells. The Lake Mead Interagency Communication Center received more than 70 distress calls from boaters, 11 of which required rescue. As of 10:30 p.m., all of the groups had reportedly made it to land.
One vessel sank during the storm.