New utility rates begin Saturday
September 28, 2016 - 2:07 pm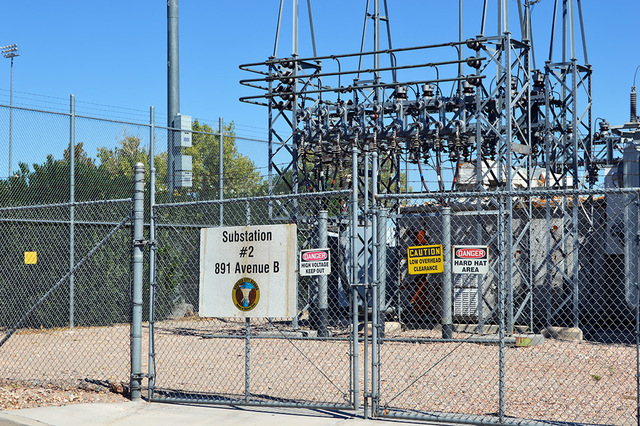 Boulder City residents will be paying more for utilities next month as rate increases go into effect Saturday.
The Boulder City Council voted to raise rates for water, electric and sewer at a five-hour meeting in May. It was the first time the council had raised utility rates since 2009.
During the meeting, the City Council voted for a 7 percent increase in electricity rates over the next four years and a 17 percent increase in water and sewage rates over the next three years.
The rate increases will not show up on utility bills until November.
"We are billing for the utility cost from the month before," City Manager David Fraser said. "So the new rates start in October, but you won't see it on your bill till November."
The city is hosting a utility rate workshop from 5-7 p.m. Wednesday at the Elaine K. Smith Center, 700 Wyoming St., as a way to help educate people about the rate increases. The workshop will provide information on why the council decided to raise rates and help citizens better understand how the new rates will affect them.
"The workshop is supposed to give people a setting to ask questions about the new rates," Fraser said. "We will have stations that are there to help you learn how this is going to affect your bill."
Fraser particularly was excited about an energy-assistance booth that would help people apply for programs that can help shave some money off of their bill each month.
"We want people to visit the energy-assistance station we have, and hopefully that will help a few people," he said.
Councilman Cam Walker was the only person to vote against the rate increases, but since they are coming he said making the process as painless as possible was the city's top priority.
"I didn't want to raise rates. I wanted to step back and talk about it more," Walker said. "But since the new rates are here, we need to take the time to let people know what is going to be on their bills and how much energy they are using to help them conserve."
The city is working on a plan to add charts to utility bills to let people see a visual representation of how much energy they use each month.
"We actually used to have graphics that showed everyone how much energy they were using from month to month, but the new billing system we had did not allow us to do it," Fraser said. "Bringing back a chart on your bill is something we are working on."
The city is posting notices on this month's electric bills and has answers to a list of frequently asked questions on its website, http://www.bcnv.org/faq.aspx?TID=39.
Contact reporter Max Lancaster at mlancaster@bouldercityreview.com or at 702-586-9401. Follow him on Twitter @MLancasterBCR.