New signs on interstate expected to help boost city's economy
October 17, 2018 - 4:53 pm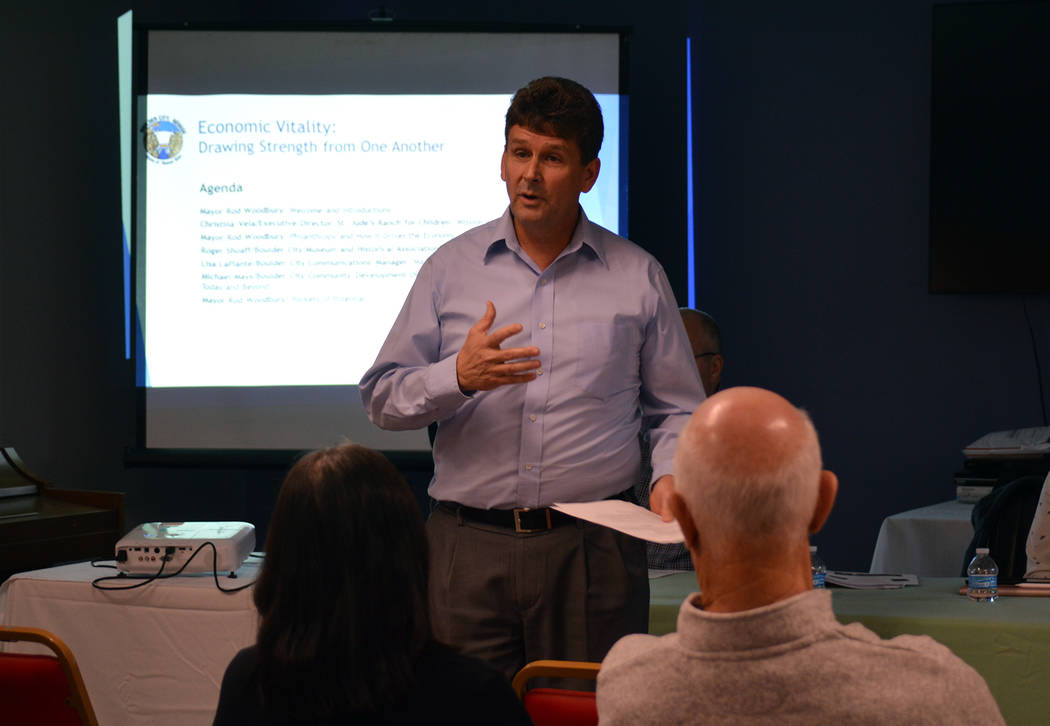 More signage will be added to Interstate 11 by the end of the year to highlight ways into town, a city official said at a recent town hall meeting.
Since the 15-mile stretch of interstate running from Henderson to Hoover Dam opened in August, the Nevada Department of Transportation and the Regional Transportation Commission of Southern Nevada have received complaints about confusing signage along the roadway.
The interstate bypasses Boulder City, and people have complained that it should have more signs directing people into the city.
Michael Mays, Boulder City's community development director, said he discussed enhanced signage on the interstate with representatives from NDOT, which agreed about the need to help direct drivers. The signs are expected to begin being placed in December.
Mays was one of several presenters at Mayor Rod Woodbury's town hall meeting about economic vitality Monday, Oct. 15, at St. Jude's Ranch for Children.
"The city of Boulder City is working with RTC and NDOT on enhancing the current signage," said Lisa LaPlante, communications manager for Boulder City. "Materials have been ordered and will be installed as soon as they are available. We have been told the latest would be in December."
LaPlante also said the signs will be installed at no cost to the city.
In a joint statement, Tony Illia, public information officer for NDOT, and Monika Bertaki of RTC said the organizations are implementing a supplementary signage plan that clearly designates directions to Lake Mead National Recreation Area and Hoover Dam as well as Boulder City, Kingman and Railroad Pass, among other areas.
According to plans submitted to the city by NDOT and RTC officials, several signs will be replaced with new ones. Some new signs also will be installed.
The one that says "Lake Mead Hoover Dam via Boulder City Parkway EXIT 15B" will be replaced with one that says "Lake Mead/Hoover Dam USE EXIT 2; Via Historic Boulder City Next Exit."
The sign on the overpass that says "Railroad Pass Casino Rd ¼ MILE" will be replaced with one that says "I-11 U.S. 93 U.S. 95 South Kingman." Additionally, a new ground sign that says "Exit 15A Railroad Pass Casino Rd ¼ MILE" will be put up.
"Boulder City" will be added to the signs for Exits 2 and 14. Signs noting the distance to Kingman and Phoenix will be added, as will ones that give the distance to Henderson and Las Vegas.
At Monday's meeting, Mays discussed future initiatives the city is planning to boost its financial health, such as implementing an economic development plan, streamlining the business license process, resolving building permits remotely and streamlining Redevelopment Agency grant applications.
He said there are plans to hire an economic development coordinator, employ a full-time permit technician and let people apply for building permits online.
The panel included Christina Vela, executive director of St. Jude's Ranch for Children, who spoke about its mission and goals; LaPlante, who spoke on ways Boulder City is being marketed, including staff training and a video for social media to be released soon; Woodbury, who spoke on new ways Boulder City can reach local tourists; and Boulder Dam Hotel Manager Roger Shoaff, who spoke on adaptive reuse options for historic buildings.
Shoaff said adaptive reuse can be the most cost-effective and sometimes the only way to preserve historic structures. During a question-and-answer period, one attendee asked him about the city-owned old water filtration plant on Railroad Avenue and how a new function for it could be found.
"That's a perfect fit for an adaptive reuse," Shoaff said, noting the first step would be to contact the Nevada State Historic Preservation Office and get a free assessment of the property.
"They will tell you what you can do to keep the historicness of the building," he said.
Because the building is city owned, Shoaff encouraged city officials to be a part of the assessment process.
Contact reporter Celia Shortt Goodyear at cgoodyear@bouldercityreview.com or at 702-586-9401. Follow her on Twitter @csgoodyear.