New power lines spark controversy; costly underground installation prompts city to propose unsightly solution
February 22, 2017 - 2:49 pm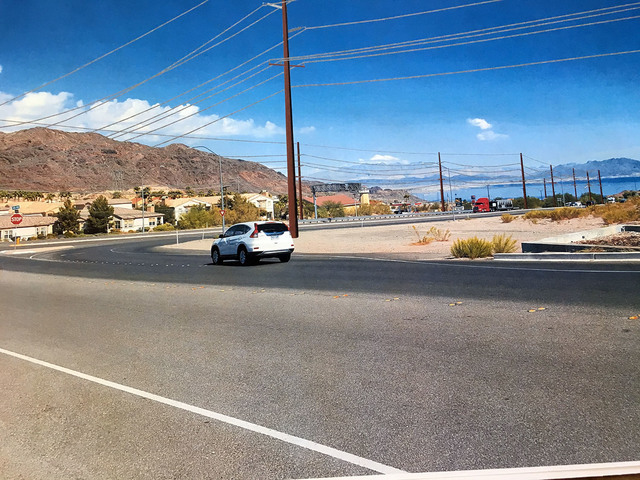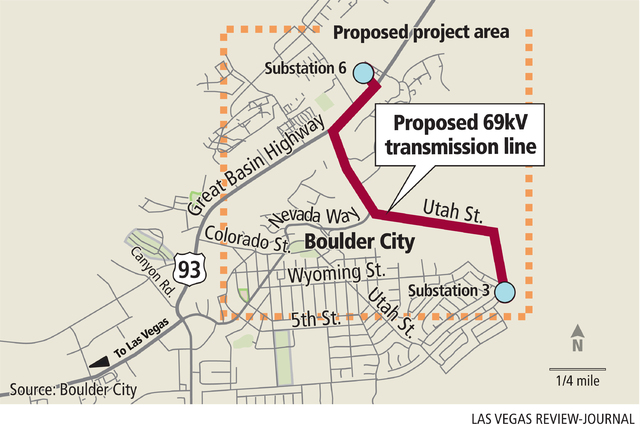 Increased power capabilities for the community may add power lines to the view of Lake Mead along Boulder City's scenic loop as above-ground power lines on Nevada Way and Avenue I could be installed.
Currently, Boulder City has one 69kV transmission line and if this line experiences any outages, residents could be without power. Adding a second line would increase electrical service reliability, officials say.
According to Public Works, the proposed route will be 3.1 miles long and will connect Substation 3 near Adams Boulevard and River Mountain Avenue with Substation 6. The power line will be all overhead steel electric poles, which will be approximately 300 feet apart and range from 60 to 80 feet high.
The estimated cost of the project is $6.17 million.
The city is researching the cost to put the lines along Nevada Way and U.S. Highway 93 underground, but it could cost up to 10 times more than being above ground.
"Industry standards are to construct 69kV transmission lines above ground, as underground is very expensive for this voltage," said Public Works Director Scott Hansen. "To be fiscally responsible with the city's utility fund, I will recommend we follow industry standards."
Some residents do not agree with using above-ground power lines and have created a "Save Historic Boulder City" petition to oppose Hansen's recommendation.
"Don't destroy Boulder City," said Cokie Booth, a Realtor and Boulder City resident. "Do the right thing by Boulder City."
Booth organized the petition along with resident Tom Perkins.
"We shouldn't be taking the cheapest route possible," she said. "We should do the most cost-effective way … and do it the right way."
Booth, a member of the city's planning commission, suggests that by rezoning a parcel behind the old airport from commercial recreational to residential for affordable housing, the city's tax revenue could be increased and help pay for the underground lines.
It's not low-income housing; affordable housing is the low 200,000s to high 300,000s, she added.
Booth believes making that area residential also will benefit the community and bring in more families and kids to the city.
"It makes us more diverse and helps pay for the underground lines," she said. "It's about the community. I always try to do the right thing by my community. I think this is the right thing."
Boulder City Councilman Cam Walker said he believes other funding options should be explored.
Walker wants to see if the city can connect to NV Energy on the property on the lake side of the project to the Del Prado neighborhood.
"We can connect to Del Prado and have a loop. … We'll see if it will work even for just a few years to raise the money for the underground lines," he said.
According to Walker, the last time the city use NV Energy's power lines, it tried to run the whole city off of it, which didn't work. This time, however, it would be used for just that side of the valley.
Walker isn't sure of the specifics of this possible partnership, but he's still optimistic about reaching out to the company.
"I don't know how much it will cost," he said. "But we won't know until we have the meeting."
Boulder City will eventually need the 69kV transmission line, but it would be great to have it on the city's 10-year capital plan and raise the money until then, he added.
According to Title 9 of the Boulder City code, underground installation of power lines is required for new transmission lines, as the poles used or designed for carrying wires for the transmission or distribution of electrical energy are declared a nuisance and shall be unlawful.
The city could authorize the above-ground poles because they will be operating at a voltage higher than 60 kV, which is permissible under the city code.
In terms of the project time line, Hansen said if everything proceeds smoothly, it could be completed in early 2018.
"In April and May, City Council will be voting on the tentative and final budget for (fiscal year) 2017-18," he said. "Staff will be asking for construction funding as part of the budget. Council will also vote on the bid award that is tentatively planned for August."