New city manager gives, gets praise for job, community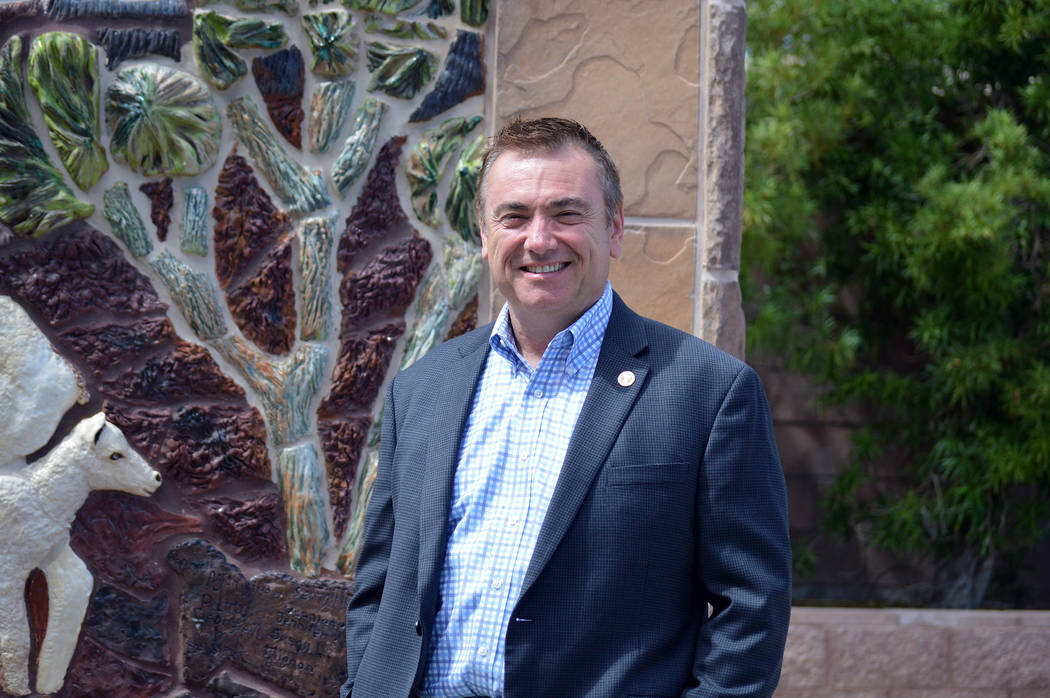 Boulder City's new city manager has been on the job for almost three months, and so far one of his favorite parts of it is the spirit of the town.
"The sense of community, the advocacy and citizen involvement, you don't see that in many communities," said City Manager Al Noyola, who started his new position in March.
Noyola said engagement is actually helpful.
"Most city leaders want that because it helps them make decisions," he said. "It's refreshing to see advocacy."
Since starting, he has been getting acclimated by meeting with staff and community leaders. He said it was "refreshing" when they welcomed him to town.
"The staff was full of optimism about the city and the organization and have a large desire to serve," he said.
He said he was also impressed with the staff's and community's pride in Boulder City.
"Their pride of ownership is evident throughout town," he said. "They are engaged in the community. The staff keeps the city pristine."
"Mr. Noyola has demonstrated to me both the ability to take decisive action when necessary and to reserve judgment when additional information is needed," said City Councilman Kiernan McManus. "He has been open to listening to other points of view. That is a quality that is especially needed in Boulder City. While Mr. Noyola has less than 90 days on the job, he has made real efforts to understand the qualities that make Boulder City the special place we enjoy calling home."
"My favorite part about working with Al is that he recognizes the importance of each individual employee and their contributions toward a unified team," said City Attorney Steve Morris. "He strives to create a working environment where each employee is appreciated and their efforts are recognized."
In addition to learning about the city and his new role in its leadership, Noyola has taken on some larger projects, including working with staff to change the budget to allow for 17 new full-time positions and ways to improve communication with residents.
Mayor Rod Woodbury said he was pleased with Noyola's work on the budget, which the City Council unanimously approved May 22.
"I love the way he took a fresh look at both the process and the product, refusing to simply accept the status quo," he said. "Of course, he didn't do it all on his own. But a good leader energizes others to help get the job done efficiently and effectively while still maintaining control of the process and the outcome. And that's just what Al did in this case."
One of the new full-time positions is a communications manager, which Noyola sees as a "linchpin" to ensure the city is proactively communicating with the community.
He said the manager will assist the council in engaging the citizenry with frequent and open communication, including news releases and social media updates as well as additional town hall meetings.
"Part of that is looking at the organization as a whole — how we deliver the city's information, like the budget," he said. "It needs to be understandable. … If not, we've missed getting it to the community in that way. We've missed that mark."
Even with his short amount of time with the city, council members are pleased with his work.
"I think Mr. Noyola has done an excellent job of building a cohesive team among staff and employees," said Councilman Warren Harhay. "He is enthusiastic, optimistic, gregarious and yet driven in his management approach. His insight into the challenges that Boulder City faces is of real value as it comes from someone outside Boulder City government without bias or prejudice."
"I think he's doing great," said Councilwoman Peggy Leavitt. "I think he's providing outstanding leadership. He has high expectations of staff, but he gives them support. … I appreciate that he brings fresh eyes to the job and tries new things."
Contact reporter Celia Shortt Goodyear at cgoodyear@bouldercityreview.com or at 702-586-9401. Follow her on Twitter @csgoodyear.