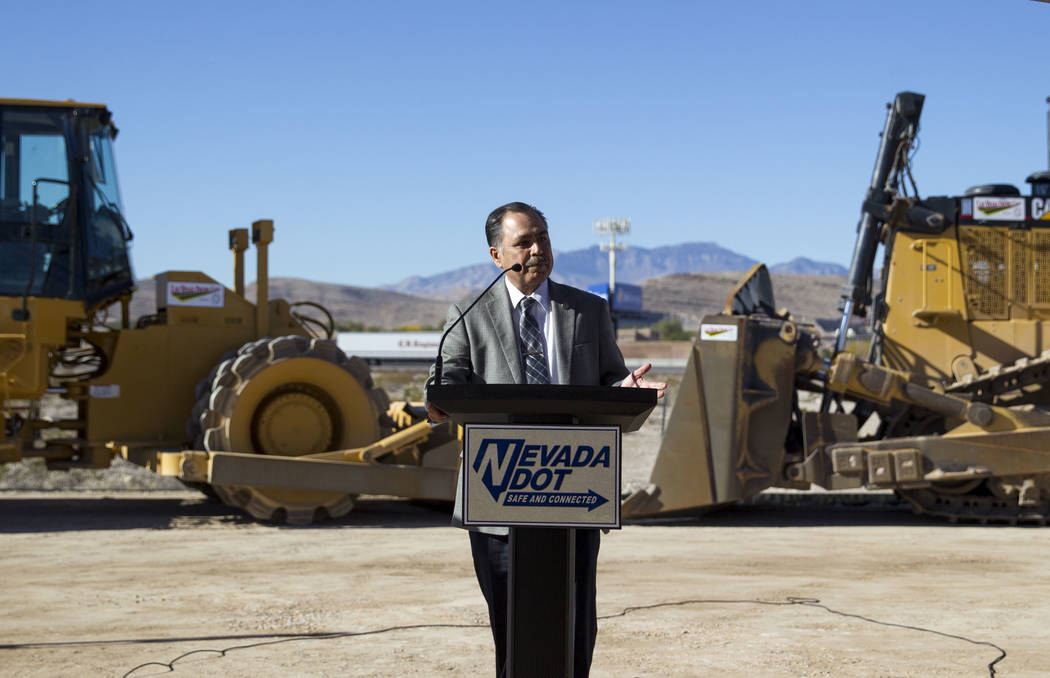 The Nevada Department of Transportation is going on a road trip this month to discuss Interstate 11, with the first stop scheduled for Las Vegas.
The six-city tour is aimed at explaining the importance of building the new freeway and gathering public input on where I-11 should be routed north of Las Vegas.
"A lot of people get excited about I-11, and rightly so, because it is a game-changer for economic vitality and freight mobility and safety," NDOT Director Rudy Malfabon said during the agency's board meeting Monday.
The first meeting is set for 4-7 p.m. Tuesday at Santa Fe Station.
The meetings are being held one month before construction wraps up on NDOT's 2.5-mile concrete section of the freeway near Boulder City. The agency has gradually opened sections of the freeway over the past nine months just south of Henderson. The final chunk, set to open in April, will allow southbound I-11 drivers to merge onto southbound U.S. Highway 95 to Searchlight.
The remaining 12.5-mile asphalt segment headed to the Colorado River is scheduled to open to traffic by October, the Regional Transportation Commission of Southern Nevada said.
The $318 million freeway segment, known as the Boulder City bypass, is funded by federal and state money along with Clark County's fuel revenue indexing tax. Construction started in April 2015 with work split between NDOT and the RTC.
On a large scale, I-11 is expected to ease cross-border trade from the Mexico border to Canada by running through Arizona, Nevada and Idaho.
State transportation officials in Arizona are completing an environmental study for its portion of I-11, and actively seeking construction funds, said Sondra Rosenberg, NDOT assistant director of planning.
Meanwhile, NDOT is conducting a $5.3 million study of the Las Vegas Valley's freeway corridors, including the next segment of I-11. Three proposed routes are under consideration:
n West on the 215 Beltway, linking to a new connection with U.S. Highway 95.
n North on U.S. 95 through the Spaghetti Bowl freeway interchange to the northwest end of the valley.
n Build a new freeway running from the Lake Mead National Recreation Area past Frenchman Mountain — about 8 miles east of Las Vegas — before emerging at Interstate 15 to connect with the 215 Beltway and west to U.S. 95.
Contact Art Marroquin at amarroquin@reviewjournal.com or 702-383-0336. Follow @AMarroquin_LV on Twitter.
Interstate 11 public information meetings
All meetings will be held from 4-7 p.m., except Carson City
■ March 20: Santa Fe Station, Centennial B Ballroom, 4949 North Rancho Drive, Las Vegas
■ March 21: Tonopah Convention Center, 301 Brougher Ave., Tonopah
■ March 22: Hawthorne Convention Center, 932 E St., Hawthorne
■ March 27: Fallon Convention Center, 100 Campus Way, Fallon
■ March 28: Grand Sierra Resort, Crystal Room, 2500 E. Second St., Reno
■ March 29, 2-5 p.m.: NDOT Headquarters, Third-floor conference room, 1263 S. Stewart St., Carson City, with video conference available at the NDOT district offices in Las Vegas, Elko and Winnemucca.
Source: Nevada Department of Transportation