Music will play on until 11 during block party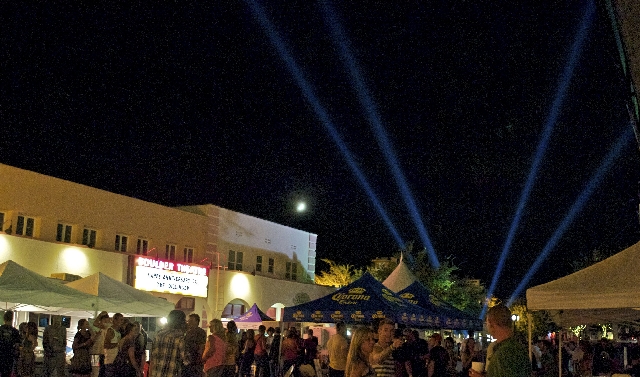 When The Dillinger Food & Drinkery block party starts creeping on into the night Saturday, organizers will not have to worry about the event's music being shut down prematurely.
Unlike the Dillinger's inaugural block party in September, where police shut down the last band around 10 p.m. after receiving noise complaints, organizers have a guarantee from police that bands will be allowed to play until 11 p.m.
(Full disclosure: It was this reporter's band that was cut off last year.)
The problem that the Dillinger encountered last year had less to do with the volume of the music than the fact that the city's noise ordinance is, according to many city officials, vague and in need of a revision.
"We don't have a clearly defined (noise) ordinance," City Attorney Dave Olsen said.
The city's basic noise ordinance, adopted in 1960, simply states, "No person shall make or cause to be made any loud, disturbing or unnecessary sounds or noises such as may tend to annoy or disturb another in or about any public street, alley or park or any private residence."
In 1990 an ordinance was adopted preventing one from playing music from "any portable, motor vehicle or any other audio equipment" at a level that can be heard by "a person of normal hearing" at a distance of 75 feet or more. There is an exemption for special events in parks.
And that is it.
Without a clearly definable noise ordinance, interpretation has fallen into the hands of the police.
"It's informal enforcement of a very vague ordinance," acting Police Chief Bill Conger said.
Although an officer could cite someone for using a lawn mower, Conger said he has advised officers to be "reasonable" in their approach to enforcing the noise ordinance.
Dillinger owner Grant Turner said that when he opened his business in 2011, he was told by a city official that he could only have loud music outdoors until 10 p.m.
His business has obeyed that rule, and has never received a noise complaint at a regular Dillinger outdoor concert.
Even though he now knows that there is no definitive band cutoff, he said he still plans to end outdoor music at 10 p.m. during regular Dillinger concerts.
"Its in my best interest to keep everybody happy," he said. "That's how I make my living."
At last year's block party, Turner was told by police that the bands could play until 11 p.m. if there were no noise complaints, but that the music would be shut down after 10 p.m. if there were complaints.
However, Turner said the Dillinger made a special request and was able to get it in writing that the block party could have music until 11 p.m. this time.
Boulder Dam Brewing Co. owner Todd Cook said that on weekends his business typically allows bands to play outside until 11 p.m., a time he said he based on how late bands play at Boulder City festivals.
He said he has received citations in the past for noise ordinance violations, but he has not received any noise citations recently.
The citations he did receive were not prosecuted, he said.
The ordinance is "so vague and undefinable, it's unenforceable," he said.
Police and business owners have seemingly reached an informal agreement in regard to the noise ordinance where bands are allowed to play outside until 10 or 11 p.m.
However, according to City Manager David Fraser, there have been complaints about loud music from downtown businesses at the city level, and there are plans to revise the ordinance.
The noise ordinance also became a topic of debate at Tuesday's City Council meeting, when residents complained about the possible noise from a new event center Turner plans to open on California Street.
"I should not have to listen to anyone else's music in my backyard," said former Clark County Sherriff Jerry Keller, who lives in the downtown area.
Keller said he hopes the ordinance will be clearly defined, because it currently supports "positive reinforcement to negative behavior of loud music."
Fraser, who has played in rock bands, said he understands both sides of the issue and hopes to bring a draft of a new noise ordinance to the City Council in the next month or so.
City Councilman Rod Woodbury said Tuesday he hopes a new noise ordinance "helps businesses, police and makes it so we don't have these complaints."