Museum drawn to pair's sketches
January 23, 2014 - 5:10 am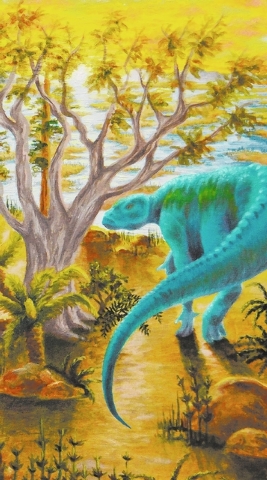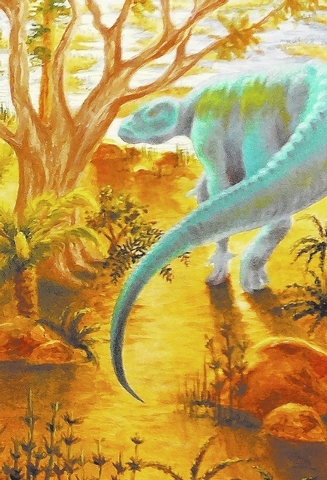 When Daniel Trujillo and Tiffany Pereira first met at The Dillinger restaurant two years ago, the artists got to know each other by sketching, together on a piece of paper, a fire-breathing monster with sharp teeth, wearing a suit and tie.
Today, the local couple in their mid-20s are still drawing monsters, but real ones that will be seen by many more than just the waitress. Their latest painting, featuring dinosaurs, is scheduled to be unveiled Saturday at the Nevada State Museum, Las Vegas, during an opening ceremony for the permanent exhibit Southern Nevada's First Dinosaur Discovery.
The exhibit features important fossil evidence of dinosaur and plant remains discovered in Southern Nevada in 2005.
Titled "Morning After the Storm: A Cretaceous Floodplain Comes Alive," the 2-foot-by-4-foot painting depicts 19 different plants and animals that paleontologists believe inhabited Southern Nevada 100 million years ago. The painting was commissioned last year by the museum after one of Pereira's friends who worked there told her it was seeking a dinosaur painting to accompany the exhibit.
As it turns out, the museum asked the right person. The Henderson-based Trujillo, who grew up in Boulder City, and Pereira, who lives in Boulder City, had already been painting dinosaurs.
"They actually sent her a message asking if she knew anyone who was good at painting dinosaurs, and ironically we were studying dinosaur images because we were working on a dinosaur art piece at that time anyways," Trujillo said.
However, the job required much more research and attention to detail than the couple's previous works.
"We asked them what they wanted. They told us these specific dinosaurs and this specific landscape," Trujillo said.
The museum assisted the artists by allowing them to study fossils from its collection.
"The museum took us into their archives, and they do have quite a bit of fossils from that time period on display in the museum," Pereira said.
Throughout the sketching process, which took about six months, the painting was reviewed for accuracy by the museum's paleontologists.
"The lead paleontologist was quite picky about how the landscape looked," Pereira said.
The work was divided with Pereira, who has an environmental science background, focusing on the plant life, and Trujillo focusing on the dinosaurs.
"A lot of my stuff came first with the landscape and the background," Pereira said. "I worked on it initially, then it got to the point where he could start doing his thing."
Trujillo said making the different painting styles match was the most difficult part.
"Normally when we work on something, we don't have to make things blend together as well. But in that case we definitely had to," he said.
The entire process took 160 hours, twice the amount of time the artists agreed to be paid for, Pereira said.
"He likes having things done right, as do I," Pereira said.
It also helps that the couple both had a unique passion for the project. Like many boys, Trujillo grew up interested in dinosaurs, he said.
"I always had a fascination with dinosaurs and I never let go of it," he said. "To me they're a reminder of we haven't been on this planet that long, and there were bigger, scarier things out there than bears and sharks and the things people consider scary now."
Pereira, who grew up in Southern California, said she has always dreamed of having a scientific illustration in a museum.
"It's always been a dream of mine, since going to natural history museums in Los Angeles," Pereira said. "I've been very interested in scientific illustration … to be able to combine my love of science and art in a way that's professionally commissioned and have it up in a museum for other people to view and learn from, it means a lot."
Trujillo and Pereira will be in attendance at the exhibit opening and will sign a limited number of posters of their painting. The posters, as well as postcards, will be free to the public.
One day, the painting may even be turned into a coloring book and sold in the museum gift shop, according to the museum's curator of natural history, Sali Underwood.
"One of the things I really want to do is make it into a coloring book, because it's so detailed and as you look at it more and more, you find more little things you didn't see before," Underwood said.
The opening, scheduled from 1-4 p.m., also will feature a 1 p.m. talk about dinosaur fossils in Nevada by University of Nevada, Las Vegas paleontologist Steve Rowland.
The museum is at 309 S. Valley View Blvd., at the Springs Preserve.
To view more of Trujillo and Pereira's work, visit www.featherdotproductions.wordpress.com.