More of I-11 near town to open ahead of schedule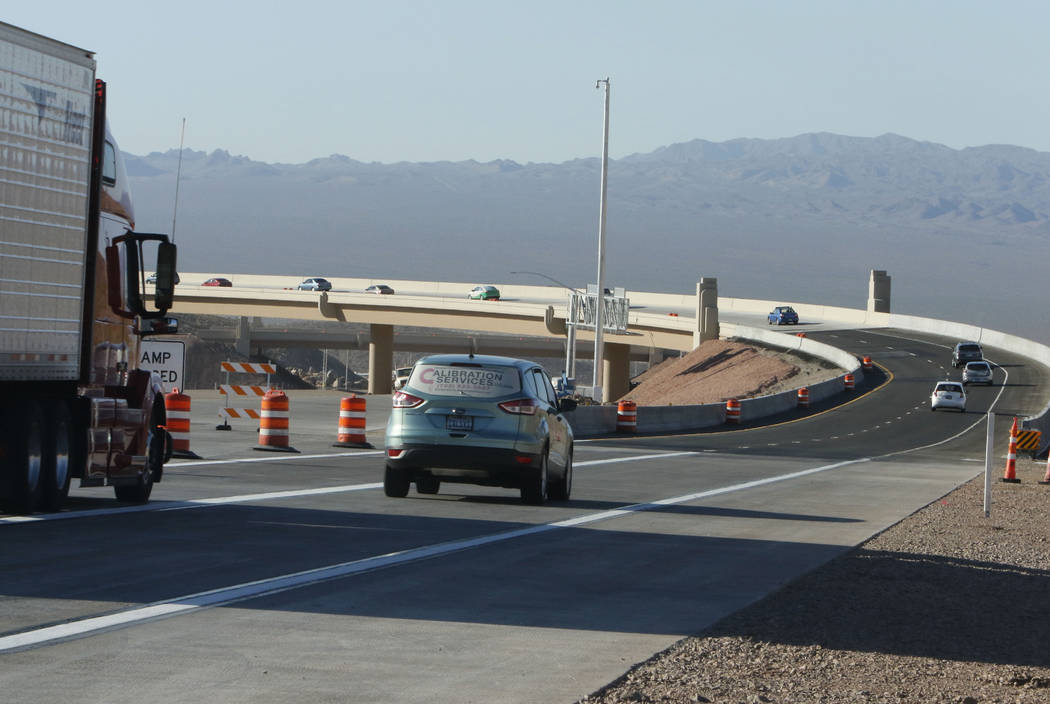 Motorists will be able to get from Henderson to Hoover Dam a little more quickly by late July, when more of Interstate 11 opens three months ahead of schedule, transportation officials said Monday.
As the first addition to the federal interstate highway system since 1992, I-11 signals the start of a freeway project that's expected to someday serve as a major trade route linking the United States, Canada and Mexico.
For now, the new four-lane highway, known as the Boulder City Bypass, is expected to reduce travel times by up to 30 minutes once traffic starts flowing between Henderson's southern border and O'Callaghan-Tillman Bridge downstream from Hoover Dam.
"While we obviously have some ways to go to completely build out I-11, everything starts with a first step," said Tony Illia, a spokesman for the Nevada Department of Transportation.
"I think it's exciting for the residents of Boulder City because heavy-duty trucks and other motorists have an option to drive right past and save a lot of time on the freeway," Illia said. "And, of course, the city is still open to tourists who want to shop or eat in the downtown area."
Construction of the $318 million freeway segment, funded by federal and state money along with Clark County's fuel indexing tax, started in April 2015. Work was split between NDOT and the Regional Transportation Commission of Southern Nevada.
RTC officials had planned to open their 12.5-mile asphalt section of the freeway in October, but they said the contractor was "efficient in managing the project."
Even though the freeway will be open to traffic by late July, agency General Manager Tina Quigley said construction crews will still have to work on some finishing touches such as road-striping and landscaping.
"This is a significant project, as I-11 will ultimately connect Las Vegas and Phoenix, the only two cities in the nation with (metro area) populations of more than 1 million not linked by an interstate," Quigley said. "This interstate will help relieve congestion, improve safety and enhance trade and commerce between Nevada and Arizona."
NDOT has incrementally opened its 2.5-mile concrete section of I-11 since August in hopes of getting motorists acclimated to the new route between the U.S. Highway 95 interchange and Railroad Pass Casino.
Work was supposed to finish in April, but "equipment issues" have forced construction crews to continue painting stripes along the road and add some other finishing touches through the end of May, Illia said.
The flurry of orange cones and detours has confused some drivers passing through the new freeway segment, including NDOT Director Rudy Malfabon during a recent drive to Laughlin.
"I noticed a lot of cones, and I got a little confused and I got embarrassed," Malfabon said Monday during the NDOT board meeting, drawing a few chuckles. "I still get a little confused driving through there."
Contact Art Marroquin at amarroquin@reviewjournal.com or 702-383-0336. Find @AMarroquin_LV on Twitter.