Mitchell students shine as future leaders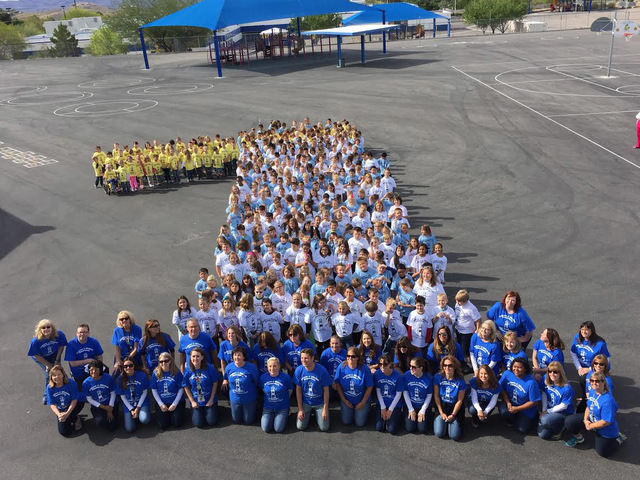 It's a chilly, blustery morning outside of Mitchell Elementary School. Principal Benjamin Day, microphone in hand, stands with his students to deliver an important message.
"We are the first Lighthouse School in the state of Nevada," he tells them. "This is something you should be really proud of kids. We're hoping today's a day you'll remember for the rest of your lives."
The significance of the moment is monumental. Although the kids were more infatuated with the fact the that the high school band and cheerleaders performed for them just minutes before, they were still a part of Nevada history.
Four years ago, Day began reading the book "The Leader in Me," by Stephen R. Covey, the author of "Seven Habits of Highly Effective People." "The Leader in Me" is a school transformation model that helps staff members and teachers emphasize to their students the importance of being proactive and working as a team. The model is used by about 2,000 schools around the world, but only 5 percent of "The Leader in Me" schools become Lighthouse Schools.
"I couldn't stop thinking about it," Day said after he read the book. "I've read a lot of books in our field, and this was unlike any other. I seriously dreamed about it for five nights in a row."
After approaching his staff about the idea, Day reached out to the FranklinCovey Co., a firm of professional leadership experts, and said he wanted Mitchell to implement "The Leader in Me" program. Nearly four years later, the school was designated as a Lighthouse School for embracing the program and altering the school's culture for the better.
With the help of some training from FranklinCovey, the students at Mitchell have learned to become more proactive, to synergize and to work together to accomplish their goals.
"The whole culture has changed as a result," Day said. "The kids are learning to take responsibility and lead their own lives. I just wanted to do something positive, and it was about last year at this time where the folks from FranklinCovey said, 'You guys are Lighthouse material.' "
Day said the FranklinCovey representatives wouldn't tell him if the school would get the Lighthouse designation. Instead, they assured him that everyone at the school had embraced the "Leader in Me" culture, which was the most important thing to them.
"After that, I remember thinking, 'I don't even care if we get Lighthouse, because that was the point, to bring about a culture where everyone understands that they're responsible for themselves and that they know how to work with each other to make things more effective," he said. "What feels good is knowing that we're really making a difference. These kids are going to be better off in their lives because of what we're doing."
Mitchell is just one of 137 schools around the world to receive the Lighthouse distinction.
"I just think that the future looks so amazingly bright because of the foresight that Principal Day had put into it," said Eva White, assistant superintendent for the Clark County School District. "Education has changed a lot, and we can't look at things the way we used to look at them."
White commended Day for his ability to help his students approach school in a different way. Instead of going to class to socialize and have fun, Day made sure they became more well-rounded members of society, she said.
"With Principal Day taking this and saying, 'We're going to start building leaders right from the beginning,' it really has changed the face of education in the community," White said.
A few schools from the Las Vegas Valley have already visited Mitchell to see how "The Leader in Me" program has shaped the school's foundation. About 10 more Clark County schools are planning to adopt it next year, Day said.
Jessica Benson, whose son Kiefer is a first-grader at Mitchell, said since the school adopted "The Leader in Me" program, Kiefer's first order of business when he's finished with school is to complete his homework. After that, he finishes his chores and his piano lessons.
"He was just ready to go and get things taken care of," Benson said. "These kids are going to be great, and it's great for the community. What a good thing for everyone to come together and be leaders."
"Not only do you see the change in the students when they're at school, I think their parents see the change in them when they're at home," White said. "Not only is he (Day) giving them a world-class education, he's giving them the opportunity to be world-class leaders."