Mike Pacini: The voice of Boulder City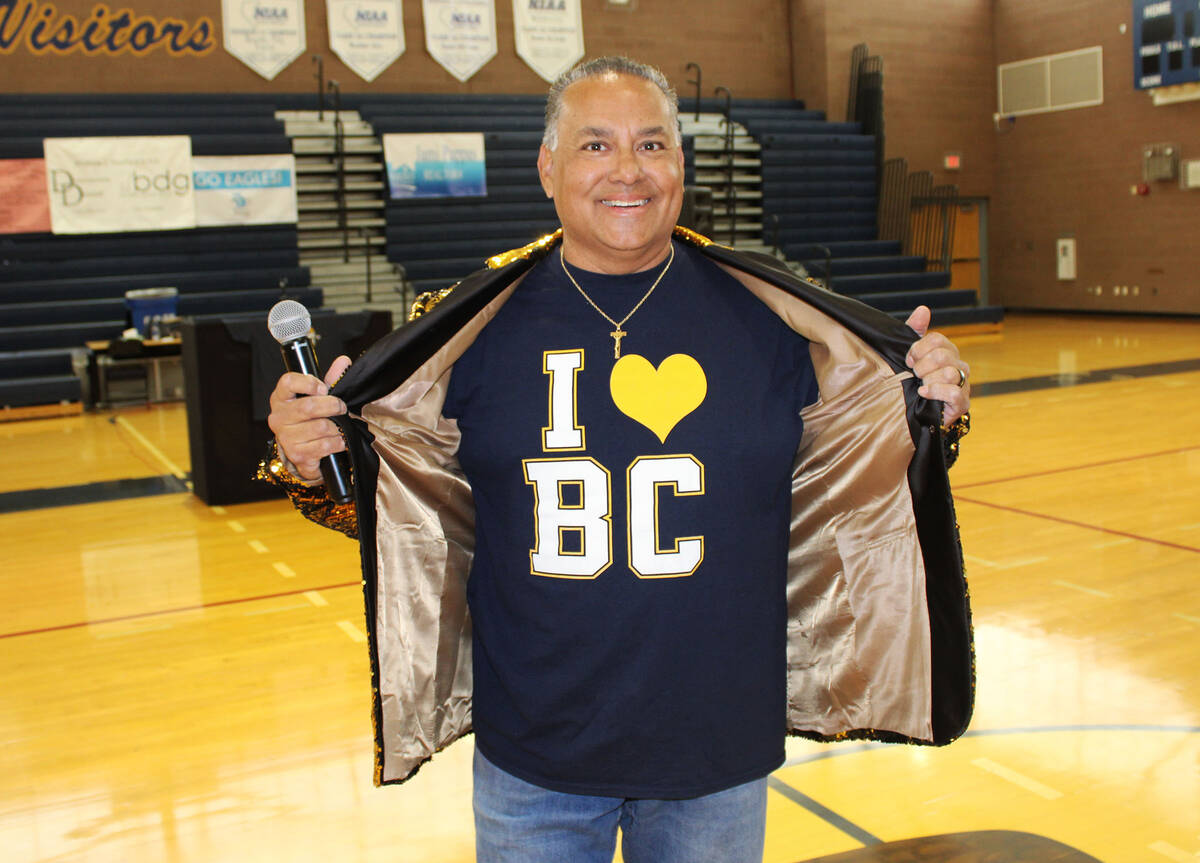 Whether it's in the grocery store aisle, sitting on the dais of City Council or as the voice of Boulder City, Mike Pacini is easily one of the most recognizable people in town.
And he's perfectly fine with that.
"I love Boulder City," he said with a wide grin.
That smile is what greets many familiar faces during his 40 years of working at grocery stores in Boulder City.
"I remember I wanted to get a car and my dad said I needed to get a job to earn some money," he said of the former Safeway. "I started on Sept. 6, 1983 and am still there in some way, shape or form."
After graduating from Boulder City High School in 1985, Pacini had hopes of being a police officer. That didn't pan out but around that same time, he paired up with his friend and classmate, Scott Boyce, to do the music at a friend's wedding.
"They gave us $100 and I thought, 'Wow, this is great,'" he said. "That's when I really became interested in helping people have fun and entertain them."
That kicked off what would be 40 years of being the most familiar voice in Boulder City.
While still working at Safeway, he became a mobile DJ, playing at weddings, special events and parties. That went on through his 20s but around then is when Pacini saw some major changes in his life. In one year, he got married to his now-former wife, bought a house, saw the birth of his daughter Arcadia and was elected to the Boulder City Council in 1997, all at the age of 29.
"I hadn't done anything in a few years, I was kind of slacking so I decided to do everything in one year," he said, laughing. "Life was good but things were nuts. That was a big chunk to bite off all at once. Sometimes life is about timing. I came to a four-way stop and I had an opportunity to take four turns all at the same time, and I did."
His election platform focused of supporting the police, taking on drug issues and enhancing activities and programs for the youth of the city. He would go on to serve three terms on the City Council.
"I absolutely loved being on council," he said. "I still get a half-dozen or more people each week asking me when I'm running for council again, which makes me feel good. Because of state term limits, sadly I can't."
In looking back, the council accomplishments he's most proud of during his tenure include the early stages of Veterans' Park, specifically the water park, and helping create the Boulder City Tourism Commission while serving as a member of the Las Vegas Convention and Visitors Authority board.
Whether it was Safeway or Vons and later Hagen and now Albertsons, Pacini has been a fixture in town no matter where one has shopped. Ironically, he's never been a 40-hour-a-week employee. That's enabled him to do the DJ/emcee events and, in the past, sit on council.
"I have a huge family out there," Pacini said of loyal customers over the years. "These are people I see all the time. At any given time, I will talk to someone about them getting married. I'll walk down another aisle and hug someone because their loved one died and I'm crying with them. Then, another customer tells me about a baby being born and we're happy. I then walk around the corner and find out one of my customers has cancer and then around another corner to hear that one of my older customer's wife went into the Veterans' Home with Alzheimer's and we're hugging and crying. It's a constant rollercoaster but I've always wanted to be there for those people. That's part of the reason I've stayed."
Pacini said over the years his DJ work at weddings and parties has morphed more into the emceeing. When looking at his calendar, it's filled with events, both paid and many that he does for free.
"Boulder City is made up of phenomenal residents with amazing community pride," said Jill Lagan, CEO of the Boulder City Chamber of Commerce, and Pacini's Christmas Parade emcee co-host. "Mike Pacini is the definition of loving his city and giving back to it. His hours of donated time for events and non-profit organizations cannot be properly counted."
Some of the events in which Pacini's voice can be heard over the years have included American Cancer Society events, Susan G. Komen Foundation, Relay for Life, Best Dam Barbecue, Fourth of July festivities, National Night Out, New Year's Eve at the Elks Club, Easter Egg Hunt and Wurst Festival to name a few, in addition to many smaller events. He's also the voice of the Boulder City Eagles football games.
About four years ago, Pacini started doing Vegas Golden Knights watch parties in Henderson and from there was asked to emcee all of the City of Henderson events. That has included all the VGK watch parties, Hot Rod Days, and along with wife, Morgan, the two emceed Henderson's Christmas parade.
"I've always felt very comfortable on the mic and ad-libbing," he said. "And that's branched out to more and more emceeing. I call it having the gift of diarrhea of the mouth."
He was quick to give credit to Morgan as well as his daughter, Arcadia, son, Vinnie, and several nieces and nephews for their help with so many events.
And before he knows it, he'll be able to add another family member to the long list of those who help him. Last year he and Morgan, 22 years his junior, welcomed their daughter, Gianna. When the two married six years ago, he joked that they should have children right away because he didn't want to be 54 or 55 when they did. He turns 56 this summer.
"I wondered what I was going to do when she (Gianna) got here and now I can't imagine being without her," he said. "Gianna is now the center of our universe. Morgan is happy beyond words and an amazing mom. When all is said and done, when we leave, all you really have is your family. That's your mark on the world."