Mexican holiday doubles as source of healing for BCHS students
November 2, 2017 - 7:42 am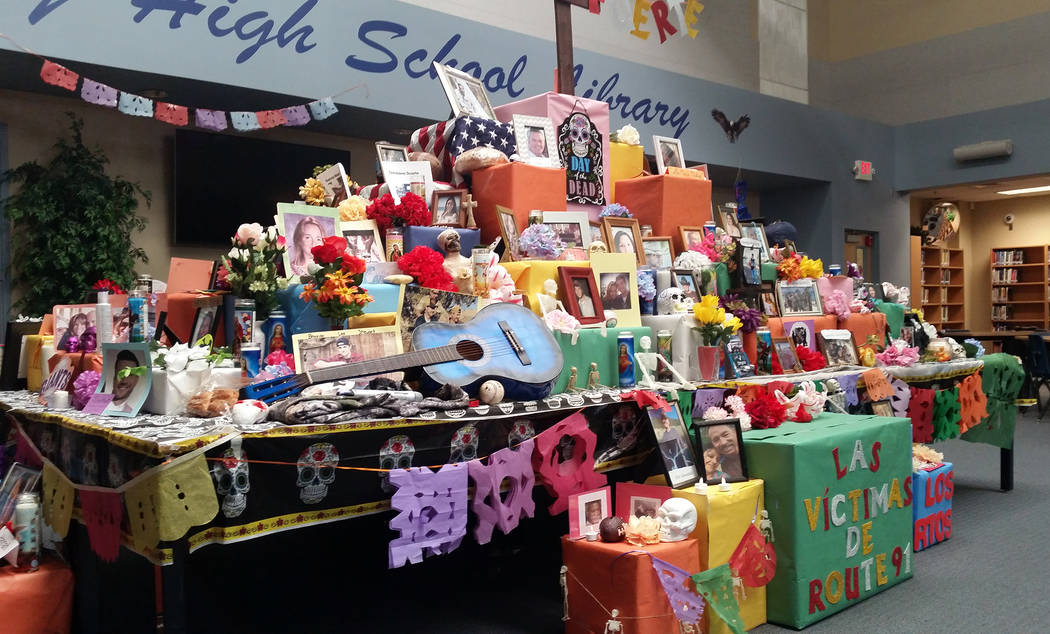 In the month since the shooting at the Route 91 Harvest music festival, those affected have started to heal, including several students and a teacher at the local high school.
Jennifer Marchant, chair of the Spanish department at Boulder City High School, chose to honor the 58 shooting victims through a Day of the Dead altar after her friend Quinton Robbins was killed at the festival.
"It was very personal," she said. "I wasn't going to teach Day of the Dead this year, but that changed after the shooting."
Robbins was 20 years old, and Marchant had known him since he was 2.
Day of the Dead, a Mexican holiday stemming from the Aztec culture, celebrates the life of those who died by welcoming them back with flowers and art. It takes place Oct. 31 to Nov. 2. People build and decorate altars for those they have lost, which include the deceased person's favorite food, beverages, photos and memorabilia.
The purpose is to encourage the souls to visit and hear the prayers and comments from their loved ones.
Source of healing
One of Marchant's students, sophomore Gavin Balistere, was at the festival with his older brother, Carson, and Carson's friend Anthony Pacifico.
Gavin said that participating in this project helped him heal from what he experienced that night.
"It was actually last minute," he said of their decision to attend and see country artist Luke Combs.
While they were at the festival, Gavin said that they met a man named Sonny Melton and his wife, Heather. They talked for a while, and they all ended up dancing together during some of the performances.
When the shooting started, he said that they were on the left side of the stage and thought that something was wrong with the screen when the first shots hit it.
"At first we got down" when they figured out it was gunshots, he said. "Anthony said we were like sitting ducks, so we started running when there was a break in the shooting."
Help for the wounded
While running to their truck, Carson said, he came across a girl who had been shot in the leg. He helped her get behind a table for safety before he, his brother and their friend continued on their way trying to leave the concert grounds.
They had to jump and run through a couple of fences before getting to the truck approximately five minutes later.
"It was like getting lost in a crowded mall and looking for your mom when you're 3," Gavin said.
Once they got to the truck, Carson said, they were relieved, because all they had left to do was get home. They called their parents, told them they were OK and started driving. While they were on the road, a couple of people jumped in the back of the truck. Carson gave them a ride to where they needed to go, as well as taking home a couple of Gavin's friends, whom they had run into at the show.
"We kept driving," Gavin said. "It was scary. We were going 65 on Tropicana. We just kept driving to get home."
After the shooting, he found out that Melton, the man he had talked to earlier, had been killed.
Marchant said that after the shooting she thought about how making a Day of the Dead altar after her mother died had helped her, and she thought it could also be a good way for Boulder City to heal.
"I love this community dearly," she said.
Marchant talked to her students about it, and they wanted to do it.
Victims honored
Students were divided into pairs, and each pair randomly picked a victim's name. From there, each pair researched the victim, found out what he or she liked and brought in items to represent that.
Gavin, however, asked if he could be the one to honor Melton.
"It was hard," he said. "There wasn't much on Sonny. It was just hard knowing that it could have been me that was shot. It's sad because I was with him."
"I'm still happy, and I talk a lot, but I'm different," said Gavin of how he has changed since the shooting. "I'm more cautious about what I'm going to do and say. I think it helped my mind a lot more than hurt it. It made me concentrate more."
"The first week was the most rough," added Carson. "The first two days were the hardest … When we go to public areas or crowded places, I check my surroundings now."
Their mom, Rebecca Balistere, said that she and her husband, John Balistere, are proud of the way their sons behaved in the situation and thankful they are OK, but she also sad because she has seen them lose their sense of innocence with the world being a safe place.
"One night I was folding Carson's shirt, thinking he should be doing his own laundry at 17, and teared up with gratitude that I was folding it to put it in his drawer, not pack up for good like so many other mothers and family members had to do," she said. "I have my boys, and thank God for that blessing. Weekend nights bring an uneasiness when the boys are out with friends, even though they're just in Boulder City. That 10:21 p.m. phone call still haunts us."
Contact reporter Celia Shortt Goodyear at cgoodyear@bouldercityreview.com or at 702-586-9401. Follow her on Twitter @csgoodyear.