Mayor most critical of city manager during staff performance reviews
September 21, 2016 - 2:45 pm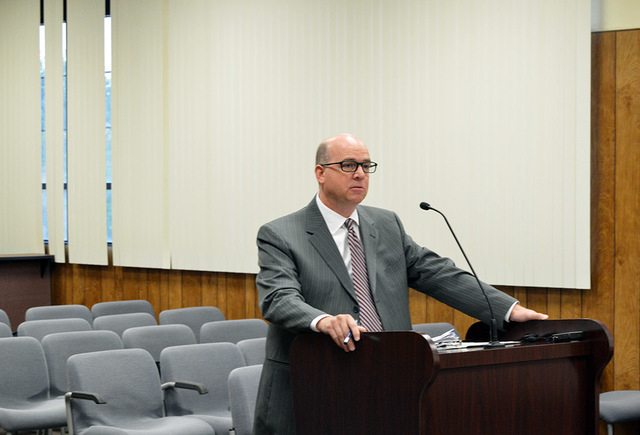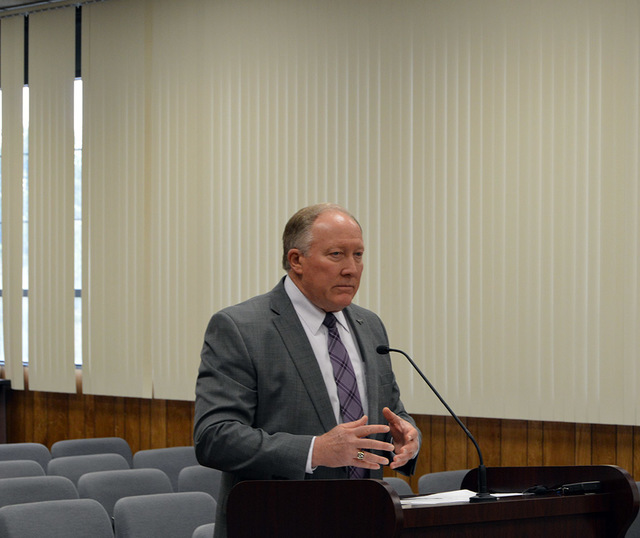 The Boulder City Council gave passing performance evaluations to three city department heads Tuesday morning despite contention between Mayor Rod Woodbury and one city employee.
City Clerk Lorene Krumm, City Manager David Fraser and City Attorney Dave Olsen all received positive reviews from the mayor and council, but the start of Fraser's evaluation alluded to a more combative meeting between the council and the man they hired.
A contentious evaluation
Before the evaluations began, the three employees were given time to discuss their opinion of their work performance.
Fraser began his self-evaluation strongly criticizing Nevada State law NRS 241.033, which requires all government employee evaluations to be public.
"I am going to start today by saying that I think open evaluations are inappropriate," Fraser said. "The misnomer is that I am only evaluated every six months, but I am evaluated every two weeks by the council."
Fraser said the council would not appreciate a public evaluation in their professional lives.
"If any of you had to do a public evaluation in your corporate lives, you would think it was unfair."
The city manager then laid out what he thought were some of his successes since his last evaluation in February, including his work on the budget and National Incident Management Systems Training, which is used to prepare a city for natural disasters.
"It was a good year for the budget. It set a course that kept us operating," Fraser said. "My employees have completed around 80 percent of NIMS training, and we are beginning studies on the land near the I-11. … We took the goals you handed to me, and we worked on them."
Less than stellar
The meeting became heated when Mayor Woodbury gave Fraser a less-than-stellar evaluation with only a sprinkle of positivity.
"My evaluation will be the longest and the most negative," Woodbury said. "I don't want to minimize your positive qualities. … You bring a lot of different experience from a lot of different arenas and I don't want to belabor the good, but I also don't want to minimize the bad."
In short, Woodbury said that Fraser's performance lacked initiative, timeliness and communication.
Woodbury went through a long list of ways that Fraser had not adequately fulfilled his vision for the city, including not effectively communicating with the media.
"I have not seen any interviews from you or your staff. I am sure you have given interviews, but they are reactionary. … I have not seen anything positive to get the message out with Mr. Tenney. I feel like you would rather run away from the media and feel like they are coming after you than to get the positive stories out," said Woodbury, referring to Kendall Tenney of 10e Media, the company the city hired to do public relations work.
Updates not timely
The mayor also said that Fraser needed to delegate his work because project updates were not being given in a timely manner, referring to information the city needed on growth restriction research, utility rate information and reprioritizing the capital improvement list.
"I don't know how you handle things internally, but some things are not being followed through as quickly as we need," Woodbury said. "Some of the requests that I have and emails that are sent are not responded to. You may be working on those things from Day One, but I do not hear about them."
Woodbury even gave an example of what he believed was Fraser being unwilling to delegate ideas.
"I remember Rose Ann (Miele) said we should have a town hall meeting about utility rates and you did not like her telling you what to do," Woodbury said, referring to the city's former public information officer and Boulder City Review columnist.
The comment caused Fraser to look noticeably disgruntled and angrily mutter to the mayor, "That is not true."
Woodbury responded to Fraser by saying, "I would appreciate you not commenting under your breath while I am talking."
This was not the only outburst by Fraser; the second one came when Woodbury said the city manager had anger issues.
"I have personal experience with only a few issues, and I heard second-hand about emotional outbursts in public settings like table pounding and use of profanity," Woodbury said.
Fraser responded angrily saying, "You are so wrong."
Positive note
Woodbury tried to end his evaluation of Fraser on a positive note.
"The public will view this as a negative review and so will you, but I like you Dave," Woodbury said. "You have a lot of great qualities, but these issues are big issues to me … but because of the positive things I am not going to give you a totally negative review."
Other council members were split on Fraser's performance, with Duncan McCoy, Peggy Leavitt and Rich Shuman giving Fraser a positive evaluation.
"David knows what he is doing," McCoy said. "I don't always get things as quickly as I would like, but his work is high quality and he has strong leadership skills."
Councilman Cam Walker gave Fraser a high rating but not without criticism.
"I think your initiative is something that needs to be focused on, because I think picking up the pace is important and there is a team of horses behind you," Walker said referring to Fraser's staff. "You are the leader of the ship, and you have to assist your staff with priorities. I go back to rate hikes, and I believe there were things we wanted to get done that didn't get done."
After the evaluation, Fraser said, "I appreciated the opportunity to discuss the city's vision and chart a course for the future. I'll take to heart what was said today and explore ways to implement the council's priorities."
City attorney improved, not perfect
Olsen received much higher marks than he did in his last evaluation six months ago, when he was criticized by City Council members for being unprofessional and failing tasks.
"I consider the experience to have been a good one," he said. "I actually looked forward to it because I knew I had listened carefully to the mayor and council at my last evaluation, and I knew what I had to do to show improvement."
Leavitt said that Olsen's performance has improved.
"I think there has been an improvement of your work performance since your last evaluation," Leavitt said. "You are a satisfactory worker now, but I think you should aim higher. I think your professionalism has improved, but I want you to find new ways to exceed the next evaluation."
McCoy gave Olsen the highest evaluation.
"I rated you highly on everything," McCoy said. "Communication with you has never been a problem for me, and you are very good at telling us what we need to worry about and what we should not worry about."
According to council members, Olsen has been updating them with quarterly reports via email, and he has begun signing off at the end of emails, two things that they criticized him for in his last review. Shuman, however, accidentally was excluded from those emails, which seemed to bother Walker more than Shuman.
Shuman gave Olsen a high evaluation.
Walker was the most critical of Olsen during the last performance review, and the same sentiment rang true during this one.
"I was hard on you last time, and not a whole lot has changed in my mind," Walker said. "I read your updates, and you need to pay more attention to detail on litigation. … I don't think much has improved, and there is pending litigation out there I don't think we will be on the right side of."
Walker felt that Fraser actually was being berated for the responsibilities of the city attorney, referring to growth ordinance research that Woodbury thought was Fraser's responsibility and Walker thought was a legal matter.
Despite the negative comments, Walker still gave Olsen a positive review.
"Everyone on the council, including Councilman Walker, provided me with the information and goals that were specific, measurable, attainable, realistic and timely. I very much appreciated the positive comments made by most of the council. Even criticism was given in a positive way. I left the evaluation with a clear picture of what I need to do to meet the council's needs in the future," Olsen said.
City clerk receives highest praise
Krumm sped through a short evaluation that saw her receive high marks from everyone on the council.
Shuman said Krumm and her entire department were wonderful. "I gave you outstanding marks because it is always a pleasure working with your department."
Woodbury referred to Krumm's department as his "de facto" office, complimenting her ability to find a solution to their requests for help.
Walker gave Krumm high marks but said her department did not effectively inform the public on increased utility rates.
"I gave you high marks, but I think you need to show some attention to detail," Walker said. "Most of our community thinks we raised rates already. You need to take initiative and tell people what is going on."
The meeting ended with a discussion of raises for the three department heads, which every council member said they would consider; they decided not to act, however, until they could look over the employees' contracts.
The discussion and possible vote on raises will be moved to a special meeting or on the agenda of a regular council meeting.
Contact reporter Max Lancaster at mlancaster@bouldercityreview.com or at 702-586-9401. Follow him on Twitter @MLancasterBCR.