Man's vision lets company soar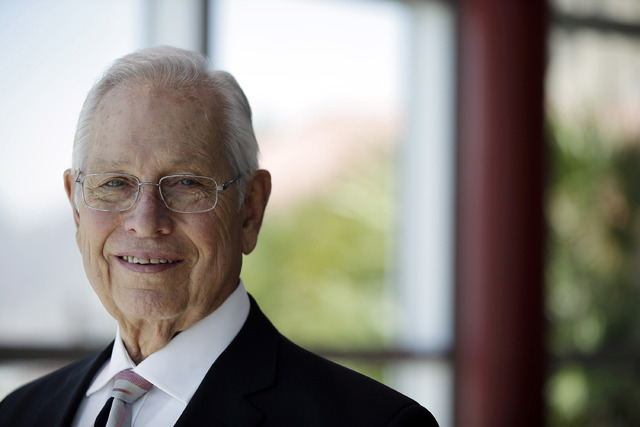 Elling Halvorson knew he was on to something while transporting pipes across the Grand Canyon in 1963.
A construction worker by trade, Halvorson was in the middle of a large project for the National Park Service, flying 13.5 miles of pipeline from rim to rim across one of the Park Service's crown jewels.
The pipes were flown in by helicopter, and it was the largest helicopter-supported job in the country at the time, according to Halvorson.
"It was a very difficult project because it had limited access," he said. "But when they (the workers) flew into the canyon, they were just awestruck by the beauty of the trip. I thought …, 'there's an opportunity here for a business.' "
Ever since he was a boy, Halvorson wanted to fly. He had dreams about flying, and even read Mechanics Illustrated. By the time he was 10, he started building model airplanes.
After he saw the heart of the Grand Canyon from up above, he knew it was time for a career change.
The then 32-year-old Halvorson took a risk when he started Grand Canyon Helicopters in 1965, offering Grand Canyon tours to the public. Like most new business ventures, Halvorson started small. He said his fledgling company was far from successful for the first few years.
Members of his inner circle started telling him to give it up. Still, he stayed true to his gut.
"I said, 'No. There's a future for this,' " he said. "I guess I was the only one who saw the future in it at that time."
Halvorson's business grew as the years went by. After running his operation solely out of the Grand Canyon for the first 18 years, Halvorson took his business to Hawaii. In 1990, he changed the company's name to Papillon.
He expanded his business to Las Vegas in 1998 and, after acquiring Lake Mead Air in 2004, Halvorson brought Papillon Grand Canyon Helicopters to Boulder City.
The town has been the company's hub ever since, and Papillon has become Boulder City's largest employer.
According to Geoff Edlund, general manager of Nevada helicopter operations for the Papillon Group, about 350 of the company's 650 employees are based in Boulder City.
"We have really enjoyed being a part of the Boulder City community. A lot of our employees have become part of the community, and they really like it out here," Edlund said.
Papillon, which is French for "butterfly," offers helicopter tours of the Grand Canyon; Page, Ariz.; the Strip; and Hoover Dam. With about 75 aircraft, the company typically serves almost 3,500 passengers daily.
"The vision of Elling Halvorson helped bring a whole new type of attraction to Las Vegas — aerial tours," said Rossi Ralenkotter, president and CEO of the Las Vegas Convention and Visitors Authority. "Papillon helped make Las Vegas the true gateway to the Grand Canyon and provide our visitors with an exhilarating new way to see the sights in and around Southern Nevada."
Papillon still operates four helicopters out of McCarran International Airport in Las Vegas, but the bulk of its business comes from Boulder City. As the story went when he began his helicopter endeavor in 1965, Halvorson heard pessimism when he decided to expand his operation to Boulder City.
"There was a lot of skepticism that we couldn't make it work out here, being so far from Las Vegas. I had the confidence that it would work," he said.
"This has proved to be a great location," said Brenda Halvorson, Elling's daughter who also serves as CEO of Papillon Group. "Everything just kind of fell into place for us here."
As the Papillon Group debuts a gold helicopter at the Boulder City Airport to commemorate its 50th anniversary, Elling Halvorson looks back at his career with a smile.
At 83, he has the same amount of passion for flying as he did as a 7-year-old reading Mechanics Illustrated. It's helped him cultivate an unusual presence in the tourism industry, one that started by heading the first company to fly tourists across the entire Grand Canyon.
The pipes he delivered to the Grand Canyon in the early 1960s, the pipeline that eventually led to his helicopter business more than 50 years ago, still brings water to the canyon's South Rim.
"I just took it one day at a time. The recipe for success is fundamentals, honesty and trying to do everything by the book. There's no skimping when it comes to aviation as far as our company is concerned," he said. "We kind of started the industry in a major way."
Contact reporter Steven Slivka at sslivka@bouldercityreview.com or at 702-586-9401. Follow @StevenSlivka on Twitter.