Man penalized for killing rabbits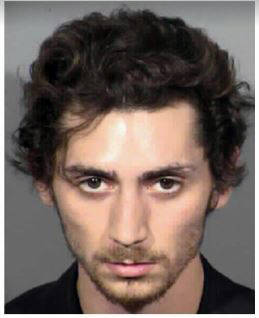 A former Boulder City resident recently pleaded no contest to two charges of animal cruelty in Boulder Township Justice Court and is currently awaiting sentencing for one of the charges.
Devon Yslas was arrested Sept. 7 on charges of unlawful camping and making a false statement to/obstructing a public officer. His vehicle was impounded and a search warrant was issued after officers spotted evidence in plain sight that could connect him to the mutilation of several rabbits the day before in Bootleg Canyon Park.
From their investigation, officers charged him with six counts of overdrive, torture, injure, abandon or starve an animal. Four of the charges were eventually dismissed and the two remaining charges were changed to overdrive, torture, injure, maim, mutilate or kill, which are misdemeanors.
Additionally, he faced another 22 charges: five counts of hunting, trapping or fishing without a license or permit, four which were dismissed; five counts of wanton waste of game, which were dismissed; four counts of hunting out of season, which were dismissed; five counts of hunting outside designated hours, which were dismissed; and five counts of unlawful manner of hunting, four of which were dismissed.
On Feb. 20, Yslas pleaded no contest to two counts of cruelty to animals, one count of wanton waste of game (amended from hunting out of season), one count of unlawful manor of hunting with aid of artificial light, and hunting without a license or permit.
Corpses found
According to the police report, five mutilated rabbit corpses were found Sept. 6 in Bootleg Canyon. All had their ears cut off and two were decapitated. The eyes on three of the heads had been gouged out, and one rabbit was completely skinned. A decapitated mouse was also found.
Four of the rabbit corpses were found near the large bunny statue in the park. The fifth was found approximately 100 feet away. At the scene, officers also found four large red gift bows and a black folding knife that appeared to have bloody tissue and animal hair on the blade.
Yslas was arrested after Boulder City Police officer Peter Wheeler spotted him and a friend in the vicinity of the crime and evidence connecting him to it was found in his vehicle.
In his narrative, Wheeler wrote he was doing extra patrol because of the dead rabbits and he asked them why they were in the park after hours. Yslas and his friend said that "they were looking for cottontail rabbits to shoot with their pellet guns." Wheeler noticed a pellet gun in the front seat of Yslas' vehicle.
Rabbits killed
When asked both initially denied being involved with the previous deaths and mutilations. Officers, however, found a red bow matching the ones found with the remains in plain view in Yslas' car.
When asked again, Yslas said he killed the rabbits because "he has issues feeling emotions" and that "killing bunnies gives him a way to feel emotions."
Further investigation was done by Boulder City Police Detective Brett Wibrew, who questioned Yslas about his actions and how he got the rabbits.
In his narrative, he wrote that Yslas told him he would use a "flashlight to see the reflections of their eyes and shoot them in the leg" with a BB gun. He would then "grab them before they ran off."
Wibrew wrote that he asked Yslas how he killed the rabbits, and he responded that it did by stabbing them with a knife in the brain through the eye socket.
He also told Wibrew that this was the only time he had mutilated animals and he was the only one involved. He also expressed not feeling any control over his daily life when he killed them.
Court appearance
According to court documents, Judge Victor Miller sentenced him on all of the charges except the first count of animal cruelty because he wanted Yslas to complete a neurological and psychological evaluation first.
For all of the charges brought against Yslas, except the first one of animal cruelty, Miller handed out four sentences that would run concurrently, according to court documents.
Those sentences are: six months of suspended jail time, the completion of 200 hours of nonanimal-related community service, the completion of a mental health evaluation and recommended counseling, the completion of an online animal cruelty counseling program at pawsedu.com, payment of a $500 fine or 50 hours of community service, no contact with animals for six months, $200 restitution fee to an animal control center associated with his home address, home inspections, payment of a $250 civil assessment fee to the Nevada Department of Wildlife, and to stay out of trouble for six months.
He was also put on house arrest.
By April 17, when he had to appear in court to report on his progress, Yslas had paid the restitution, completed the online counseling and 50 hours of community service, but had not completed the neurological and psychological exam because he said he could not afford them.
He is scheduled for another hearing at 1 p.m. June 12.
The charges of unlawful camping and making a false statement were heard in Boulder City Municipal Court. Yslas was sentenced to 25 hours of community service for each charge. He was credited 30 hours for time served and completed the remaining 20 in December.
Contact reporter Celia Shortt Goodyear at cgoodyear@bouldercityreview.com or at 702-586-9401. Follow her on Twitter @csgoodyear.