Man killed by NHP previously arrested in Boulder City
November 2, 2016 - 12:57 pm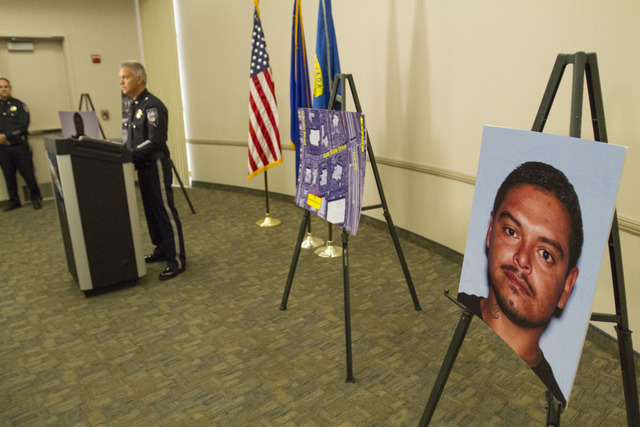 An Arizona man shot and killed by the Nevada Highway Patrol in Henderson on Oct.19 after a carjacking was released a day earlier by Boulder City Police, according to multiple sources.
Javier Munoz, 28, was shot and killed by NHP trooper David Dudley at a car dealership in Henderson after carjacking a Las Vegas woman, then attempting to carjack a man.
According to the independent sources, Munoz was released to Boulder City Hospital without charges being filed by police despite being initially arrested for multiple felonies following a high-speed car chase in town.
Dudley shot Munoz once in the abdomen. He later died at Sunrise Hospital because of the gunshot wound, according to the Clark County coroner's office.
The shooting is under investigation. Additionally, the Metropolitan Police Department's force investigation team picked up the Boulder City Police report on the incident Oct. 26.
According to Boulder City Manager Dave Fraser, Munoz was arrested Oct. 18 after a high-speed chase but was taken to Boulder City Hospital after threatening suicide.
Fraser said in a statement that Munoz was sent to Valley Hospital in Las Vegas for psychological evaluation.
However, Tom Maher, CEO of Boulder City Hospital, said that Munoz was never admitted for a psychological evaluation but instead was brought in for medical reasons.
"He was not brought here on a Legal 2000 (hold), he was brought here on medical, and a Legal 2000 (hold) was not presented in the emergency room," Maher said.
A Legal 2000 hold is issued when someone is considered a danger to himself or others. It allows a person to be kept for up to 72 hours of psychiatric observation.
Maher said that Munoz was sent to Valley because Boulder City did not have the means to care for him.
Around 7:15 a.m. Oct.18, Boulder City Police clocked Munoz going 25 mph in a school zone on Adams Boulevard. A police officer, who was adjacent to Munoz, saw that his car window was rolled down and told him to slow down but did not pull him over, according to sources.
After the officer requested that Munoz slow down, he then sped up to 30 mph. The officer turned on his light and attempted to pull Munoz over, but Munoz sped up and the officer radioed in a pursuit. Munoz increased his speed to 55 mph and ran a stop sign on Utah Street.
The officer stopped his pursuit, citing a concern for public safety, but the pursuit resumed after a witness called police about a man driving at a high rate of speed toward the Boulder City Landfill.
When police caught up with Munoz they attempted to block his path after noticing that his car had a flat tire. Munoz then swerved out of the way, got stuck in a patch of desert where police pursued him on foot before Munoz surrendered to police.
Upon arresting Munoz, an officer said that the suspect was acting in a paranoid manner, asking police "why don't they just shoot him," according to sources.
Munoz allegedly told police that he was on Spice, Ecstasy, meth and marijuana. It was then discovered that he had stolen the vehicle from his sister in Glendale, Arizona.
He was taken to Boulder City Hospital where he continuously asked police to "shoot him in the head," according to sources.
Munoz was unable to consent to have his blood drawn and a search warrant was issued by Boulder City Justice Court Judge Victor Miller. It is unclear if Munoz was under the influence at the time of his arrest and a request by the Boulder City Review for the search warrant has not been answered by the Justice Court by noon Wednesday.
According to people familiar with the incident, the police department released Munoz to Boulder City Hospital and planned to initially charge him post-release with multiple felony counts. Fraser said the police department submitted a warrant for arrest to the Clark County district attorney's office.
Maher said that the Boulder City Hospital notified the police department when Munoz was released from the Las Vegas hospital. Boulder City Police were notified of his release from the Las Vegas hospital, but it's not clear how much time elapsed between his release and the fatal incident in Henderson.
Munoz had served multiple prison sentences in Arizona for robbery, kidnapping, and fleeing law enforcement. He was most recently was released in December.
Fraser stated that additional information was not available to the public because this is an active case and the Clark County district attorney would determine if any future information would be released.
This is a developing story visit bouldercityreview.com for updates.
Contact reporter Max Lancaster at mlancaster@bouldercityreview.com or at 702-586-9401. Follow him on Twitter @MLancasterBCR.