Man given two life sentences for killing, dismembering maid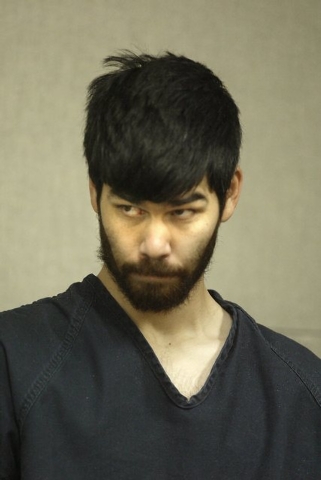 Nearly 12 years after Ladonna Milam's dismembered body was found in a fishing pond at Veterans' Memorial Park, her killer, who has been behind bars for nearly as long, was sent to prison.
It took more than a decade for the court system to determine that Perry Carl Monroe, now 41, was competent to stand trial. He spent years being treated at Lake's Crossing Center, the state's only maximum-security psychiatric facility, and when he was returned to Las Vegas, he often refused to leave his cell for court appearances, according to court records.
In December, after doctors deemed him competent, he pleaded guilty to one count of first-degree murder with use of a deadly weapon and one count of first-degree kidnapping with use of a deadly weapon.
On Friday, District Judge Jennifer Togliatti ordered Monroe to serve two life sentences without the possibility of parole. Prosecutors initially wanted Monroe to face the death penalty.
Authorities said Milam was killed after she went to deliver four towels to Monroe's room at the Hacienda hotel-casino, now called the Hoover Dam Lodge.
The 49-year-old maid's torso was found in two parts, with a vertical incision on the abdomen, in a fishing pond at the Boulder City park midmorning on June 23, 2003.
A human ear with an earring was found nearby, and a blood-soaked blouse was found in a trash can at the park.
Another maid found a bloody towel in room 1651 after learning that Milam had been reported missing.
Monroe was arrested a short time later in Fresno, Calif.
Police later found packaging for a hacksaw and hacksaw blades, along with strands of Monroe's hair, in a trash can in Monroe's room, which he had registered for using his own credit card.
The on-duty clerk told investigators "he had an uneasy feeling about Monroe," who refused to make eye contact and was "extremely skittish," according to a police report on the killing.
Hotel surveillance video showed Monroe carrying a black backpack and carrying a large duffel bag toward the hotel elevator about 1 a.m. on June 23, 2003.
Monroe was found competent as early as 2005, after being treated for schizophrenia with multiple medications and various dosages. But he was deemed incompetent at subsequent court hearings and sent back to the psychiatric facility before Togliatti ultimately found him competent enough for the plea.
Outside the courtroom Friday, Milam's widow, Jerry Milam, said he has dealt with the loss of his wife as "something you've got to do," adding, "there's never closure."
He left the courthouse after the sentencing to catch a ride back home to Kingman, Ariz.
"It's over with, and I've just got to walk away from it and leave it alone," he said. "If you go prying into that stuff, you get in trouble, big trouble with yourself."
Contact reporter David Ferrara at dferrara@reviewjournal.com or 702-380-1039. Find him on Twitter: @randompoker