Man gets additional six months, therapy for killing rabbits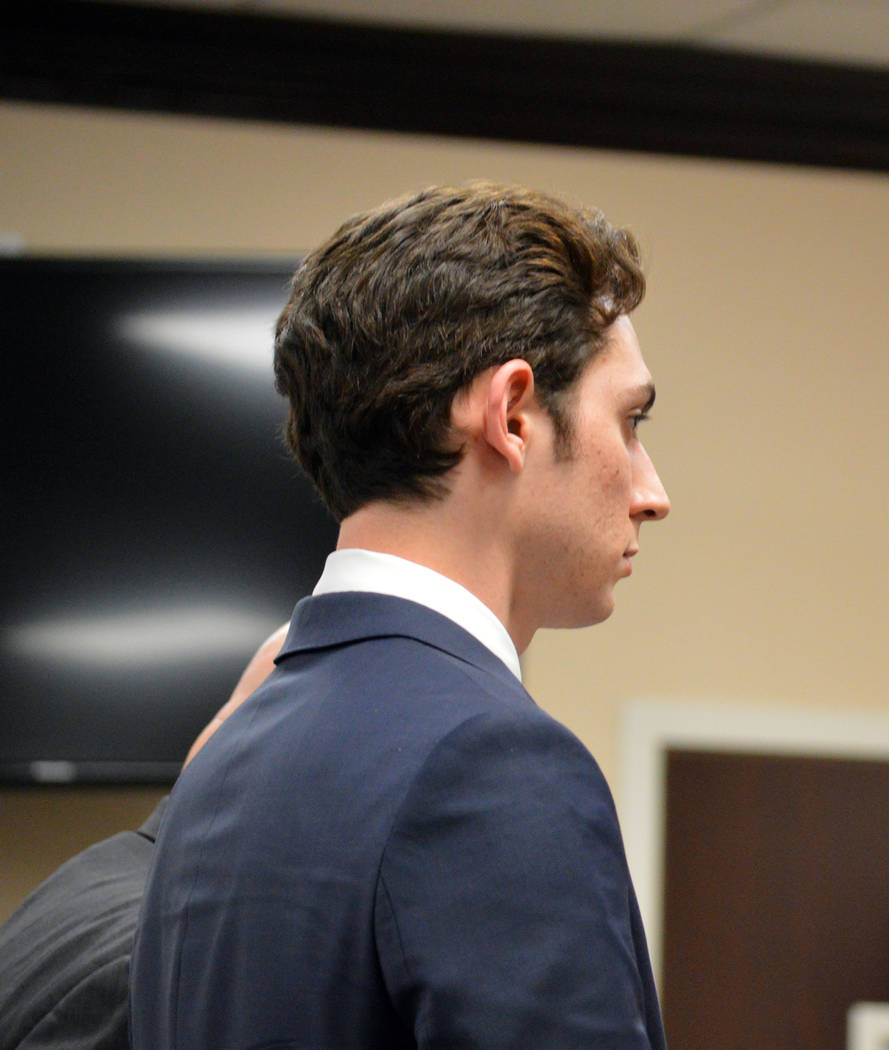 Boulder City's justice of the peace has finished sentencing a former resident who pleaded no contest to two charges of animal cruelty after killing several rabbits in Bootleg Canyon Park.
On Tuesday, July 10, Judge Victor Miller sentenced Devon Yslas to six months in jail to be served through house arrest for one charge of animal cruelty. In addition, Yslas is required to do weekly psychotherapy sessions, have no contact with animals for six months, do 50 hours of community service and stay out of trouble for six months.
This sentence will run consecutively with the other.
In February, Yslas was sentenced for another charge of animal cruelty as well as one count of wanton waste of game (amended from hunting out of season), one count of unlawful manner of hunting with aid of artificial light, and hunting without a license or permit.
That sentence was six months of suspended jail time per charge for a total of two years; 200 hours of nonanimal-related community service; a mental health evaluation and recommended counseling; completion of an online animal cruelty counseling program; a $500 fine or 50 hours of community service; no contact with animals for six months per charge for a total of two years, which will be ensured by random home inspections; $200 restitution fee to an animal control center associated with his home address; payment of a $250 civil assessment fee to the Nevada Department of Wildlife; and staying out of trouble for six months per charge for a total of two years.
During his arrest Sept. 7, officers spotted evidence in plain sight that connected him to the mutilation and death of several rabbits the day before in Bootleg Canyon Park.
Miller was waiting for results from Yslas' psychological exam and tests before issuing a sentence on the final charge to ensure he would not be the same person as before.
At Tuesday's hearing, prosecutor Amy Ferreria, chief deputy district attorney for Clark County, asked for six months incarceration for Yslas and said the state had some concerns with the updated report from Dr. Lewis Etcoff, a psychologist in Nevada.
According to her, Yslas "repeatedly" told Etcoff that he doesn't know why he did those things and said he didn't ritualistically pose the bows with the bunnies. Rather, they were just there.
"He's not taking responsibility for what occurred in this case," she told the court.
Ferreria also said the evaluator had consistently said that because there is no history of animal cruelty, Yslas could be rehabilitated with counseling. She told the court that she had "reliable information" from a number of people that he had harmed animals before.
Defense attorney Erick Ferran objected to her claim because he had not been given that information.
"I have not considered prior instances because there was no proof, and they could have been provided," Miller said before he issued the sentence.
Ferreria said she was just pointing out that the doctor made his evaluation based on the defendant's claim.
The state's final concern was that Etcoff was not neutral in his report because some information had been redacted at the family's request, specifically that there was a handgun where he was living.
Ferreria said she was concerned because of what else may have been removed.
In response, Ferran said he had not been in contact with the doctor and had given him all the requested information, and that the handgun had been removed from the residence.
"Devon has been doing what the court has said. … You have had no violation with this individual from the moment he came into contact with your honor," he said. "That's how it's been. That's how it will be."
Additionally, Ferran said that Yslas had secured a job that was paying $19 an hour.
"I think at this point, putting him away now, we'll take 15 steps back," he said.
Miller said Etcoff's opinion was that Yslas would not present a future threat to society but that it was recommended he received weekly or biweekly counseling sessions. Rather than counseling, Miller sentenced Yslas to psychotherapy sessions.
"They'll take the reports and turn them into something that can help him," he said.
Contact reporter Celia Shortt Goodyear at cgoodyear@bouldercityreview.com or at 702-586-9401. Follow her on Twitter @csgoodyear.