Man charged in sledgehammer attacks due back in court
January 21, 2015 - 2:11 pm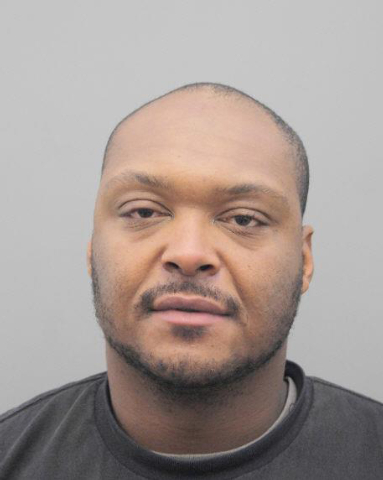 The Las Vegas man who is charged with attacking 10 people with a sledgehammer in October will be arraigned at 9:30 a.m. Jan. 29 in District Court at the Regional Justice Center, 200 Lewis Ave., Las Vegas.
According to Henderson police, Damien Robins, 32, allegedly began the attacks Oct. 24. in Boulder City about 7:15 p.m. after police said he struck the windshield of Susan Davis' car with a sledgehammer in the 7-Eleven parking lot after asking her if she was lost. Davis was able to put her car in reverse and drive away.
About 20 minutes later, police said Robins attacked John and Pamela Wright as they walked back to their motor home.
John Wright recalled the attacks during Robins' preliminary hearing Jan. 14. He said Robins pulled his car up to the curb where they were walking and he got out of the car holding a sledgehammer in his hand. John Wright said Robins asked the couple if they were lost before Wright was thrown to the sidewalk.
He said he was then "hit with something heavy several times in the back."
"I remember thinking, if he hits me in the head with that, I may not be getting up," John Wright testified.
Pamela Wright was hit in the head with the hammer and rendered unconscious during the attack, police said.
She said she required 10 staples in her head after she was taken to the hospital, and she still suffers from dizziness.
Shortly after attacking the Wrights, police said Robins got in his car and drove north on U.S. Highway 93. James Merrill said that's when Robins hit the side of his Ford F-150 and started yelling at him.
"He told me to get off the effin' highway," Merrill said.
Merrill said he pulled over to the side of the road shortly after, and Robins pulled over in front of him before hitting his truck with the sledgehammer. Merrill said his truck had $6,000 worth of damage.
Then Robins turned his attention to Merrill. Merrill said he still has a scar on his right eye from being attacked by Robins.
After the attack, Merrill said he followed Robins the entire time he had 911 on the line, narrating the events that took place.
Robins drove into Henderson and cut off a driver at Greenway Road and Horizon Drive where he allegedly attacked the driver with the sledgehammer before getting back in his car and driving to Heather Drive, according to Henderson police.
That's where Nicole Thompson said Robins boxed her in and hit her back windshield and driver's side door with the sledgehammer.
Thompson said Robins hit her at least seven times in the face, shattering her cheekbone and an eye orbital. She said the injuries have prevented her from opening her mouth all the way.
"I just didn't want to die," she said on the witness stand.
Robins then drove to Foothill High School where he allegedly hit Steve Macres in the back of the head with the sledgehammer. Macres, who lives in Henderson, said Robins told him he was going to kill him during the attack. Robins fled as officers were arriving, police said.
Robins, police, said, then attacked two more cars before he surrendered to police about an hour after the attacks began.
At the time of his arrest, Robins' wife told police her husband had been addicted to methamphetamine, and that she hadn't seen him for three days before the attacks. She said he had recently been fired from his job, and that it wasn't uncommon for him to "disappear for a few days" while he was high on methamphetamine, according to the police report.
Police said Robins was high on methamphetamine hours before the attacks.
He faces 18 counts, including six counts of attempted murder, eight counts of battery with a deadly weapon, and two counts of assault with a deadly weapon.
Contact reporter Steven Slivka at sslivka@bouldercityreview.com or at 702-586-9401. Follow @StevenSlivka on Twitter.