Man accuses officer of perjury; Criminal complaint filed against interim chief after crosswalk sting arrest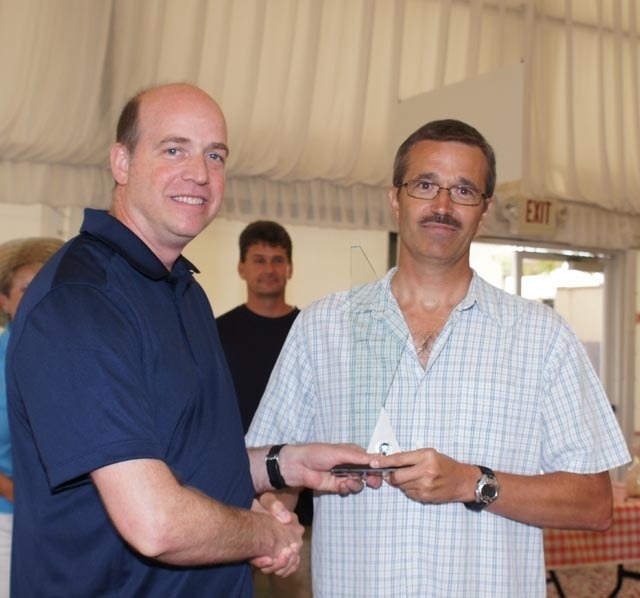 The arrest of a Boulder City resident has lead to accusations that a former city interim police chief falsified a police report and stifled political speech.
John Hunt, 28, was arrested at 8 a.m. June 8 on Nevada Highway for obstructing traffic and resisting arrest after he repeatedly walked back and forth on a crosswalk in protest of a police-sanctioned pedestrian crosswalk enforcement detail.
Hunt's lawyer Stephen Stubbs accused former Boulder City Interim Police Chief John Glenn of lying on a police report and arresting Hunt because he was making a political statement against the crosswalk enforcement detail. Early Wednesday morning Hunt filed a criminal complaint against Glenn claiming he committed perjury, according to Stubbs.
In a statement, Hunt said "On June 8, 2016, police were doing a crosswalk sting operation on Nevada Way. I decided to exercise my right and make a political statement by lawfully crossing the street at the crosswalk. John Glenn arrested me and wrote a false report under penalty of perjury. Glenn illegally arrested me, lied about what happened — all to justify his false arrest."
The detail was a joint operation between the Boulder City Police Department, Mesquite Police Department and the Nevada Highway Patrol in which a police decoy repeatedly crossed the street in order to ticket drivers that did not properly yield to pedestrians. The public was notified that the law would be enforced from 6 a.m. to 2 p.m. June 8 in front of the McDonald's on Nevada Highway.
Hunt had received a citation earlier that morning after he failed to yield for the police decoy.
Traffic hazard
The police report filed by Glenn states that Hunt "Stepped out into the crosswalk without looking to see if there was traffic coming. The vehicle in the (right lane) was able to stop; however, the vehicle in the (left lane) had to slam on its brakes and skid to a stop just before hitting the subject. (Hunt) just kept walking across the highway without looking in either direction."
The report states that Hunt continued to walk across the street without looking, causing drivers "to have to hit their brakes hard to stop for him."
Glenn then advised Hunt repeatedly to come to him but Hunt refused.
"I advised (Hunt) to step over to me to me twice, to which he just stood there looking at me," the report said. "I again advised him to step over to me while I was standing in the parking lot. The subject still just stood there and did not say anything. I started to approach the subject and again requested that he step in front of my patrol car and the subject said something like I am not going to comply or I don't have to comply."
The report then states that Glenn attempted to escort Hunt to his patrol car by placing his right arm on Hunt's back and grabbing Hunt's left arm with his left hand.
Resisting arrest
Hunt started resisting by pulling away and pushing himself back toward the highway. The incident was seen by Nevada Highway Patrol troopers who then went to assist Glenn.
According to Glenn's statement, Hunt started to "actively resist," and was forced to the ground by law enforcement and was arrested. The report also noted that Hunt repeatedly said "Please step away from me" as he was being arrested.
Stubbs filed a motion for dismissal of the two charges against Hunt on June 15 stating that Glenn "lied on his report" and that "the probable cause for the defendant's arrest and reasonable suspicion to detain the defendant was a complete fabrication."
A video recorded at the time of the incident shows Hunt repeatedly crossing the street; however, Stubbs said the car that Glenn mentions in the left lane does not have to "skid to a stop," as he reported.
The video, which was given to the Boulder City Review by Stubbs, does show the car in question quickly hitting the brakes; however, Hunt is not in front of the vehicle when the driver comes to a complete stop.
Case dismissed
The case was dismissed without prejudice by the Boulder City Municipal Court on Tuesday with both parties admitting no wrongdoing.
"Instead of trying to argue my motion the city decided to drop both charges," Stubbs said after the pretrial hearing. "It is a smart move by the city. It made it so any findings were not a fact and shielded them from any civil action."
Hunt and his family originally decided not to file a civil lawsuit against the police department, but a video surfaced after the hearing leading Stubbs to accuse Glenn of arresting Hunt because his act of crossing the street was a form of political protest.
The video in question shows Hunt being brought in for booking at the Boulder City Police Department. In the video, which was recorded via a police car dash camera, Glenn can be heard talking to another officer saying that Hunt was obstructing traffic just to make a political statement.
"Have you been drinking? Are you on any drugs? I ask him why are you interfering with something that is just trying to make citizens safe here? Anyway I come to find out that (officer Tiffany Driscoll) wrote him a ticket for failing to yield to a pedestrian at the crosswalk this morning. He was one of the ones that got cited so I found out he was trying to make a political statement."
Stubbs said that this video proves Glenn arrested Hunt because he did not like him protesting the enforcement detail.
Political statement
"This video shows we have the former police chief arresting someone because he was peacefully protesting something the cops were doing," Stubbs said. "The former police chief arrested someone for their political speech."
It is unclear if Glenn knew Hunt was crossing the street as a form of protest. The same video that Stubbs said proves Glenn's guilt also shows that he was unaware Hunt was previously cited for failing to yield to a pedestrian. The former police chief was told about Hunt's earlier citation after the arrest by officer Driscoll.
Per the report Glenn claims that Hunt was obstructing traffic and in the video showing the incident, cars are seen yielding to Hunt for a long period of time; however, Stubbs said that the slow traffic was not his client's fault.
"The traffic did get backed up, but that is not my client's fault," Stubbs said. "It is the drivers' fault for not knowing the traffic laws. They don't have to wait till he crosses the street; they can keep driving once a pedestrian is halfway across the opposite side of the vehicle. The drivers didn't know the law and were worried about getting a ticket."
According to Nevada Revised Statute 484B.283 1(a), "When official traffic-control devices are not in place or not in operation, the driver of a vehicle shall yield the right-of-way, slowing down or stopping if need be so to yield, to a pedestrian crossing the highway within a crosswalk when the pedestrian is upon the half of the highway upon which the vehicle is traveling, or when the pedestrian is approaching so closely from the opposite half of the highway as to be in danger."
Fair investigation sought
Stubbs said he does not trust the police department to conduct a fair investigation and hopes the city will allow a third party to look into the complaint.
"Ideally the city will allow the Henderson Police Department to conduct a through investigation," Stubbs said. "I do not trust the Boulder City Police Department to conduct a fair investigation on the former police chief and 2013 city employee of the year."
Boulder City Police Chief Timothy Shea said the case is in the hands of the city attorney and that was the last he had heard about it.
"The case is with the city attorney and I don't know what they are doing with it," Shea said. "It seems pretty far-fetched that one of our police officers would arrest someone for political reasons."
Boulder City Attorney Dave Olsen said he did not wish to comment on the matter.
"I don't want to discuss it," Olsen said. "We dismissed this case without prejudice meaning we can re-evaluate our decision to not press charges. I think this is one of those Paul Harvey situations where I am sure there will be a rest of the story."
John Glenn was unavailable for comment.
Contact reporter Max Lancaster at mlancaster @bouldercityreview.com or at 702-586-9401. Follow him on Twitter @MLancasterBCR.