Locals, organizations reward seniors on scholarship night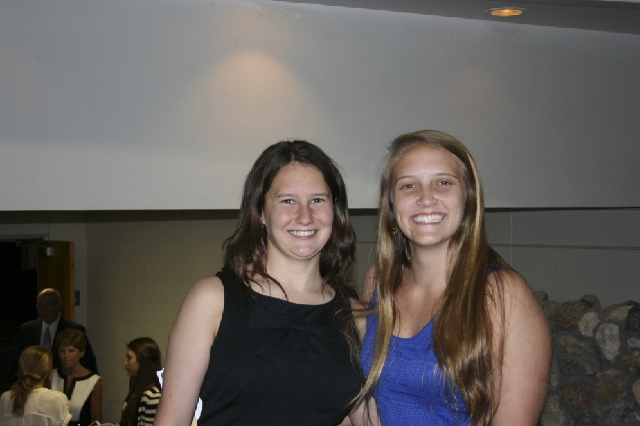 Boulder City High School seniors were awarded nearly $92,000 in local scholarships May 7 at the high school's Boulder City Scholarship Night.
Twenty-seven students received 35 local scholarships provided by local individuals and organizations at the awards ceremony at the school theater. A few special scholarships from sources outside Boulder City were also presented.
The scholarships ranged from enough money to cover the cost of a book — such as the $150 American Legion Auxiliary Scholarship presented to Megan Purdy — to the cost of an entire education — such as the $150,000 U.S. Army ROTC Scholarship presented to Ian West.
A number of the students received multiple scholarships, including Danielle Cummings, who walked away with 13 scholarships and $14,800, and Avalon Frantz, who was awarded 12 scholarships and a total of $12,500.
Cummings plans to study psychology at the University of the Pacific; Frantz plans to play volleyball and study entrepreneurship at University of Houston.
Applying for scholarships was tedious because most applications required that an essay be written, Frantz said.
"For a week there I wrote 15 essays in four days," Frantz said. "But you've just got to remind yourself you're trying to pay for school."
Some students lucked out and received scholarships they hadn't even applied for.
Jeremy Estes, son of Boulder Dam Credit Union CEO Eric Estes, was presented with a $1,000 Sunrise Rotary Scholarship he didn't apply for. Sunrise Rotary gave a combined $11,000 to nine students.
Rotarian presenter Doug Scheppmann said Jeremy Estes, who was out of town at a swim meet, was deserving of the award.
"We've known him for an awful long time," Scheppmann said.
Frantz was surprised with the $2,000 Wendy's High School Heisman National Finalist Scholarship, which was created especially for her by the school.
Principal Kent Roberts said the school was awarded $2,000 from Wendy's because Frantz was selected as one of six national female finalists for this year's Wendy's High School Heisman Award. The award recognizes seniors nationwide who excel in athletics, academics and community leadership.
Though the money was intended for the school, Roberts said he created the scholarship and gave it to Frantz.
"She earned it. We didn't do anything for it," he said.
The largest local scholarship awarded to an individual was the $5,000 Robert W. Gettler Science and Technology Award, which was given to both Brent Hickey and Brittany Simpson.
The award came from the family of Gettler, who taught world history and current events at Boulder City High School from 1954 to 1962.
Hickey was also awarded the $1,000 Goldie Begley Memorial FIRST Robotics Scholarship.
The award was presented by Harold Begley, husband of late Boulder City News employee Goldie Begley, who said Hickey has exhibited interest in robotics and has developed his skills to "the art of robotics."
Like the Gettler and Begley scholarships, many of the local scholarships were given in memory of a Boulder City resident.
The Shane Patton Scholarship was given in memory of Patton, a Boulder City High School graduate and Navy SEAL who was killed in Afghanistan when his helicopter was shot down.
It was awarded in the form of four $1,000 scholarships to Frantz, Simpson, Michael Kelso, and Tino Ragone.
"His laugh would make you laugh," said Joel Pepper, one of Patton's three friends who presented the award.
The Bethany Smith Memorial Scholarship was awarded to Heidi Petersen by the parents of Smith, a Boulder City High School student who died because of a medical condition in 2008.
However, some of the scholarships were simply given by generous community donors.
The Draney Family Scholarship totaled $10,000, with $3,000 going to both Cummings and Frantz, and $2,000 going to Petersen and Christian Nilsen.
High school counselor Sharon DeWees said scholarship night also serves as a thank you to local donors.
"If it weren't for the donors, it wouldn't be," she said. "There would be no scholarship night."
DeWees said she does not know of another high school in Clark County School District that has so many scholarships specifically for students of that school.
"I think this is very unique," she said. "I don't think there's another that has a community setting like this."
DeWees said scholarship night does not represent all the scholarship money awarded to students.
"It's not a complete picture by any means. All of that will be in the graduation program," she said.
Graduation is set for 7:30 p.m. June 5 at the high school football field.