Local resident arrested for graffiti, defacing property
August 22, 2013 - 1:04 am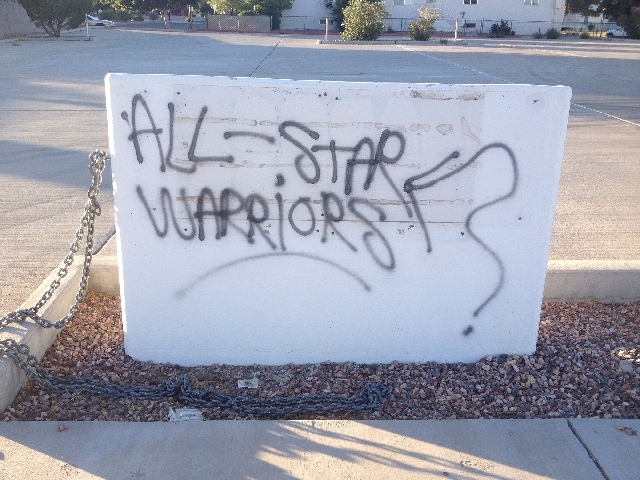 A local man was arrested last week on graffiti-related charges. Boulder City resident Daniel Michael Dryjanski , 23, was arrested Aug. 11 on one misdemeanor charge of placing graffiti on or otherwise defacing property, police say.
Detective Scott Pastore, who investigated the case, declined to provide specific details about Dryjanski's case. However, Pastore told the Boulder City Review before the Aug. 11 arrest that an arrest warrant was to be issued for a local tagger who also had been stopped in Las Vegas by Metropolitan Police Department officers.
"A tagger they stopped out there happened to be from Boulder City. We researched the tags, and that was him," Pastore said.
The Boulder City Review has not confirmed that this tagger was Dryjanski, although Dryjanski was arrested on a warrant. Additionally, Boulder City police are working on a second warrant in a different graffiti case, Pastore said.
Boulder City police see graffiti "all the time" in places such as local parks and school restrooms, Pastore said. Boulder City Review witnessed graffiti on and near the Elaine K. Smith building in June.
"It's appalling to see this graffiti right down the street from my home and in clean, green Boulder City," Avenue H resident Wendy Foster told the Boulder City Review in June.
Foster also worried that gangs were moving to Boulder City. But according to Pastore, neither of the police's graffiti suspects are believed to be gang members.
Graffiti is a hard crime to solve, Pastore said, because those committing the crime are mobile, and it is difficult to match the works to the individuals. However, when a graffiti suspect is local, it does make it easier to catch him or her, he said.
"It's easer to get the people in town," he said. "They tag their own town up and they leave bread crumbs."
Dryjanski has a pretrial hearing scheduled for Oct. 1 at 3 p.m. in Boulder City Municipal Court.