Local promoted to VFW state commander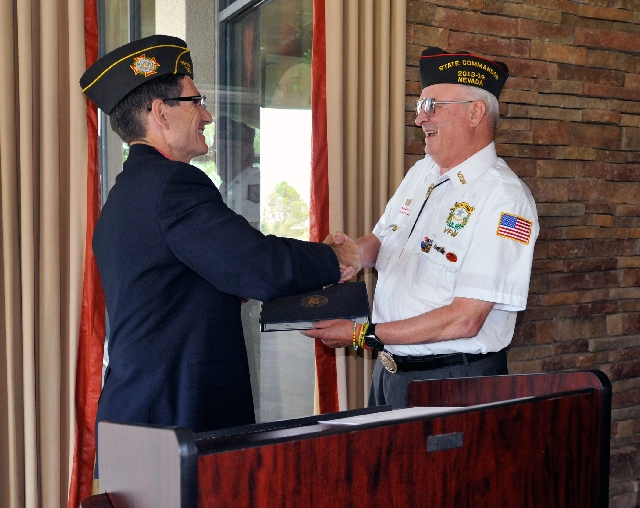 Nevada Veterans of Foreign Wars has a new state commander, Boulder City resident Bob Garlow. His appointment took effect June 2 during the state VFW convention in Elko.
Friends, relatives, post members and even a congressman helped Garlow celebrate his new office Saturday at Boulder Creek Golf Course.
Garlow's path to that office was a five-year journey through the ranks from state surgeon, state judge advocate, junior vice commander, senior commander and state commander.
Although Garlow's military service began in 1966 when he entered the Air Force officers' training program, his involvement in the VFW began in 2001 with a bit of a nudge from Arthur Mannetti, a Boulder City resident who spent many days in front of the Boulder Dam Credit Union trying to enlist folks to join the VFW.
The new state commander said he is involved in the VFW because "it does so much for veterans. I've always wanted to give back and do things for veterans, the troops and their families. That's basically what we do and what we're here for."
The VFW's slogan is "No One Does More for Veterans."
A look at Garlow's involvement with veterans' activities gives credence to that slogan. He serves as quarter master adjutant for the Boulder City VFW post and is also the chairman of the Veterans Assistance League, a nonprofit group with the sole purpose of raising funds for Nevada State Veterans Home residents, and has been since its inception.
Angela Metcalf, volunteer coordinator at the Nevada State Veterans Home, said, "Bob Garlow is a tremendous asset to the residents at the Nevada State Veterans Home. He and his wife, Sue, as volunteers at the home, can be spotted each week, passing out ice cream and shaking hands, giving hugs, and just being a friend to the residents.
"As the chairman of the Nevada Veterans Assistance League, Bob is instrumental in supporting and growing the donations received and support given to those who deserve it most, our residents.
"Bob is a great volunteer and asset to veterans of Nevada. We are honored to know him."
Rep. Joe Heck, who attended Garlow's celebration Saturday, said Garlow was always "after him" to join the Boulder City Post 36 VFW group until he finally did.
"It's a great honor to have Bob be our state commander," said Heck, whose congressional district includes Boulder City. "Bob is a phenomenal guy. He's out there in the community all of the time. I think it's great for Nevada, great for the post and great for Boulder City."
As the state commander, Garlow's hopes to increase state VFW membership that stands at nearly 8,000 and create two new posts in the Reno area.
Closer to home, Garlow is extremely proud of the Commons Memorial Scholarship program providing two $1,000 scholarships to Boulder City High School students annually.
The post and scholarship were named in honor of Boulder City High graduate Cpl. Matthew A. Commons, who was killed in Afghanistan on March 4, 2002, in combat at the age of 21.
The post also awards scholarships for the Voice of Democracy audio essay program for high school students, the Patriot's Pen essay contest for middle school students and a number of teacher awards for educators in all the Boulder City schools.
Add to that law enforcement awards, firefighters and paramedic awards, veterans in the classroom, awards to Junior ROTC and ROTC and you have an idea of what the VFW does in the community.
The VFW is also involved in housing veterans. Veterans Village is working on a second location in Henderson, and according to Garlow, the organization is "even talking about one in Boulder City, which would be cool. That's something we need."
Dennis Dice, a member of the Boulder City VFW post, has been the state homeless chairman and will continue in that position under Garlow. Boulder City members "work with all the other veterans associations" on the annual veterans stand down which provides services, information and guidance to veterans, Garlow added.
VFW Post 36 has no home base but gathers at 11:30 a.m. on the second Saturday of each month at the Senior Center of Boulder City, along with the VFW Ladies Auxiliary, whose president is Garlow's wife, Sue.
The club has 85 members on the roster and 18 members in the Ladies Auxiliary.
In his acceptance speech in Elko, Garlow said, "I'm here because I do everything I do for the veterans, the troops and their families. If you're here for any other reason, you're here for the wrong reason. … You need to be here for the veterans, the troops and their families."
For further information about the Cpl. Matthew A. Commons Memorial Post 36 of the VFW or to become a member, call Garlow at 702-808-4750.
Garlow was elected commander of Post 36 in March 2002.