Local Native American jeweler heads to D.C.
October 31, 2013 - 4:02 am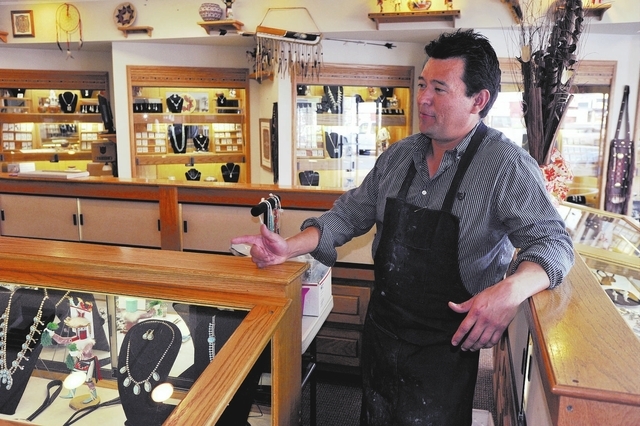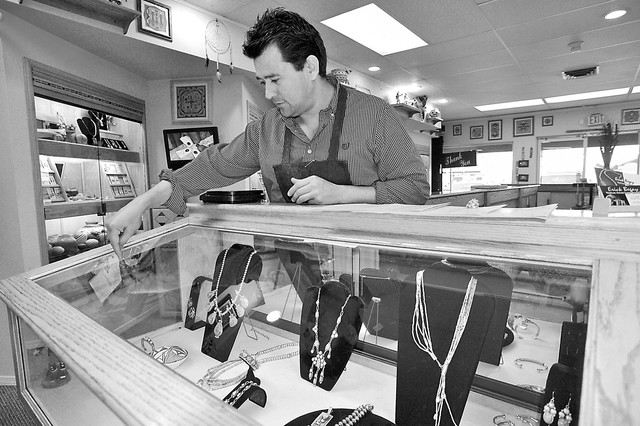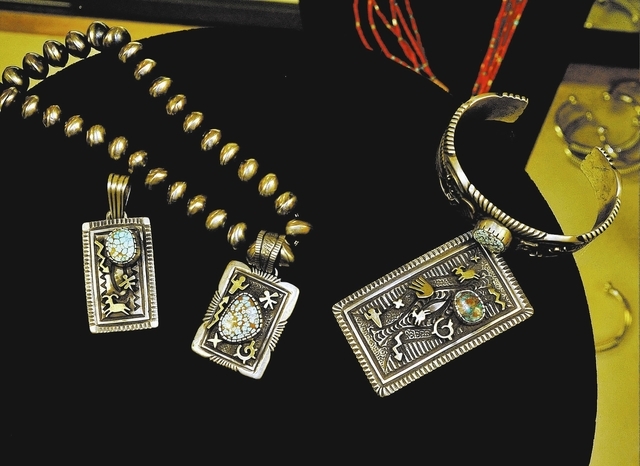 Local Native American jeweler Erick Begay is no stranger to taking his art on the road, but next month he will be going all to Washington, D.C., for a show at the Smithsonian Institution's National Museum of the American Indian.
Begay, owner of Begay Indian Jewelry, 1311 Nevada Highway, has been accepted to show his jewelry at the museum's annual Native Art Market Dec. 7-8. The show will feature jewelry, ceramics, beadwork, basketry, prints, sculpture and fine apparel handmade by more than 30 Native American artists.
Begay, who has had a shop in Boulder City for 20 years, has shown his work at museums dedicated to the American West, such as the Heard Museum in Phoenix and the Autry National Center in Los Angeles.
But he said the show in Washington is uncommon for him, "because it's a national museum."
Begay began learning to make Native American jewelry from his Navajo mother 27 years ago when he was just 11 year old, living in Santa Fe, N.M.
In his sophomore year in high school, Begay's father pulled him out of school so he could make jewelry professionally.
In his youth, Begay said he didn't take his craft seriously, but with time, he learned to appreciate the craftsmanship and found a desire to create work that lived up to his customers' standards.
"The customers turn you into who you are," he said. Begay's work ranges from traditional to contemporary, and includes bracelets, necklaces, belt buckles, rings and other pieces.
At times, he said he will go into a relaxed, default mode of turning out contemporary Native American pieces, typically involving silver and turquoise.
"Traditional comes easy for me," he said.
However, he has been known to create contemporary pieces inspired by non-Native jewelry, such as a necklace that can be worn four ways.
He also has been commissioned to make custom pieces, including a turquoise and silver gearshift knob for a BMW, or a custom silver belt buckle incorporating elk teeth.
Begay often makes his pieces from coin silver, which he gets from melting old coins. He said it is the same method that the first Indian jewelers used in the late 1800s.
Although the coins are not hard to find, Begay said good turquoise is becoming more difficult to find because of mines going out of business and other factors.
"Good stones have been hard to come by," he said. "I don't know what it's going to be like in five or 10 years."
He said he has not yet crafted any of the pieces he will be taking to Washington, but he will likely choose a theme for the show.
"A month is plenty of time," he said. "But I'll likely be putting in 10- to 12-hour days."
Begay said there are only a couple hundred Native American jewelers nationally doing high-end work such as his.
"In this business, when you get to that level, it starts to thin out," he said.
A federal law, the Indian Arts and Crafts Act of 1990, prevents jewelry from being marketed as Native American jewelry unless it was actually made by a Native American.
Individuals falsifying the claim can face penalties up to $250,000 and a five-year prison term.
"There's a difference between doing this, and making a piece and spitting it out through a caster," he said.
Begay's jewelry is sold online, at his shop, the gift shop at Red Rock Canyon National Conservation Area, two shops in New Mexico and wherever he has a show.
For more information, visit his website at www.ebegay.com.