Local hero's story comes to big screen
January 9, 2014 - 4:45 am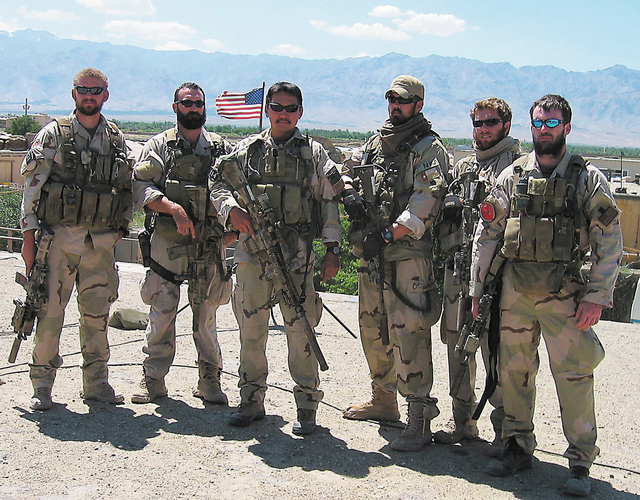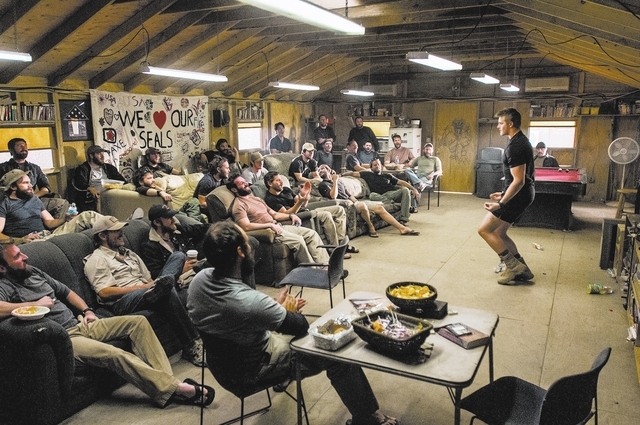 His image adorns the walls of two local restaurants, a plaque at Boulder City High School honors his sacrifice, a local scholarship, pub crawl and baseball field bear his name, and a New York Times best-selling book chronicles the events surrounding his death.
But the story of hometown hero Shane Patton, a 2000 Boulder City High School graduate and Navy SEAL who died in a 2005 combat mission, will soon be known to millions.
That is because "Lone Survivor," the film adaptation of Marcus Luttrell's 2007 book "Lone Survivor: The Eyewitness Account of Operation Redwing and the Lost Heroes of SEAL Team 10," will be released in theaters nationwide Friday.
The Universal Pictures' film stars Mark Wahlberg as Luttrell, a SEAL and sole survivor after a battle that left 19 of his fellow soldiers, including Patton, dead in the mountains of Afghanistan.
Patton is played in a supporting role by actor Alexander Ludwig, who is best known for a role in the 2012 film "The Hunger Games."
Patton's father, former SEAL and Boulder City resident Jeff Patton, viewed the film at a private screening in Los Angeles months ago.
"The movie was hard to watch, but I appreciate what those warriors did for us," he said.
Joel Pepper, a friend of Patton's and a member of the Shane Patton Scholarship selection committee, viewed the film early on a movie-streaming website.
"It's definitely a good movie," Pepper said. "Obviously I read the book, but to visualize and see with your own eyes what they had to go through … it's crazy."
Pepper said that Ludwig's portrayal of Patton as an eager young SEAL doesn't quite capture the personality of his "wild and crazy" friend, but it's important that Patton had a role.
"If you really look at how many people died that day, there are really five or six people that have real roles in the movie that died," Pepper said. "Just for even Shane to have multiple speaking roles was pretty amazing to see. That's what I kinda thought was cool about it."
After embarking on a reconnaissance mission to identify a leading al-Qaida operative, Luttrell and three other SEALs encountered a group of goatherds in the mountains in Afghanistan's Kunar province, near the Pakistan border.
The soldiers had to weigh whether to let the civilians go, knowing that if they did, Taliban fighters in a nearby village would be alerted that there were American soldiers hiding nearby.
Following protocol, the goatherds were set free and soon after the soldiers found themselves outnumbered and under heavy enemy fire.
The three SEALs on the ground with Luttrell — Michael Murphy, Danny Dietz and Matthew "Axe" Axelson — were killed in the firefight.
Patton and 15 other soldiers died when their helicopter, on its way to support the men on the ground, was hit with a rocket-propelled grenade.
Luttrell was miraculously saved by a villager who hid him until he could be rescued.
"Lone Survivor" was written and directed by Peter Berg, who also directed the 2004 film "Friday Night Lights" about a Texas high school football team.
According to production notes on the "Lone Survivor" website, the film addresses themes of brotherhood, sacrifice and team commitment found in Berg's other works.
"This story is about working together for something bigger than our ego, bigger than our individuality," Berg said. "It's about coming together as a group, protecting each other, loving each other, looking out for each other, and finding a greater strength as a team than you could ever find as an individual."
Much attention to detail and preparation was put into the making of the film. Berg interviewed the families of the soldiers and embedded himself for a month with a SEAL platoon in Iraq. Luttrell and other SEALs also were brought on set as consultants.
The actors were even put through an intense training regimen by SEALs before filming took place in New Mexico.
"I thought the film was an accurate account of what happened that day on the mountain, of course realizing a movie, perhaps, has to capture the audience's attention," Jeff Patton said. "But I was watching for anything too far-fetched to be real life and also I listened for any dialogue that was not true to Navy SEAL camaraderie lingo, and I neither saw nor heard anything that we wouldn't have done or said."
Shane Patton's friend and owner of The Dillinger restaurant Grant Turner, who also heads the nonprofit Shane Patton Scholarship Foundation, said the "coolest" thing about the film is the respect and authenticity the story appears to be given.
Though he has yet to see the film, Turner, who played in a high school punk rock band with Patton, said he believes Patton would have approved.
"He would have thought it was badass because of the fact they're portraying it correctly," Turner said. "He hated poseurs."
Turner said he intends to watch the film by himself Friday.
"I'm going to drive far away so nobody can see me getting emotional," he said.
Pepper said he also expected the film to stir his emotions, but it was not as difficult to watch it as he predicted. At least not until the end.
"I have to say, I kinda thought the movie would really make me (more) emotional about him," Pepper said. "The movie made me emotional, but what really hit it home was in the credits; they showed actual pictures of Shane."
Patton's image is nothing new to many Boulder City residents. But it, along with his tragic and honorable story, will now be known to the masses.
Because of this, the film's website states, Luttrell's work is done.
"No matter how many times I get up and tell this story, or how many people read the book," Luttrell said, "it's nothing compared to how many people will watch this film. So my job is done. Mission complete."