Local author self-publishes book set in rural Oregon
November 7, 2013 - 9:39 am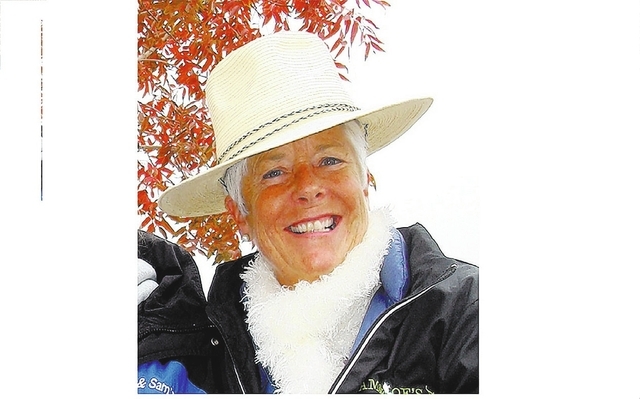 Local author M.A. Moone wants people to be good, and hopes to show them how with her first published book, "The Lord's Bit."
The self-published work of fiction is set in modern rural Oregon, and revolves around people who work hard to overcome the challenges that life presents them, such as death, taxes and radiation burns.
"The people in my book are just those salt of the earth people," she said. "They pay their taxes, they take care of their families, and they get the job done."
Moone, a local snowbird better known by her actual name, Merrianne Metzger, believes that examples of bad behavior influences bad behavior. And holding a doctorate in educational psychology, she should know.
"I want to be a one-woman protest against literary fiction that just deals with dysfunction," she said. "I want people to go away like they like the people in the book."
Moone said the story of "The Lord's Bit," named for a piece of land owned by one of the book's characters, came to her with the title more than 40 years ago.
"This book has been rolling around in my head," she said.
However, she didn't write it until last winter.
She then asked some friends, including former Boulder City Mayor Bob Ferraro, to help edit the book. Her husband did the cover artwork. And then she self-published it on Amazon.com in digital form in April, and in paperback in September.
Over the years she said she has had many ideas for books, but it was not until 1993, after retiring, that she actually began typing.
"I've wanted to write for a long time," she said. "But life got in the way."
To date, Moone said she has started five or six novels, and finished a couple.
She says writing is her hobby, but she also believes it is her purpose.
"I believe humans are here to be a pass-through," she said. "We receive gifts from the other side, and we're here to get them down and get them out."
But Moone's work is not entirely a gift from the great unknown. She said much of her character development is inspired by people she knows here on the ground.
For example, a stubborn old woman named Leona in "The Lord's Bit" was inspired by Moone's mother.
Leona's friend Jack, who is thoughtful and loves animals, was inspired by one of Moone's rancher friends in Oregon, where she lives during the summer.
"As I flush out my characters, I draw on people I know," she said.
Moone said she put a lot of her personal philosophy into the book, too, which she said can be summed up as, "Bad things happen to good people. It's how you deal with it."
Moone's uplifting philosophy, combined with the book's title and the values it emphasizes might lead one to think it is grounded in religion, but Moone said it is not.
In fact, she even tried to change the title so it would not alienate nonreligious readers, but nothing seemed to work.
"It came to me as 'The Lord's Bit,' and 'The Lord's Bit' it will be," she decided.
But with her first novel finished, Moone said the work is far from over.
"The hardest part for me is going to be the marketing," she said.
Moone has creative strategies planned, such as starting a Facebook page where she can post as the characters. For example, she could use the character of Leona to post recipes.
"I want these characters to have a continuing presence, if people are interested just a little bit," she said.
Moone will also be marketing her book through traditional methods, such as a book signing from 2 to 4 p.m. Saturday at the Boulder Dam Hotel. She said the books will be on sale for $15 at the signing, cheaper than they are sold on Amazon.com.
But no matter what happens, like the characters in her books, Moone plans to work hard.
"I don't know where this book is going, but I'm having fun," she said. "If I've done my best, it'll be good enough."