Leach continues to touch people's lives
August 6, 2014 - 12:46 pm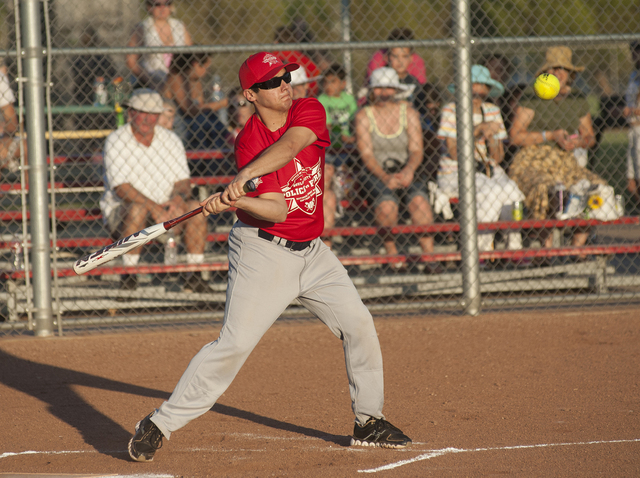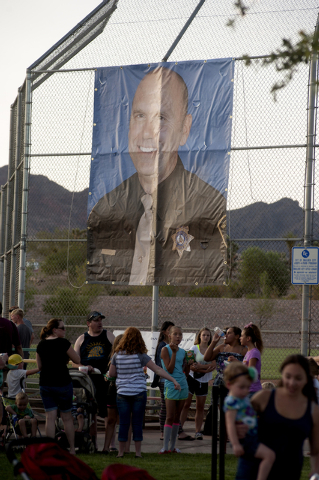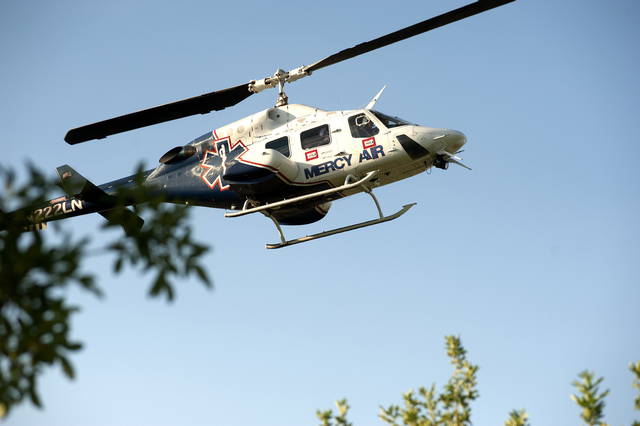 It was his million-dollar smile and magnanimous heart that separated Dan Leach from the rest, according to his friends and family.
Leach, a longtime Boulder City resident and Las Vegas police officer, died in a car accident while on duty in 2009. To commemorate his life and the effect he had on everyone he encountered, a baseball field at Veterans' Memorial Park was renamed in his honor during Tuesday's National Night Out, a yearly gathering that helps to boost crime-prevention awareness by bringing members of the community closer to local law enforcement.
Leach's widow, Laura, along with his parents and sister, stood with Mayor Roger Tobler and other City Council members as a banner of Leach was unveiled behind home plate to the applause of the hundreds in attendance.
"I look at that picture every day," Leach's older sister, Audrey Schmitt, said. "I always admired him and his big ol' smile."
Sandy Leach was overwhelmed when she realized the number of people her son encountered. Although it's been nearly five years since Leach's death, Sandy Leach has gained a sense of happiness knowing how important Dan was to the Boulder City community.
"As a parent you think, 'How did he have time to meet all these people?' " she said, laughing. "But he did, and it's marvelous."
Councilman Cam Walker got the idea to do something to honor Leach during National Night Out in 2012. The idea became a reality in March when the City Council unanimously voted to rename one of the Little League's fields from Field No. 1 to Dan Leach Field.
Walker, who knew Leach through their children's sports competitions and community events, said it was important that Leach was never forgotten. The two families still remain close.
"I knew we had to do something to memorialize his life and what he stood for, and this was the right thing," Walker said. "It's a wonderful tribute, and it'll be here forever."
Leach was described as a man who never met any strangers. To him, each person he met was someone different who had a story to tell. As a corrections officer, he found the good in everybody and was able to put them at ease, something that his mother said is hard to do.
"He had compassion," Sandy Leach said. "Even in the jail he had compassion. He had this philosophy, 'You can fix anything with a bologna sandwich and a glass of milk.' "
Walker shared the sentiment about Leach being a naturally caring person who would go out of his way for anybody. Since Leach was heavily involved with Boulder City youth sports, Walker said it's hard to remember that Leach is gone, and was overwhelmed when he saw Leach's face on the giant banner behind home plate.
"It was real tough. You just expect him to be there at the next game," Walker said.
Schmitt, who lives in Cleveland, said she gains a better understanding of the effect her brother had on Boulder City every time she comes to visit.
"It just speaks volume of the community here, and how much Dan meant to his friends and neighbors," she said with a smile. "It blows me away because I've learned so much about my brother and just the cool guy he was."
Contact reporter Steven Slivka at sslivka@bouldercityreview.com or at 702-586-9401. Follow @StevenSlivka on Twitter.