Laid to rest — finally; coalition identifies, inters veterans unclaimed remains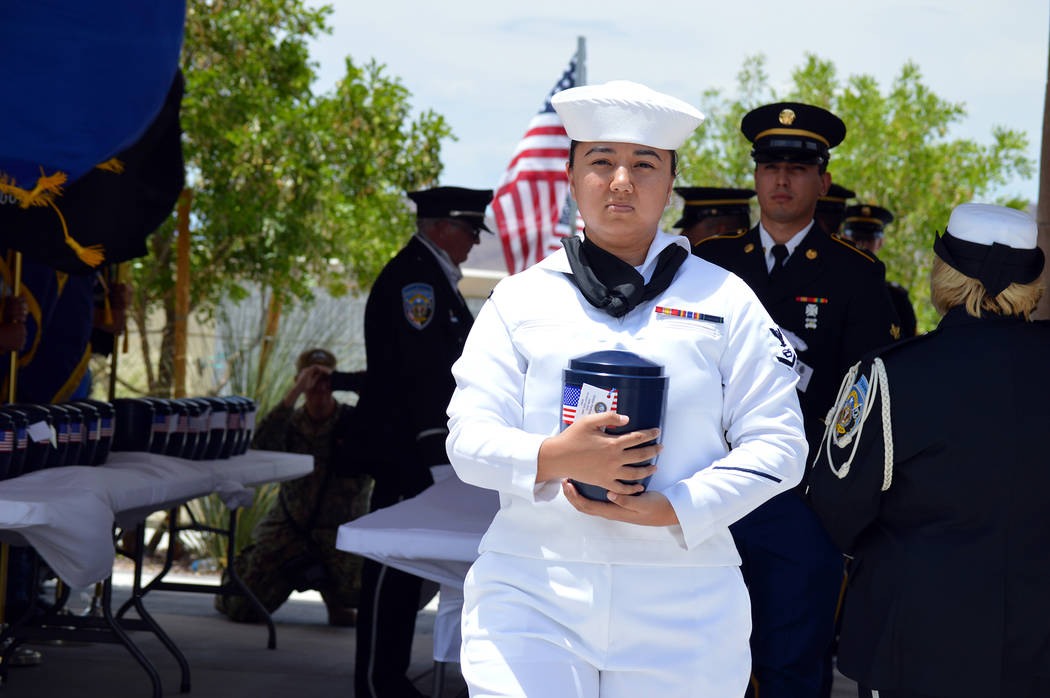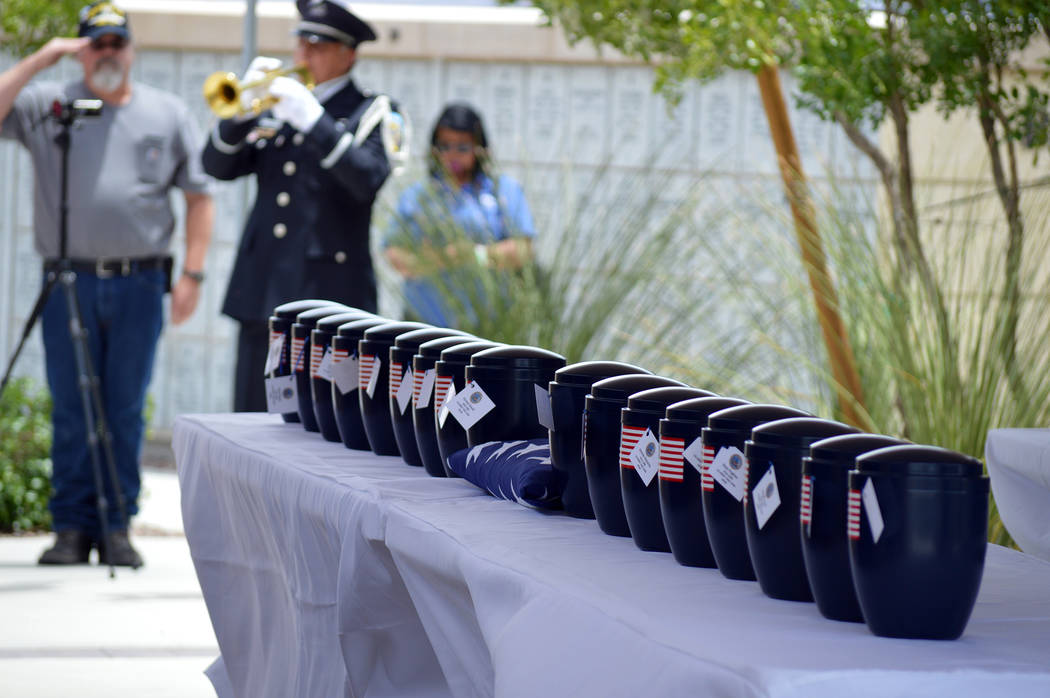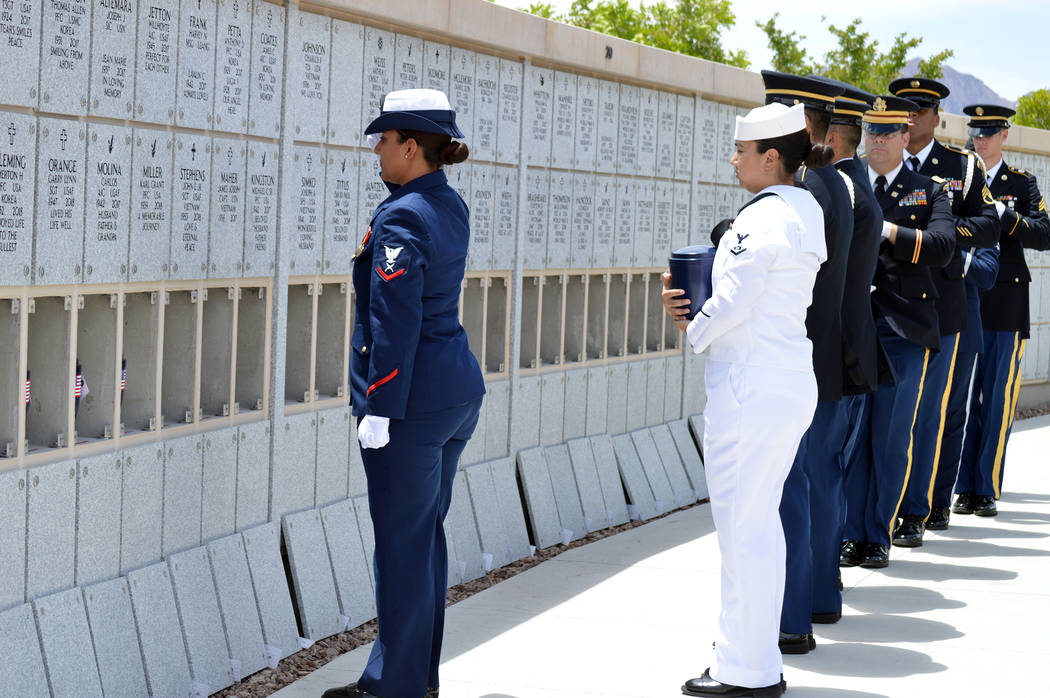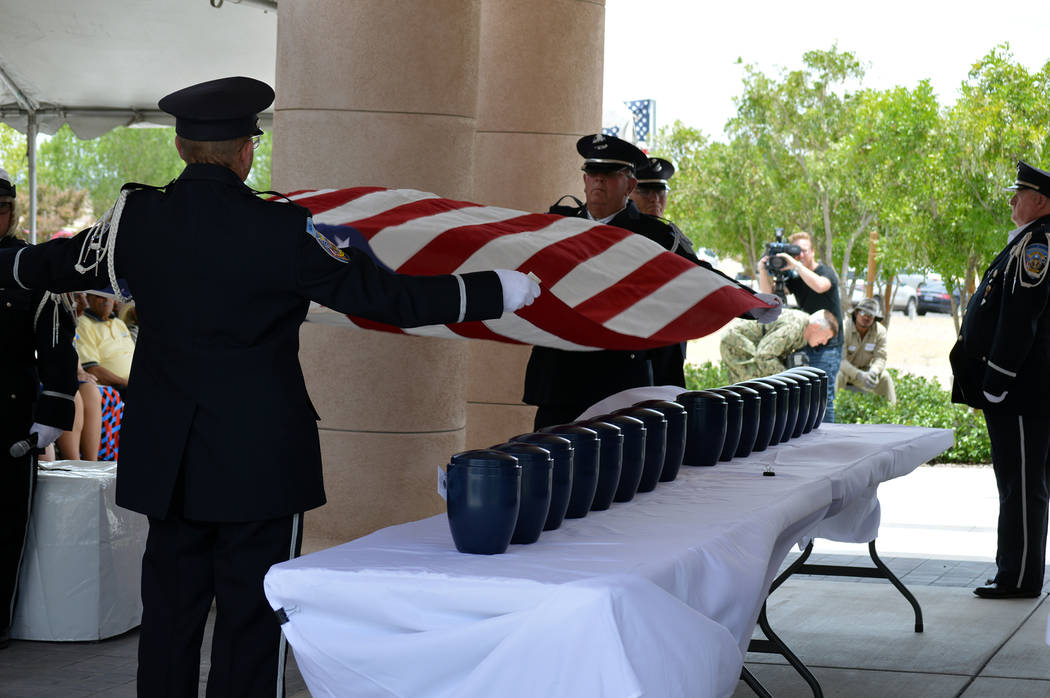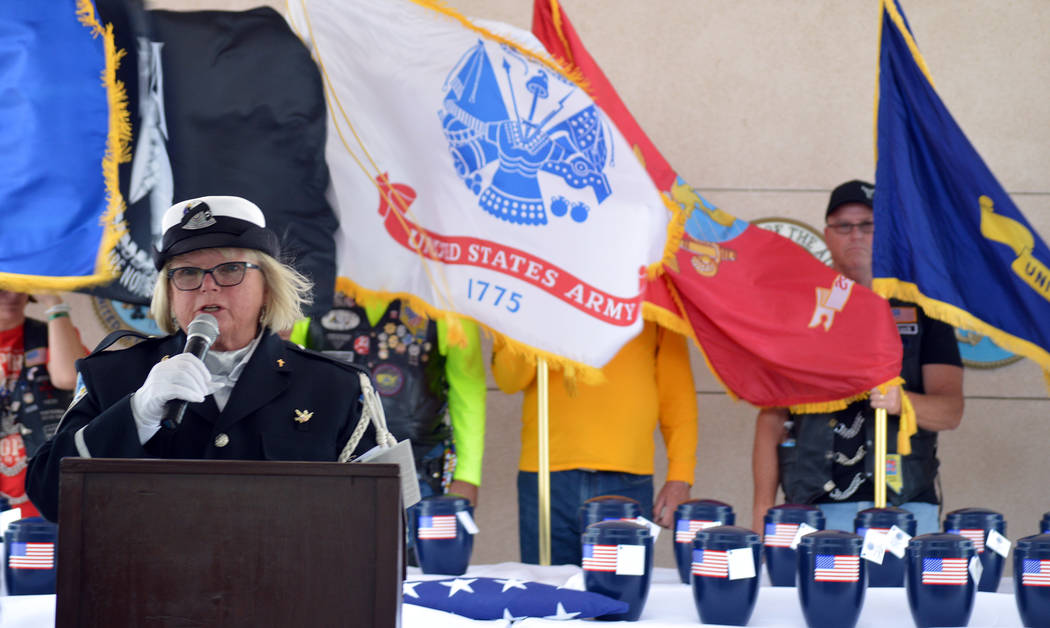 Thirty-five veterans with no family or loved ones left were laid to rest late last week at the Southern Nevada Veterans Memorial Cemetery in Boulder City.
The service, titled "A Promise Kept," was held Friday, June 15, and is part of the Nevada Veterans Coalition's Missing in Nevada mission. The group works with other organizations to identify the unclaimed remains of veterans, stored at a mortuary or crematorium, to give them a final resting place.
"It's an honor to give these veterans a resting place which they so deserve," said Sharon Serenko, Nevada Veterans Coalition chaplain.
For these 35 veterans, whose remains were in the care of Bunkers Eden Vale in Las Vegas, the coalition worked with the Nevada Department of Veterans Services, the Nevada State Board of Funeral and Cemetery Services and Bunkers Eden Vale to identify the men who had fought in World War I, World War II, the Korean War and the Vietnam War.
"Not having family here does not mean they are not loved," said Nevada Department of Veterans Services Director Kat Miller on Friday. "Their lives were full. … The simple truth is some of us will outlive those you love."
The service included full military honors for all the veterans.
Serenko said some of the remains had been unclaimed since the 1970s.
"They have been brought home at last," she said.
"Today we are here to take the final walk with them. … Thank you for sharing a part of life with these 35 veterans," said Jennifer Kandt, executive director of the funeral services board.
Serenko said the veterans cemetery is a "hallowed and honored place" to remember those who made sacrifices and that every monument tells a story.
"Well done, faithful and honored patriots," she said.
Each of the men's remains was in a blue urn with an American flag on it. During the ceremony, a United States flag was unfurled and folded in their honor.
At the end of the program, each urn was taken to its spot in a mausoleum at the cemetery by a current member of the corresponding branch of the military.
Once at the mausoleum, the service members placed the remains inside, said the deceased's name out load and saluted.
This program is the 11th one done by the Nevada Veterans Coalition but the first in Southern Nevada. The organization is working to identify approximately 100 more unclaimed remains in Southern Nevada.
The nonprofit Nevada Veterans Coalition is based in Fernley. It was started in 1992.
Contact reporter Celia Shortt Goodyear at cgoodyear@bouldercityreview.com or at 702-586-9401. Follow her on Twitter @csgoodyear.
The 35 veterans interred at the Southern Nevada Veterans Memorial Cemetery
Lewis Bar (1905-1980), U.S. Army, WWII
Mark Beals (1926-2005), U.S. Army, WWII
George Boa (1920-1987), U.S. Army, WWII
Harold Bozovsky (1921-2005), U.S. Army, WWII
John Chase (1912-1988), U.S. Air Force, WWII/Korea
Clarence Choate (1921-1989), U.S. Army, WWII
Edward Fisher (1930-1988), U.S. Coast Guard, Korea
Victor Forbush (1908-1978), U.S. Navy, WWII
Forrest Gould (1933-1990), U.S. Army, Korea
Elmer Harris (1891-1979), U.S. Army, WWI
Russell Herr (1923-1989), U.S. Army, WWII
Jimmie Holcomb (1921-1989), U.S. Army, WWII
Cecil Huffine (1914-1995), U.S. Army, WWII
Ross Hughes (1914-1995), U.S. Army, WWII
Joseph Hunt (1908-1981), U.S. Army, WWII
William King (1915-1989), U.S. Army, WWII
Phillip Kolman (1921-2005), U.S. Army, WWII
Norman MacInnes (1903-1974), U.S. Army
Edward Maloney (1927-2005), U.S. Navy, WWII
Clarence McDonald (1920-1992), U.S. Army, WWII
Robert Miller (1912-1988), U.S. Navy, WWII
Riley Morrison (1928-1992), U.S. Army, Korean War
Joseph Nemec (1906-1988), U.S. Army, WWII
William O'Day (1920-1986), U.S. Navy, WWII
Andro Pavlik (1920-1994), U.S. Navy, WWII, Korean War
Sanford Perry (1915-1989), U.S. Army, WWII
John Prine (1941-1992), U.S. Navy, Vietnam War
Richard Ranft (1920-1978), U.S. Army, WWII
Robert Turk (1924-2005), U.S. Army, WWII
Nick Walsoff (1911-1989), U.S. Army, WWII
John Weidinger (1914-1989), U.S. Army, WWII
John Whalen (1919-1990), U.S. Army, WWII
Martin Wilson (1907-1987), U.S. Army, WWII
Eugene Yevich (1927-2014), U.S. Army, WWII
Leonard Zimmerman (1916-1980), U.S. Marine Corps/U.S. Army, WWII