Knock-out win; family named 'Light Fight' champions
December 21, 2016 - 2:07 pm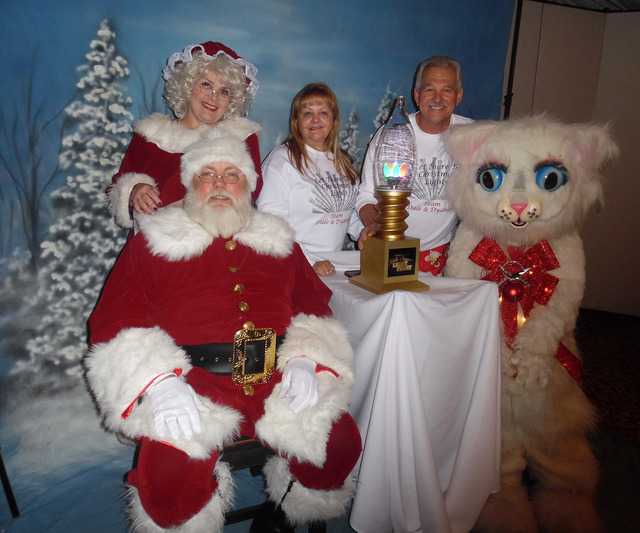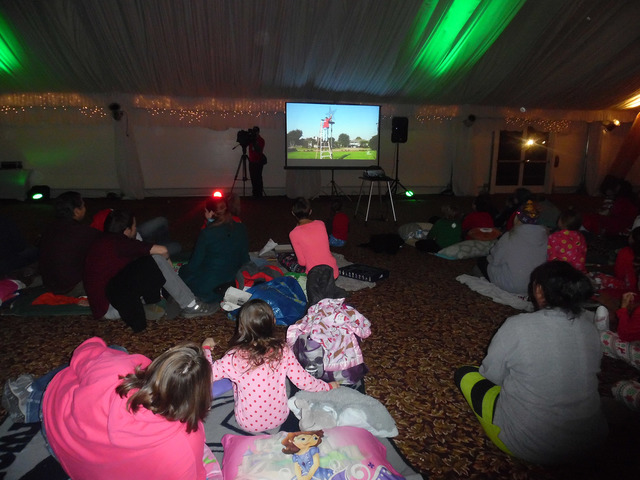 The cheering inside Boulder Creek Golf Club on Monday night was nearly deafening as those attending a community viewing party for ABC's "The Great Light Fight" realized that their friends and Boulder City neighbors Dale Ryan and Dyanah Musgrave had won the holiday decorating challenge.
As they watched show host and judge Taniya Nayak place the light bulb trophy in the yard of Ryan and Musgrave's home on Fifth Street, the joy erupted, sharing the sense of community that helped propel the duo to victory on the reality show.
"I can't put into words. … It's overwhelming all the love and support from this community and to win," Ryan said. "What a ride this has been. It doesn't get any better."
Ever since moving to Boulder City 13 years ago, Ryan has been decorating their home at 1525 Fifth St., transforming the front yard into a winter wonderland with a ski lift, merry-go-round, Ferris wheel, trains, snowmen and other holiday accents.
"It's a gift that we are able to give to the community because they give us so much," Musgrave said about the annual holiday display, adding they were happy to share their pride in Boulder City on the television show.
Ryan's father, World War II veteran Bill "Wild Bill" Ryan, said he was proud of his son's accomplishments and excited to share the experience with his family.
After visiting the four homes featured in the episode Nayak said she was impressed by Dale Ryan's do-it-yourself decorations and the story behind each item in his display.
Ryan and Musgrave competed against families from Alexandria, Louisiana; Maple Leaf, Washington; and Manchester, Texas. All three of the other displays incorporated technology to synchronize their light and music displays.
"Nobody was more surprised than me," Ryan said about winning the decorating challenge, trophy and $50,000 prize. "The hardest thing was not telling anyone we won."
"Boulder City's community spirit was alive tonight as we watched one of our amazing residents, Wild Bill and his family, achieve an amazing win," said Jill Rowland-Lagan, CEO of the Boulder City Chamber of Commerce, which co-sponsored the viewing party.
Among those were Shelli and Mike O'Donnell, who live across the street from Ryan and Musgrave. They said they were happy to support their friends and neighbors.
"We love them and love Wild Bill. They are wonderful neighbors," Shelli O'Donnell said.
"We've been rooting for them the entire time," Mike O'Donnell said.
Jen Hopkins of Las Vegas, a friend and business partner of Ryan and Musgrave, said she brings her family to see the lights on their home every year. "This was so much fun — to see everyone and all their support," she said.
Henderson resident Ryan Bandics also joined the festivities and was enjoying the family-oriented pajama viewing party.
After watching the show, he said he thought Ryan and Musgrave had a good chance of winning.
"I'm happy to see that money wasn't the only deciding factor (in who won)."
Since starting the process to be on the show in early January, Ryan and Musgrave said they have been — and will continue to — enjoy the holiday season through New Year's Day.
Ryan said around 500 people come to see their home each night and he happily hands out candy canes and chats with visitors. And now he has "bragging rights" to go along with the decorations.
Making good on his television show promise to sleep with his trophy, Musgrave has a picture of Ryan in bed wearing his Christmas pajamas and hugging his trophy.
"Dyanah stayed on the couch that night," he said with a wink in his eye.
Hali Bernstein Saylor is editor of the Boulder City Review. She can be reached at hsaylor@bouldercityreview.com or at 702-586-9523. Follow @HalisComment on Twitter.