Knapp honored by governor as veteran of month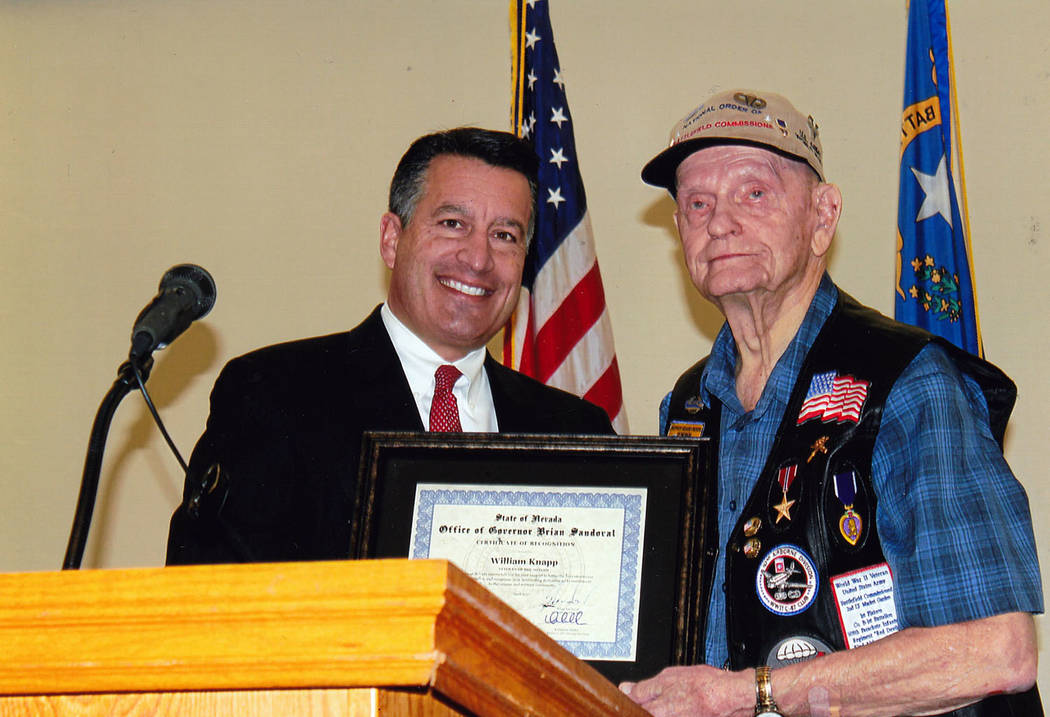 World War II veteran Bill Knapp was recently honored as the veteran of the month by Gov. Brian Sandoval and the Nevada Department of Veterans Services.
"It was quite an honor," Knapp said after the ceremony on April 20. "It has opened up some avenues that were not open before.
"I'm in awe," he added. "I just did what I was supposed to do."
Knapp, 94, served with the U.S. Army during the war. He is a member of the American Legion Post 76 in Las Vegas. He became involved about four years ago after his wife died and also became a member of the Southern Nevada Patriot Guard Riders.
Additionally, he is part of a group that ensures that no veteran will be buried alone, providing proper honors during ceremonies each Thursday at the Southern Nevada States Veterans Cemetery in Boulder City. During these ceremonies, Knapp accepts the American flag on behalf of WWII veterans. He also remembers his friends who are WWII veterans by placing a flag on their graves every week.
"I do it because I feel like I owe my comrades," he said. "I've lost a lot of them. This is my way of giving back to them and letting them know that I care."
Knapp fought in World War II from 1942 to 1946 and was part of the 82nd Airborne Division and 508th Parachute Infantry Regiment. He was part of several major battles during the war including D-Day in Normandy and has been honored for his service with the Purple Heart, Bronze Star, and a battlefield commission. In 2015, Knapp was awarded the French Legion of Honor, which is the highest French order of merit for military and civil deeds.
"I never did anything heroic," he said. "I just did my job."
The Nevada Department of Veterans Services provides the veteran of the month and veteran supporter of the month awards as part of Sandoval's commitment to make Nevada the friendliest state in the nation to its military community and veterans.
Contact reporter Celia Shortt Goodyear at cgoodyear@bouldercityreview.com or at 702-586-9401. Follow her on Twitter @csgoodyear.