Kindred souls found at cemetery
January 14, 2015 - 2:35 pm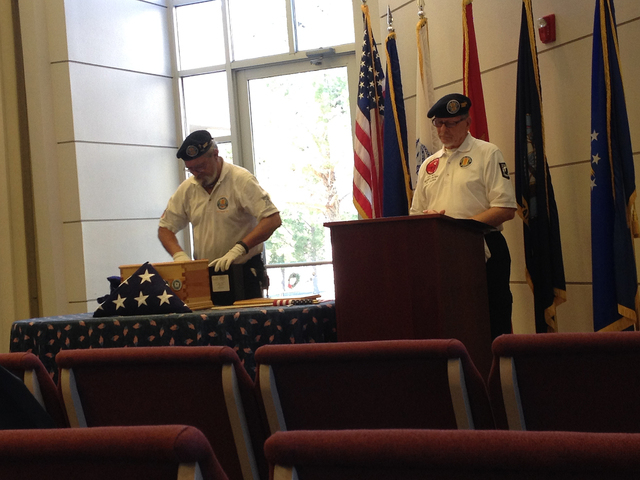 With a sorrowful tone and a powerful message, Don Sacco stands at the podium inside the chapel at the Southern Nevada Veterans Memorial Cemetery and delivers the eulogy for Rockie Hales.
Sacco never met Hales, a U.S. Army veteran who served in Vietnam. Up until two days before the service, he was unaware Hales even existed.
But Sacco is a Vietnam veteran who served in the Navy from 1951-54 and the Army from 1962-90. As a member of Vietnam Veterans of America, he comes to Boulder City every Thursday morning to bury those veterans who are without family to give them the proper services.
"It's very seldom that nobody is being buried," Sacco said about the weekly ceremonies. "Sometimes you get one, sometimes you get nine."
Sacco isn't alone in honoring the 67-year-old Hales. The chapel walls are lined with Patriot Guard riders each holding 8-foot tall American flags, their heads bowed down as Sacco reads a prayer for a man he never met.
Two members from the Honor Guard then present the 13-fold salute of the American flag, which is given to another man sitting in the front row.
Now, George Haussmann stands at the podium. Wearing a black beret and a white-collared shirt with Vietnam Veterans of America printed on the back, Haussmann delivers the eulogy for U.S. Air Force veteran Mary Kauffold. Like Hales, Kauffold had no family to give her a proper burial.
And even though Haussmann never knew Kauffold, he says it's an honor to read her eulogy and give her the ceremony she deserves.
"They have no family, nobody to come out and witness their final trip," said Haussmann, a nine-year veteran of the Air Force. "They're veterans. This is something that's earned."
After the prayers are read, the Honor Guard members fold the flag and present it to a different stranger sitting in the front row. Like clockwork, the same routine occurs as Don Leckburg delivers the eulogies for Navy veterans Chris Heathering and William Brintle.
Two more prayers. Two more flag folds. Taps are played for all.
After burying veterans for many years, including the four most recent ones, who were all Vietnam veterans, Haussmann said the ceremonies can be difficult to get through.
"It doesn't get old, but sometimes it gets hard," he said. "We're Vietnam Veterans of America. The services we did today were for four Vietnam veterans."
Leckburg said he has seen the services grow since he started helping three years ago. He sees it as an honor and a duty to give his fellow veterans a proper burial.
"Nobody should go alone," he said. "To me, it's a privilege and an honor to come out here and do the services. Sometimes it's not easy."
Leckburg called himself a "Navy grunt" because he was trained by the Marines before he went to fight the North Vietnamese in 1969.
"I joined the Navy to stay out of Vietnam, but it didn't work out that way," he said with a laugh. "We know that Vietnam veterans are dying younger than the other veteran groups because of their exposure to things in Vietnam. But when it's your turn, it's your turn. You don't have any say so."
According to Gregory Hall, commander of American Legion Post 31 in Boulder City, once a veteran dies, the county does a records search for next of kin. If there isn't a next of kin available, the veteran is cremated and the state veterans cemetery takes care of the funeral service.
But identifying the deceased can take several months, he said. Kauffold, Heathering and Brintle all died in October. Hales died in September. Still, they all believe that every veteran should be buried with honor.
"It just feels like the right thing to do. It's sad that they have nobody," said Bobi Oates of Women Veterans of Nevada. "We have to take care of our veterans and give the example so that others will take care of us as we go along."
After the eulogies are finished inside the chapel, the crowd makes its way to a separate portion of the cemetery reserved for those veterans without family. Haussmann provides a final prayer for the four veterans honored while the groundsman digs a grave for each urn. Shortly after, those in attendance take handfuls of dirt and gently toss one into each of the graves before giving them a final salute.
"We need to remember our past so we can remember our future," Oates said.
The crowd then disperses as a flautist slowly finishes the patriotic songs she's been playing for half an hour. The two-hour ceremony is officially in the books.
The Patriot Guard riders return to their motorcycles, while the others get into their cars and drive away. Next week, they'll be back to do it all over again.
Contact reporter Steven Slivka at sslivka@bouldercityreview.com or 702-586-9401. Follow him on Twitter @StevenSlivka.