Just keep running: Group helps disabled stay on course
January 17, 2018 - 3:27 pm
Updated January 18, 2018 - 11:34 am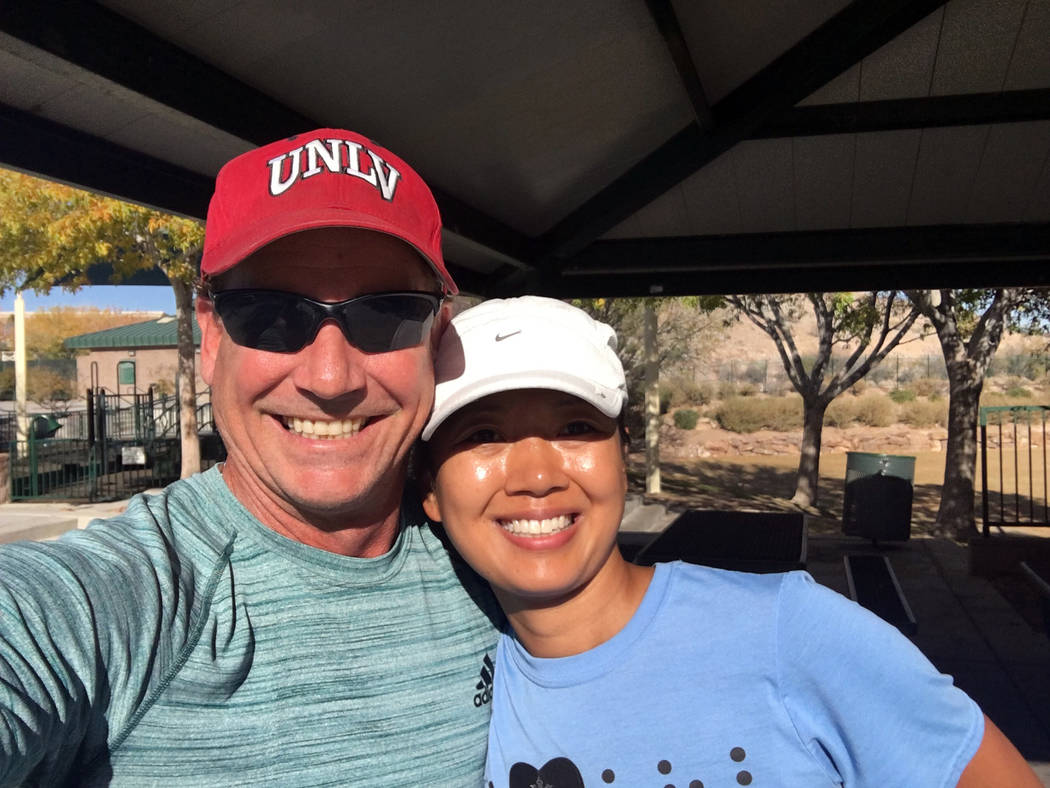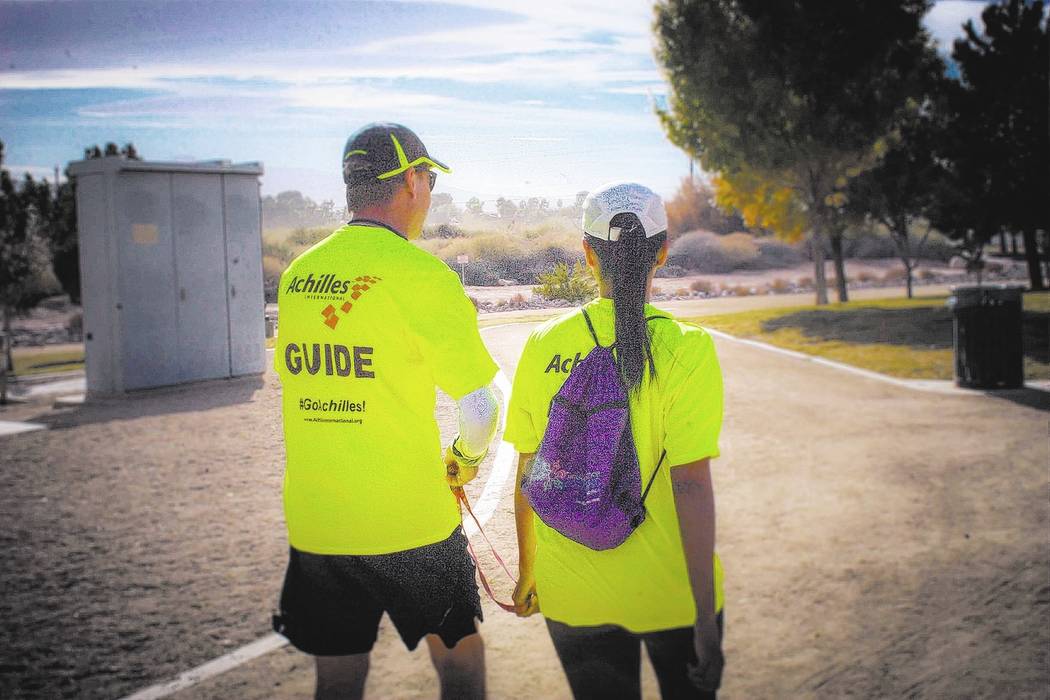 Terri Rupp doesn't let much stop her, not even her blindness.
The Las Vegas woman, president of the National Federation of the Blind of Nevada, recently started running with the local chapter of Achilles International, started by Boulder City resident John Sterling.
Sterling, an avid runner, was so inspired by the story of a blind athlete running in the New York City Marathon that he immediately contacted the nonprofit, which works with disabled runners, to volunteer. Unfortunately, there were no local chapters, so he started one.
"We will run with anyone. … Whatever you're bringing to the table, we will accommodate," he said.
Achilles International is a nonprofit organization based in New York. Its mission is to enable people with all types of disabilities to participate in mainstream running events to promote personal achievement. It provides training and race guides for the participants and has chapters in 65 locations throughout the United States and abroad.
Sterling is from California and moved to Boulder City about a year and a half ago to be near his family.
Currently, the Las Vegas chapter has two blind athletes and two handcycle athletes.
A handcycle is a three-wheeled bike propelled by one's arms rather than legs. Achilles started providing a program with them for wounded veterans in 2004.
The blind athletes run with a guide, who clears obstacles along the trail, tells them where to go, and lets people ahead of them know they are coming. There are also guides who run behind them to keep people from running up on them.
"We're just offering an opportunity for others to get the joy and … other things we experience from running," Sterling said. "It's just running with friends."
Rupp suffers from degenerative condition called optic nerve atrophy, which has caused her to lose her sight over time. She was born in a refugee camp in Thailand, and her parents immigrated to the United States right before she turned 2. At that time, her eyesight was already affected by the disease.
Rupp said before joining Achilles International she had run a few times in the past by herself. At that time her eyesight allowed her to follow the people in front of her.
"I have lost significant sight since then," she said.
Recently, her drive to run was reinstilled after talking a friend.
"A week later John called me about blind runners, and I decided to do it," she said.
She started running with Achilles Las Vegas in December 2017 and did her first race on New Year's Eve. In addition to running with Sterling, she also runs on a treadmill and in her neighborhood.
"I'm much more comfortable running with a sighted guide. … When I'm running with a guide and Achilles, I'm actually on the trails," she said.
Rupp said she also enjoys the community aspect of running.
"It's just so much fun running with a group. … It's great talking with people," she said.
Currently, she is training with Achilles to run in the Rock 'n' Roll Marathon in Las Vegas.
Despite starting to lose her sight when she was a toddler, Rupp didn't get help until she was in college and discovered the National Federation of the Blind.
Now her mission is to show other blind people, including her 8-year-old daughter, that their blindness does not stop them from having a normal life.
Her daughter also has optic nerve atrophy and is going to start running with her mom soon.
"I am her biggest advocate," she said.
For those interested in volunteering or participating in Achilles Las Vegas, go to https://www.facebook.com/achillesLasVegas/.
Contact reporter Celia Shortt Goodyear at cgoodyear@bouldercityreview.com or at 702-586-9401. Follow her on Twitter @csgoodyear.