Updated April 21, 2018 - 7:39 am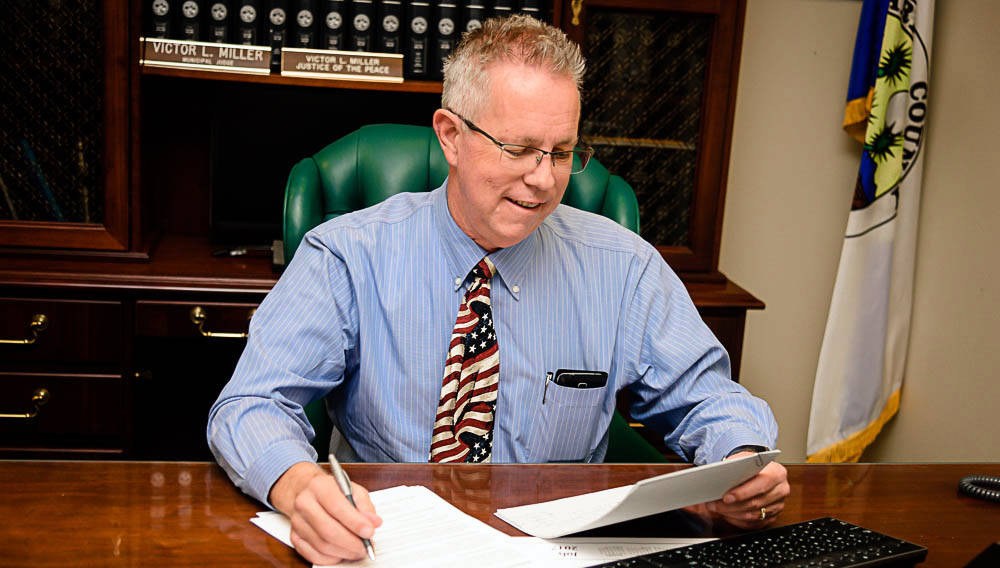 The gag order issued by Boulder City Municipal Court Judge Victor Miller against counsel in the crosswalk protest case has been invalidated in Nevada's Eighth District Court.
On Monday, Judge Susan H. Johnson granted a writ of mandamus to attorney Stephen Stubbs that he filed a petition for March 2 to restore his right to free speech. Stubbs claimed that Miller took away those rights through a gag order he issued in the city's case against his client, Boulder City resident John Hunt.
Hunt was arrested on several charges after a crosswalk protest against a police-sanctioned pedestrian enforcement event.
In her written order granting the writ, Johnson said that two reasons gag orders are issued are to avoid prejudicing the jury pool and preventing "a carnival atmosphere in a high-profile case."
In the city's case against Hunt, Johnson said there is no prejudice to a jury pool because the municipal court does not conduct trials by jury.
"Further, the five misdemeanor charges pending against Mr. Hunt, which consist mostly of traffic violations, could hardly be classified as highly profile or even interesting to Boulder City's residents," she wrote. "To put it bluntly, this court concludes Mr. Stubbs has not, and frankly, cannot create a 'carnival atmosphere' by making posts about the case and his adversary on his Facebook page."
She also wrote that Judge Miller's concern that the post would disrupt the case or prejudice "an adjudicative proceeding" made it appear that he was "more concerned of the prejudice to him in deciding the legal issues."
She said that Miller's gag order was too broad and could be violated if the counsel disparaged their adversary in a private conversation at their homes.
"Though my order talks throughout about public speech, because I did not specifically use the word 'public' communication in the last sentence of the order, she concluded it was too broad," Miller said. "I thought it was clear from the context that my order only referred to public comments. I respect our judicial system that provides many layers of review and sometimes, like here, the higher court sees the case differently."
Miller also said that his gag order was an attempt to get the attorneys to "play nice" and keep the trial in the courtroom and not on social media.
"It was my intent to keep this simple misdemeanor case from having a circus atmosphere," he said. "The district court order does acknowledge that an attorney's speech may be regulated. Our legal profession expects attorneys to be professional and act with a certain decorum. That is what my order was attempting to encourage. In fact, the district judge repeats the law that 'preventing a carnival atmosphere in a high profile case is also a legitimate reason to gag an attorney,' which seemed to be the direction the case was heading."
In his petition for the writ, Stubbs said that because City Attorney Steve Morris is Miller's church leader, Miller may not be able to objectively assess Morris in the courtroom.
In her conclusions of the law in the order, Johnson did not mention anything about their religious relationship.
"I am so grateful that my First Amendment rights were restored in the District Court, and I cannot express to you the joy that I feel in my heart to have my rights back," Stubbs said. "Judge Miller's unconstitutional gag order was wrong."
On April 9, Miller officially recused himself from the Hunt case because a written brief, filed by his attorneys regarding Stubbs' petition, caused his impartiality to be questioned.
"The underlying issues and the merits of the cases between Mr. Hunt and the city of Boulder City are not implicated or otherwise affected by the recent orders regarding extra judicial communication issued by Judge Miller and by Judge Johnson," Morris said. "These orders resulted from Mr. Stubbs' conduct and attacks against city officials, which are irrelevant to the merits of the cases or the issues that will be tried. While efforts to create a "carnival atmosphere" may not be uncommon, the city looks forward to trying the cases in a court of law where facts and relevant evidence are considered and weighed."
Order granting Writ of Mandamus by Boulder City Review on Scribd
Contact reporter Celia Shortt Goodyear at cgoodyear@bouldercityreview.com or at 702-586-9401. Follow her on Twitter @csgoodyear