It's hot, hot, hot: people find ways to stay cool despite record-breaking heat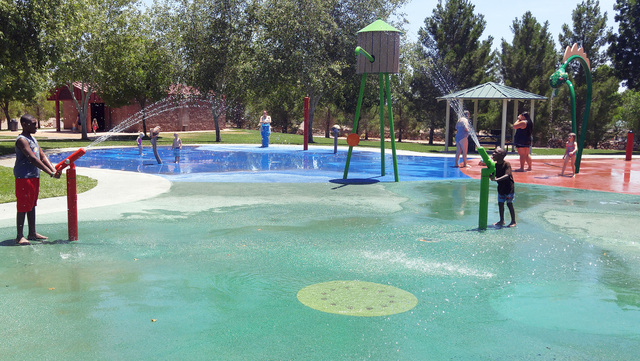 It was a sweltering weekend in Boulder City with the National Weather Service issuing a heat advisory warning and the city experiencing its first triple-digit temperatures of the year.
Saturday was a scorcher, hitting 108 degrees in Boulder City and 109 degrees in Las Vegas, according to the service. Though records for Boulder City have not been kept consistently since they stopped retaining official data for the city in 2005, that was a record-tying day for the Las Vegas Valley.
The next day offered no respite as Las Vegas stayed at 109, breaking a 20-year-old record, and Boulder City caught up and possibly even reached 110 degrees. It is difficult to be sure about the apex because, according to the service, since the airport in Boulder City is not an official affiliate, measurements are only taken every 15 minutes.
The record-setting heat, combined with the first weekend in months without a festival or a large-scale event, meant the streets of downtown Boulder City were desolate in a way unseen all spring. There were no crowds at the park, only a small graduation celebration for Sydney Thenton and Lexi Mulheron, each of whom received their diploma's from Boulder City High School on June 1.
The streets throughout downtown were similarly uninhabited, with only a few brave customers daring to eat outside at the usually bustling tables of The Dillinger and Jack's Place, and those that did so were sure to be sheltered in the shade and near the misters.
Roger Douglas and Maria Avila frequent Boulder City two or three time a week, and though they acknowledged it was a bit hot, they are too enamored with the city to stay away.
"It's hot, but it's really hot in Vegas, too; at least here it's quiet and beautiful," Douglas said. "I play in a band here at the senior center every Wednesday and we just love this city, where every shop and restaurant has so much personality. Besides, you just stay in the shade, maybe under the misters, it's not that bad."
Some families found another way to beat the heat this week by bringing their children to the splash park at Veterans' Memorial Park, where shade and water is in plentiful supply.
"It's our first time to the park, but I had seen it when I was out for work, and it is perfect for the kids," said Courtney Perkins, who brought her family to the water park from North Las Vegas. "The water just makes it so much easier to stay cool, the family can play out here for hours."
While some were willing to combat the heat, some local business certainly noticed a sharp decline in the business that becomes customary in the first half of the year.
"I don't think we've seen even half the amount of customers as in recent weeks; a lot of people just don't want to be out when it feels like this," said Sherman Wright, proprietor of Sherman's House of Antiques. "It might be tough for a little while, but people that live around here get used to it, and we serve a lot of local clientele as well. Things'll be fine as the summer goes along."
The weather service reports that Sunday was 13 degrees warmer than the historical average of 96 and there is little relief in the near future. The weather service's excessive heat warning remained in effect through Wednesday, and though today's clouds may help temperatures drop down to the high 90s by the weekend, they're expected to reach 100 degrees again by Tuesday.
However, the hot sun doesn't necessarily mean doom and gloom for the summer. This month kicks off the busiest season of the year for Lake Mead National Recreation Area as people from all over the region flock to the refreshment found in the eponymous body of water.
More than 150,000 people visited Lake Mead during the Memorial Day weekend and, according to Christie Vanover, spokesperson for the lake, by Labor Day the number will almost certainly balloon to more than 3 million. The type of tourists may change a bit while the heat is at its most intolerable, but there may still be plenty of visitors to Boulder City.
Both Lake Mead and the National Weather Service have similar recommendation for dealing with extreme summer heat: Stay hydrated; never leave children or pets in cars, which heat up like ovens; whenever possible avoid the midday sun; and if one must be out in the sun, cover up and be generous with the sunblock.
For more information and in depth weather in the region and around the lake, visit http://www.wrh.noaa.gov/vef/rec/index.php?loc=SM
Contact reporter Hunter Terry at hterry@ bouldercityreview.com or call 702-586-6711. Follow him on Twitter @HunterBCReview