iPads change teaching, learning at high school
September 26, 2013 - 4:35 am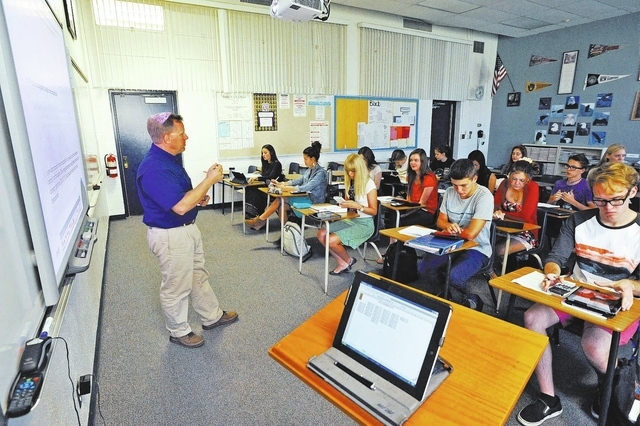 Technology has changed teaching at Boulder City High with every teacher using an iPad in their classroom.
"We are totally changing the teaching practices at Boulder City High School," third-year principal Kent Roberts said. "We are changing the way teachers teach, the way students learn in school and the way students do homework. Teaching at our school is different from what it was just a few years ago."
Roberts said teachers are using the iPads to video themselves teaching the day's lesson or presentations at the front of the class. The video is then posted online to the school's website, and students who were absent or want to review, can play the video and get caught up.
It's not just the teachers. Many students have iPads through a school-sponsored program aimed at putting the devices in all the students' hands during the next few years.
"The great thing about the iPads is that kids can access their book anywhere without lugging a huge textbook around with them," Roberts said. "A couple of weeks ago I saw a student at one of our games who was working a T-shirt booth while working on her homework because the tablet is so convenient."
Success has come early.
On the Nevada Education Department's website regarding the School Performance Framework for Advance Placement Exams, Boulder City has improved passing scores each of the past three years.
In 2010-11 Boulder City students passed AP exams at a rating of 42 percent. It climbed in 2011-12 to 53 percent.
This past school year, with iPads in wide use, Boulder City students passed AP exams at a rate of 64 percent.
"The proof that Boulder City is at the cutting edge of teaching is seeing our AP students passing exams jumped from nearly 22 percent in the time period when we first brought in the iPads in 2010-2011 to last year's 64 percent.," Roberts said. "Even teachers that are near their final years before retirement and could coast out the door doing what they have done for years, are changing and they are stepping up and leading the way with the iPads, too. So many teachers here have jumped in with both feet to teach the new way."
The iPad program at Boulder City got its birth in 2010-11 when the school purchased a few. The program got in full swing last year when the school held a fundraising campaign and every student taking an Advanced Placement course was issued an iPad.
Boulder City High's enrollment is 641 students: 158 seniors, 154 juniors, 161 sophomores and 168 freshmen. The school has 31 teachers and one librarian.
Beginning in August, students in the following classes were issued an iPad; AP U.S. history, AP world history, AP U.S. government, AP literature, AP language and composition, AP physics, AP Spanish, AP art, English 10 Pre-AP, AP chemistry, anatomy & physiology, Spanish III Honors and the specialized learning disabilities.
"The original plan was to start with all seniors, but because it is easier to assign the books by course and tie them to an e-textbook we started with AP courses," Roberts said. "Some of our AP courses were new and so we bought e-textbooks to pair them up with the iPads."
Early concerns about iPads being broken or stolen have, so far, been unfounded.
"We only had to repair three of them last year. But the best news, and it speaks about our students, is that we did not have a single iPad lost or stolen at our school."
Boulder City High has 255 iPads on its campus and 224 of those are in the hands of students. Every teacher on campus also has an iPad. Some of those were issued by the school and some were purchased with specialized program money, such as career and technical education funds, Roberts said.
"Credit Mr. Roberts and a few tech savvy teachers for paving the way, and the entire school staff for making the program a success," history teacher Canaan Petersen said. "The students have also put forth a great effort. The iPads are a great teaching tool."
There are a few other schools in Clark County using iPads.
"Southwest Career and Technical Academy started their program about two years prior to ours and we actually talked to them quite a bit about the pros and cons and logistics of this type of program," Roberts said.
Reporter Pedro F. Fonteboa can be reached at fonteboavegas@yahoo.com.