I-11 art shows construction of dam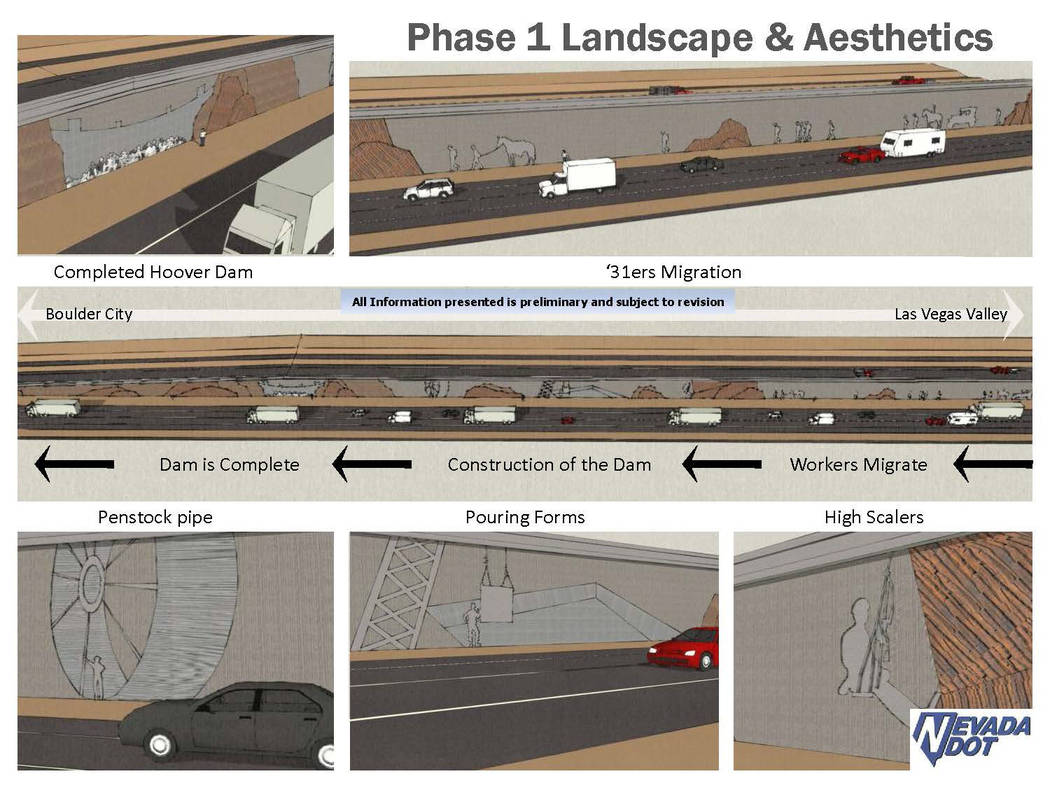 The new Interstate 11 outside Boulder City will feature artwork depicting what made the town famous: construction of Hoover Dam.
Nevada Department of Transportation is responsible for the first phase of I-11, which features a four-lane concrete freeway between Silverline Road and Foothill Drive, said Tony Illia, public information officer at NDOT.
It will cost $83 million and is set to be finished in 2018.
The highway also includes a 28-foot-tall retaining wall with art that depicts scenes from the construction of Hoover Dam.
"The Phase One soundwall is the project's visual centerpiece, which captures and celebrates Boulder City's cultural history," Illia said. "The decision to use graphics illustrating the dam's construction was an easy one. The dam played a pivotal role in shaping Boulder City and Southern Nevada, fueling the region's economic and development prosperity."
The wall will also be coated with a special anti-graffiti film that serves as a deterrent for taggers, as well as featuring 20,000 cactuses, decorative rock and 5 miles of tortoise fencing.
Regional Transportation Commission of Southern Nevada is handling Phase Two of the project between Railroad Pass and the Hoover Dam bypass bridge. Construction is running concurrently with Phase One, and is also scheduled to be finished in early 2018.
Contact reporter Celia Shortt Goodyear at cgoodyear@bouldercityreview.com or at 702-586-9401.
New I-11 Artwork By the Numbers
■ 1,200 feet long
■ 28 feet tall
■ 20,000 cactuses and decorative rock
■ 8 graphics depicting the construction of the Hoover Dam
■ 5 miles of tortoise fencing
■ Complete in spring of 2018