Hospital praised for expanded services, job creation
January 30, 2014 - 4:52 am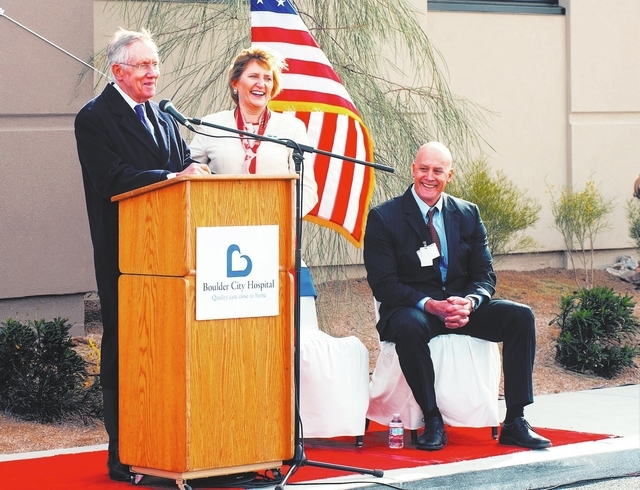 Boulder City Hospital opened the doors Friday to its new 10-bed geriatric-behavioral center and 10-bed inpatient acute rehabilitation unit during a ceremony attended by those who helped the project come to fruition including Sen. Harry Reid.
"This advances the city of Boulder City as an 'Age in Place' community," said Tom Maher, CEO of Boulder City Hospital.
The geropsych program will provide behavioral health care for those primarily 55 and older who suffer from major depression, delusions and/or hallucinations, suicidal thoughts, severe mood swings and other illnesses.
The acute rehabilitation program will provide care for those who have had a stroke, spinal cord or brain injury, amputation or joint replacement, or other illness that requires assistance before the patient returns home.
"Expanded health care is good for everyone in our community," Reid told those who came to the open house.
"It's exciting and beautiful," agreed Sarah Adler, state director for the U.S. Agriculture Department, which provided funding for the project. "We're creating jobs and broadening our offerings in health care so that more health care dollars can stay in Boulder City. And we're only halfway there."
Maher and Adler said the units came in on time and under budget.
The two units were built with a $13.87 million loan from the Agriculture Department and $2.44 million loan guarantee by the department through the Rural Communities Assistance Corp.
According to Reid, the federal government has invested $329 million in small Nevada towns in the past two years. This type of assistance and creating jobs through projects such as the hospital's expansion are essential for the nation's economic recovery, he said.
"For every one job available, there are three people looking," he said. "We need a 100 more projects like this."
"You keep sending me the money, sir, and I'll keep spending it," Adler said.
Attending the open house was Angela Quinn, managing director of Building Hope Nevada, one of the project's sponsors that helped develop the hospital's expansion program.
Maher thanked those involved with the project, including the hospital's board of trustees, foundation members, city council members and officials, and Clark County Commissioner Mary Beth Scow, who was instrumental in getting a $250,000 grant for preconstruction costs.
Adler also credited the hospital staff for its composure during the construction process.
"The staff was good at providing health care while health care was built around them," she said.
Ground was broken in July and had to be completed by Dec. 31 so the hospital would be eligible for Medicare reimbursement.
"Mike Willden (director of Nevada's Health and Human Services Department) rallied the troops to meet almost impossible to reach deadlines," Maher said, noting they worked as late as 4:15 p.m. New Year's Eve to ensure everything was completed and all the paperwork filed.
The units include individual and shared rooms and facilities for the staff. The self-contained geropsych unit features an outdoor courtyard area with dining tables.
Opening the two units marked completion of the first phase of the hospital's expansion. Phase 2 will include changes to the front lobby, an outpatient rehabilitation gym, administrative offices and two new bays to the emergency room.