Hitler costume creates controversy
October 17, 2018 - 4:52 pm
Updated October 18, 2018 - 8:29 am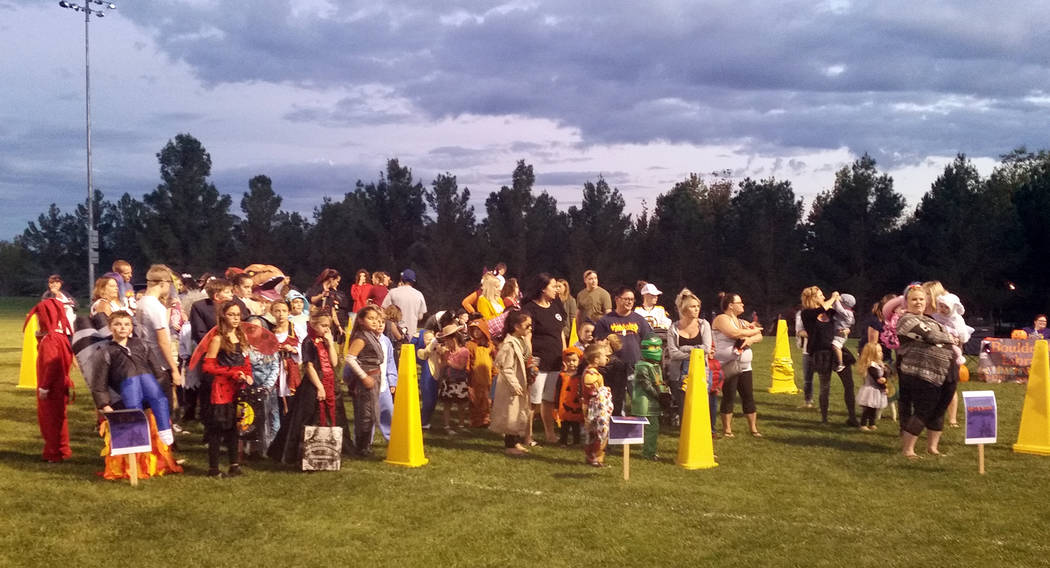 A child who dressed as Adolf Hitler at Saturday's, Oct. 13, Trunk or Treat event at Veterans' Memorial Park created controversy that caused some attendees to leave the Boulder City Chamber of Commerce's annual event early and sparked outrage on social media.
The boy's costume included a red armband with a Nazi-style swastika and a brush mustache. In a now deleted social media post, the boy's mother, Janet Mizzi Arsanian, defended his costume, saying it was last minute, of a historical figure and that she was proud of him.
Brandy Decker, who lives outside of Boulder City and is a retired teacher with Clark County School District, said she came to Trunk or Treat with her children while visiting friends in town. She said she was in a state of shock when she saw the costume.
"I am a mother of four boys and I was appalled that someone not only allowed their child to dress up as Adolf Hitler but clearly supported his decision," she said.
Decker said she ended up packing up her boys and leaving Trunk or Treat because of it.
"This was clearly not last minute and in the realm of historical figures, I could think of 5,011 other historical characters that would've made a positive impact on the event," she said. "Adolf Hitler would never even be on my radar as a possible costume. As for being proud of him, I can't imagine being proud of my child for dressing up as a Hitler. Clearly there is a lack of accomplishments in his life if this is what she chooses to be proud of. I think there is a huge disconnect within this family for both parents to seemingly support their child's decision to dress as Hitler."
Another attendee Brianne Osman said she saw the costume but it didn't really bother her.
"We first saw the boy when he was trunk or treating. The friend of mine saw his costume and asked him about it. He said that he was dressed as a historical figure," she said. "I remember seeing him and not thinking too much about his costume choice. He was very polite. We gave him candy and he was on his way."
Osman said she doesn't know the boy or his family but has been told by mutual friends that they are a good family and he is a good kid.
She said she thinks this incident has been "blown way of proportion."
"We can all agree that Hitler was an evil man who did unspeakable things and while this may not have been a costume of choice for me, who am I to say what anyone dresses up as," she said. "We do live in a free country. … If he started chanting and marching around, I might think twice about it. If the family had a bad reputation, then I might think twice about it. I feel this is just a costume, nothing more."
Arsanian did not respond to the Boulder City Review's request for a comment about her son's costume. She teaches special education at Cortney Junior High School in Las Vegas.
Chamber CEO Jill Rowland-Lagan said in a written statement that Trunk or Treat provides a "safe, family-oriented event for the public to attend and be a part of the celebration by handing out treats to those in attendance" and that the chamber was notified that several costumes may not have been in good taste according to the opinions of some attendees.
"Not all participants will agree with or appreciate all costumes and the perception of the views that may be shared," she wrote. "We understand this and take it under consideration during the planning phase of all events. This event will have the same consideration."
Additionally, she said it is up to the attendees' discretion regarding costumes because Trunk or Treat does not sell or distribute costumes or post what type can or cannot be worn.
"The Boulder City Chamber of Commerce does not engage in making political statements or take political stances," she wrote. "It is our practice to provide opportunities for community members to enjoy events that bring attention to the many great aspects of our city and to promote the business community that are in attendance. We will continue to strive to highlight and promote the amazing outdoor adventure experiences, the step back in time honoring our history and the engaging community events that bring together the great people of Southern Nevada."
Contact reporter Celia Shortt Goodyear at cgoodyear@bouldercityreview.com or at 702-586-9401. Follow her on Twitter @csgoodyear.