Hiring of city attorney could spur change
November 8, 2017 - 4:06 pm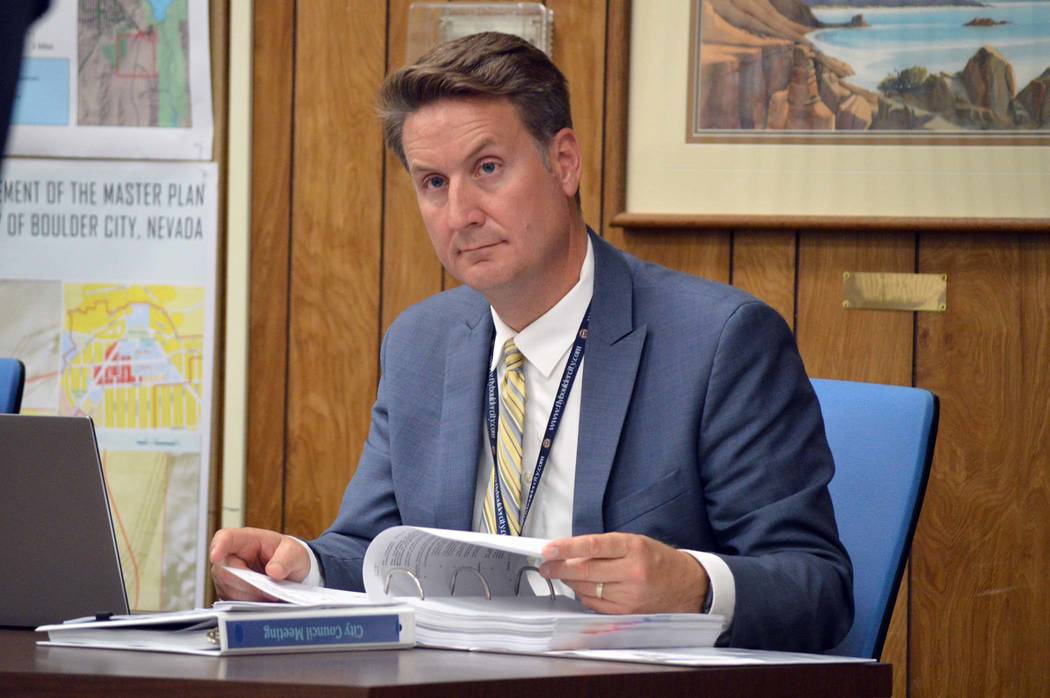 Boulder City Mayor Rod Woodbury hopes to eliminate an assistant city attorney position should contract negotiations with the current city attorney go through.
In a 3-2 vote at its meeting on Sept. 26, the City Council gave acting City Attorney Steve Morris a conditional job offer, pending an employee agreement, physical and background check.
During KLAS-TV, Channel 8's Mondays with the Mayors segment on Nov. 6, Woodbury was asked why Morris was the "right choice" for the job.
"Steve Morris has been our assistant city attorney for some time, and he's also a lifetime Boulder City resident, so he understands the dynamics out there," Woodbury said. "He understands all the different aspects of being a city attorney in Boulder City. We have the luxury, too, because he had that position before that we can get rid of that assistant position, at least for the time being, and see how that works out."
After the interview, Woodbury said that he was anticipating eliminating the position, but he was unsure if it would happen.
"As I said in my Channel 8 interview … my hope is that we can do away with the assistant city attorney position on the civil side, at least in the short term, so that we can reassess whether or to what extent it's still needed at this time," he said. "I can't yet say whether that will actually happen, since my understanding is that Mr. Morris' contract negotiations are still a work in progress. But that's my hope."
Bob Murray &Associates is handling the contract negotiations with Morris, and should they go through, Woodbury said that all the duties Morris has been performing as the assistant city attorney on the civil side will then come under his full-time job description for the immediate future.
"I think that's a luxury that is great for us, and also he's very knowledgeable," he said on Monday. "He's a great litigator, and so we think he's going to be a great fit for Boulder City."
This possible elimination would not affect the other assistant city attorney position, held by attorney Gary Booker, according to Woodbury.
"Regardless, the city will continue to need an assistant city attorney on the criminal side, and I have no reason to doubt that Gary Booker will continue his able service in that capacity," he said.
City manager hiring search
Woodbury also gave an update about the city manager search during the news segment on Nov. 6. He said that the city hopes to interview the final candidates for that position "pretty soon."
The city hired Bob Murray &Associates to handle the recruitment for the position, which drew 35 applicants. The list was then narrowed to 15.
Currently, the recruitment firm is reviewing those resumes as well as talking with members of the City Council, according to Woodbury. "The goal is to get it down to a more manageable group, so we can interview them — four, five, maybe six at the most," he said. "That's well underway. … I'm impressed with all the people that have come forward. I think timing wise, if we're lucky, we'll get interviews before the end of the year, and then the new hire at the beginning of the year."
Contact reporter Celia Shortt Goodyear at cgoodyear@bouldercityreview.com or at 702-586-9401. Follow her on Twitter @csgoodyear.