High school's budget spared
October 11, 2017 - 3:13 pm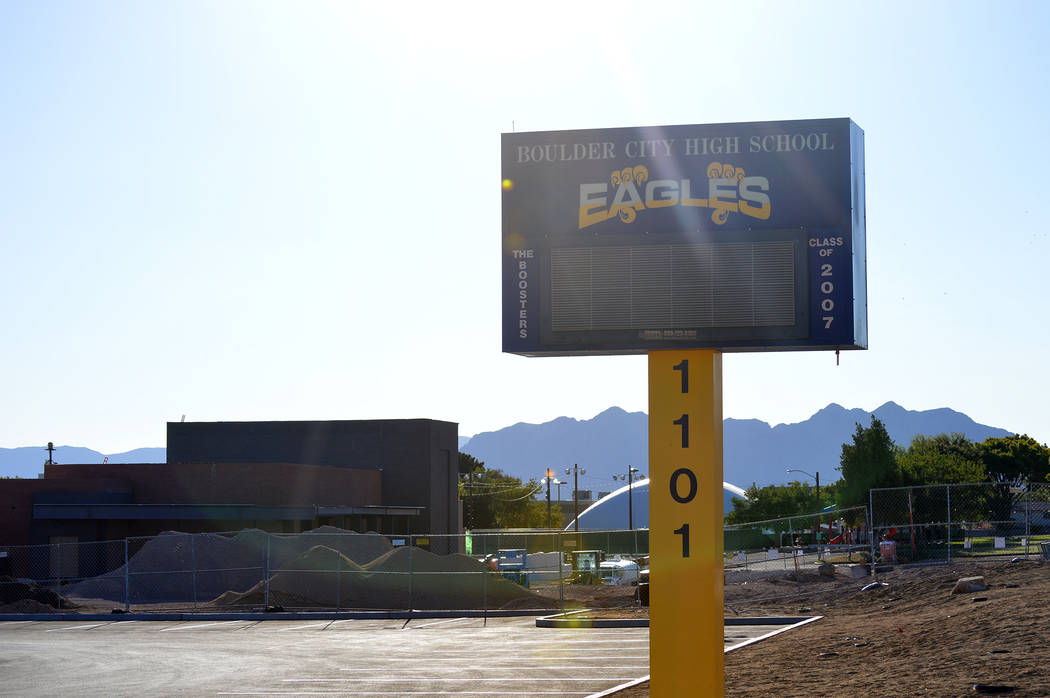 Despite an estimated $60 million budget deficit facing the Clark County School District, Boulder City High School will not have to cut any programs. Rather, it can purchase new equipment and materials for several of its departments.
The school's approximately $3.4 million budget was approved by the high school's organizational team Sept. 27. It includes about $350,000 more because the school's enrollment was higher, which brought in more money, according to Principal Amy Wagner.
At its recent meeting, the school organization team unanimously approved spending $27,000 on upgrades for the band department, as well as approximately $40,000 on new math textbooks for three classes, approximately $6,600 on new novel sets for the English department, $2,000 on new science workstation equipment and approximately $4,300 to extend the school banker's position to 12 months rather than 11.
Team members Jason Howard and Jennifer Solorio were not present at the meeting, but there were still enough members present for a vote.
Band teacher James Gillette asked the team members to consider budgeting $27,000 for new trombones, mallet percussion field frames, marching percussion items, electric guitar with amplifier, music folders, replacement drum heads for marching percussion, concert toms, mouthpieces and mutes for brass instruments, trumpets and various instrument repairs and cleaning.
Gillette said that none of these things had been obtained or upgraded since he came to work at the school 10 years ago.
"We've never had the money to do it … They would help the department for the next 10 years and keep the program going in the direction we want to go," he told team members before budget allocations.
Other departments within the school also made requests.
The math department requested new textbooks for algebra 1, geometry and algebra 2. The algebra 2 textbooks are 14 years old, according to Bill Strachan, math teacher and organizational team member.
The cost for those is approximately $12,000 per subject.
Wagner said the English department requested some new sets of novels that will cost about $6,600.
Additionally, Chris Bires of the science department asked for more equipment for the workstations in the physics class, which totaled a little more than $2,000.
Wagner sought to have the school banker position be made a 12-month position, rather than an 11-month one. That would cost $4,300.
All of the requests were approved, and the school has already started buying the items, Wagner said.
In addition, its budget has been approved by School Associate Superintendent Jeff Hybarger, according to Wagner, but still needs to be approved by human resources and the budget committee.
Mitchell Elementary School also was spared from budget cuts because of the district's deficit.
"We actually ended up receiving an extra teaching position and additional dollars to our general budget because our enrollment is higher than what the district projected," said Principal Benjamin Day. "Good news for Mitchell!"
The other schools in Boulder City had a different experience with their budgets.
"Unfortunately, our actual enrollment was less than originally projected, causing us to lose a teacher," said King Elementary School Principal Tony Gelsone. "The teacher with the least seniority on staff attends a surplus meeting and has the opportunity to pick a position from a school that has an opening they are licensed for. We had to surplus a third-grade teacher. The district has used this process as long as I have been in the district. This was a cut to our budget. However, it was money that came with the position, so it needed to go with the position."
Garrett Junior High School Principal Jamey K. Hood said it had to cut a month from a specialist or secretary position.
"This was only after an employee retired, and then we decided we didn't need the extra month going into the summer," she said.
Contact reporter Celia Shortt Goodyear at cgoodyear@bouldercityreview.com or at 702-586-9401. Follow her on Twitter @csgoodyear.