Henderson woman fights cancer while embracing life's adventures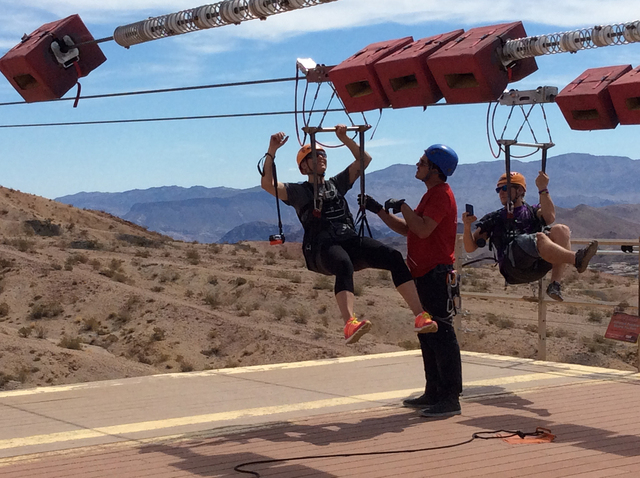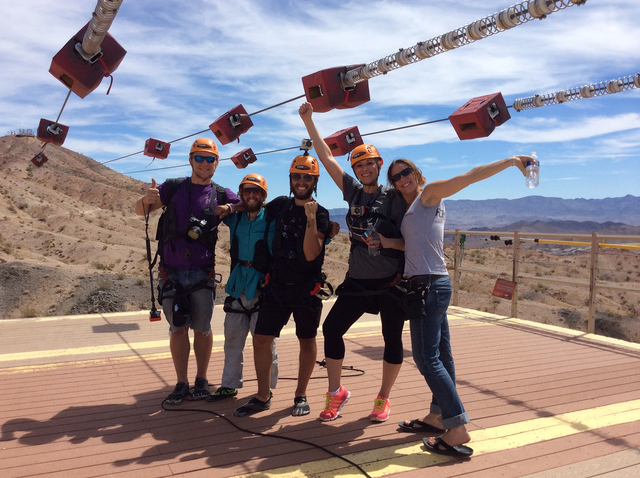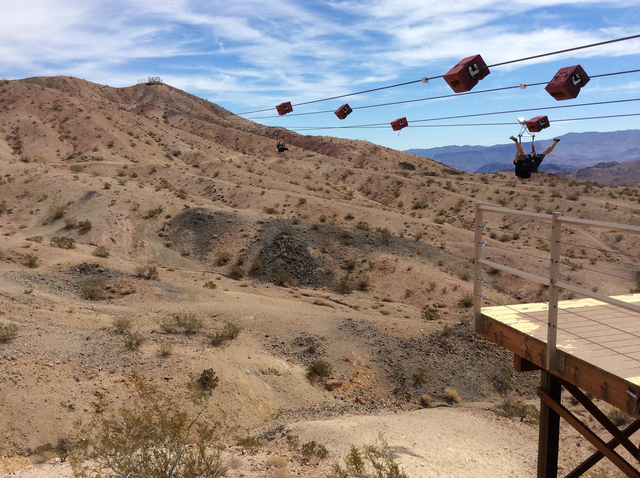 After learning she had breast cancer, Nina Tabor opened up her life to adventure.
"I felt good about everything else, but I had not lived and done things," she said. "I learned to say yes to things versus overthinking them.
For the Henderson woman, that included zip lining in Boulder City and inviting a trio of young documentary makers who are riding their bicycles across America into her home.
Evan Bartlett, Zach Cieslak and Tim Jacks are creating Ride the Battle, a Web series about their trip from Chicago to Los Angeles and back. Along the way, they are meeting with cancer patients and taking them on adventures that defy the limitations often placed on them by doctors. In addition to zip lining, their experiences have included skydiving and going behind the scenes at an aquarium.
Bartlett, who is producing the series, was diagnosed with acute lymphoblastic leukemia when he was 14 weeks old.
"My parents have always been open about it, but I just never really wanted to hear it," said Bartlett about his own battle with cancer.
"Once I started asking all these questions, I started meeting other cancer survivors and they had other limitations and I started figuring out how blessed I was," Bartlett said.
He also had questions about how he was supposed to live having faced a life-threatening disease and what should he do if his cancer came back. He said he tried some Internet research and one day realized he was looking in the wrong place.
"It dawned on me that I'm a film student and that I could get these answers myself," Bartlett said.
That resulted in his first Web series, "I Survived Cancer," which revolved around the positive side of surviving cancer and involved road trip with a brain tumor survivor from Chicago to Los Angeles and back, and a feature film, "Discovering the Beating Path."
He also discovered that he enjoyed helping other cancer patients.
Around the same time, he met Jacks, whose dream was to ride his bicycle across America. While discussing the trip, Jacks, who is directing the series, revealed that he has two relatives with cancer: his mother, who has been cancer free for six years after a 2007 breast cancer diagnosis, and his grandmother, who has stage four ovarian cancer.
They decided to collaborate on the project, Ride the Battle, and recruited Cieslak, who was already planning to ride across America and also had been touched by cancer.
They spent a year planning their journey and raised more than $5,000 through a Kickstarter campaign to offset expenses. As adventure seekers, they wanted to share the spirit of their journey with cancer patients they met along the way.
"Honestly, I never would have done this (without them). I am extremely afraid of heights," Tabor said.
Her trip with FlightLinez Saturday morning came just a week after her most recent surgery. Tabor said she still had stitches and staples in as she walked away from the final zip line platform on the hillside in Bootleg Canyon.
Tabor said she decided to live life to its fullest after being diagnosed with an aggressive form of breast cancer in August.
"I have six surgeries and lost five body parts," she said.
She was introduced to Bartlett, Jacks and Cieslak through The Caring Place, a nonprofit program dedicated to helping those touched by cancer. Before her diagnosis, Tabor provided massage, hypnotherapy and art therapy to clients.
She said it seemed like an ideal fit for her to team up with Ride the Battle as her boyfriend, Kevin Reasbech, is an avid bicyclist and her son, Geoff Tabor, is a budding filmmaker.
To follow the remainder of Bartlett, Cieslak and Jacks' adventure, visit www.ridethebattle.com. A new webisode is uploaded at 7 p.m. each Sunday.