Heatwave on fire at Swimming Sectional Championships
December 31, 2014 - 4:16 pm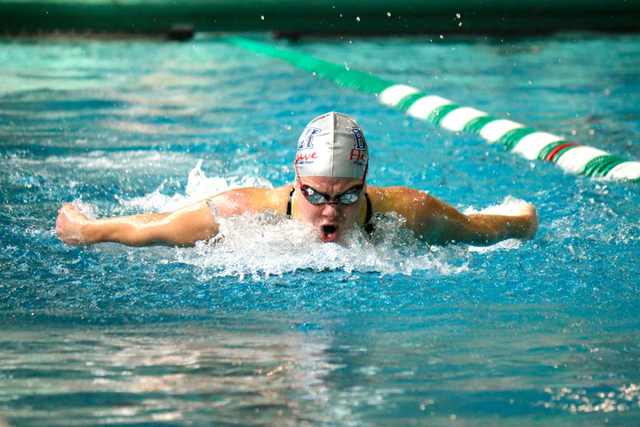 Jessica Purdy, who has signed a national letter of intent to swim for the University of Northern Colorado, swam three good times at the 2014 California/Nevada Swimming Sectional Championships on Dec. 19-22 at East Los Angeles College.
Purdy was one of six Boulder City High swimmers who swam for their amateur club team, the Boulder City/Henderson Heatwave. The Heatwave had 15 swimmers competing.
Purdy swam the 100-yard butterfly in 1:00.67, the 200 butterfly in 2:14.32 and the 100-yard freestyle in 55.73. She also teamed with Alex Hubel, Victoria Navarro and Abby Richter to place sixth in the 400-yard freestyle relay.
Sam Sauerbrei finished in third place in the 200-yard butterfly in the finals with a time of 1:49.40. He swam 1:42.03 in the 200 freestyle finals and had a time of 1:55.73 in the 200-yard backstroke. He swam 51.06 in the 100- yard butterfly finals. He finished ninth in the 200 individual medley in 1:52.42.
Hubel was fourth in the 200-yard freestyle finals with a time of 1:49.66. She also was seventh in the 100-yard freestyle in 51.13. Hubel teamed with Richter, Navarro and Brooke Ivey to place fourth in the 800-yard freestyle relay. She also swam 57.68 in the 100-yard butterfly and 2:07.72 in the 200-yard butterfly. She reached the final round of the 50-yard freestyle after she swam 23.90 in her preliminary rounds.
Abby Sauerbrei placed ninth in the 500-yard freestyle finals with a 5:11.93. She also did well in the 1,000 -yard freestyle finals with a 10:30.85, and a 2:12.06 in the 200 butterfly.
Jason Lyon swam the 1,650- yard freestyle in finals with a 16:30.10, the 500-yard freestyle in 4:43.55, and the 1,000-yard freestyle in 9:53.06.
Mandy Gebhart finished eighth in the 1,000-yard freestyle finals with a time of 10:28.14. She had a time of 5:06.16 in the 500-yard freestyle.
She also competed in the 100-yard backstroke and finished in 59.48 — a 9.99 time improvement on her personal best. She also was ninth in the 1,650-yard freestyle in 17:16.36, and swam the 200-yard backstroke in 2:06.41.
Wrestling
Team Boulder won six matches by pin and used three forfeits to defeat Desert Pines 54-30 on Dec. 19.
Brady Branscum (113 pounds), Jimmy Brown (120), Tyler Rushworth (138), Patrick Garvin (152), Jacob Jurgschat (195) and Jack Rozycki (285) each won by pin.
Boys Basketball
Forward Austin Wishard scored a season high 21 points and grabbed eight rebounds as the Eagles defeated West Valley (Calif.) 55-38 Friday in the opening round in the Paloma Valley Winter Shootout at Menifee, Calif.
Guard Tyler Newby scored 15 points for Boulder City, which used an 18-5 run in the second quarter to take a 26-12 halftime lead.
The Eagles offense struggled in the second round as Peyton Koopman led Boulder City with eight points in a 79-36 loss to Elsinore (Calif.). Elsinore made 10 3-pointers and led 21-4 after the first quarter.