Hardy honored for community service work in medical field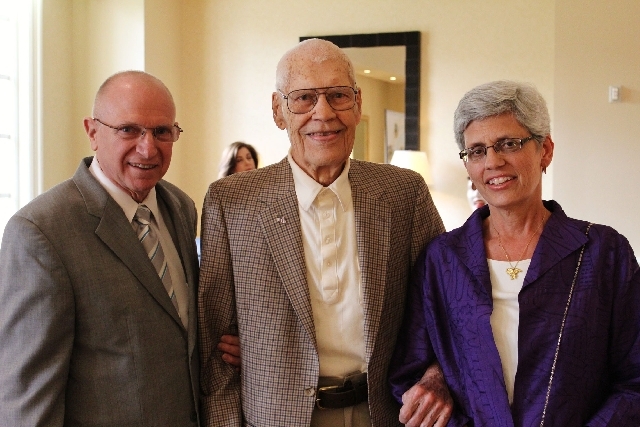 Although it is nearly impossible to elicit a serious response from Dr. Joe Hardy about receiving the Harold Lee Feikes, MD Memorial Award from the Clark County Medical Society, but keep him talking long enough and what emerges is a serious physician dedicated to caring for the community.
Hardy received his award June 29 at the society's 59th annual Presidential Installation Dinner and Awards Ceremony. The Feikes Memorial Award is given to a person who has performed "outstanding community service work beyond the call of duty."
According to Yanne Givens, society spokeswoman, "The award was named for Dr. Harold Feikes, the first recipient of the CCMS Distinguished Physician award in 1989, who tragically died of cancer in 1990. Prior to his tragic death, Dr. Feikes was the first cardiothoracic heart surgeon in Las Vegas, and was a revered member of the medical community."
Before the ceremony, Hardy said a colleague told him if you were "standing in the right place and get old enough, you'll get an award."
On the serious side, Hardy, who is also a state senator representing Boulder City, said, "I accept this award individually with the honor it represents for my profession and I accept it collectively for all of you and others who care for the ill and strive to make all people better."
His acceptance included thanking former and current medical partners.
Hardy was serious when he said winning the award "doesn't mean you are the smartest doctor," but it shows you care about the community.
Recalling the recent award event and whether he had prepared remarks, Hardy said he had no speech and didn't introduce his wife, Jill, because she doesn't like to be introduced. He did, however, introduce his father-in-law, 92-year-old Charles Sweningsen, a World War II veteran who served in both the European and Pacific theaters.
The audience clapped "long and hard" for Sweningsen, Hardy said, and he was proud to be riding on his coattails.
Hardy is a native Nevadan who attended Sparks High Schools and graduated from Washington University in St. Louis Medical School in 1976.
He served as president of the Nevada Academy of Family Physicians and has twice been selected by colleagues as Nevada Family Physician of the Year.
Hardy is affiliated with eight hospitals and has 33 years of experience in family practice. He practices medicine at Fremont Medical Centers.
Among numerous positions Hardy has held, he served as chief of staff at Boulder City Hospital, on the board of directors for St. Rose Dominican Hospital, vice president of the Southern Nevada Regional Planning Coalition, on the executive committee of the Boulder City Community Education Advisory Board, the Nevada League of Cities Legislative Committee, is on the board of directors for LDS Family Services (Adoption Agency) and is a member of the Regents Ad Hoc Committee for Higher Education/Health.
Hardy also reached out into the world community when he spent time with the One World Ambassador Alliance, Humanitarian Project in El Salvador.
In addition to his medical career, Hardy was elected to the Boulder City Council in 1999 and in 2002 to the Nevada Assembly, where he served four terms.
While in the Assembly, Hardy served on the Health Committee and the Commerce Committee.
He was elected to the Nevada Senate in 2010 and serves on the Commerce Committee and the Health and Human Services Committee.
Hardy was described by the society as always having a heart for service.
"I have learned that when you serve people, you're serving, in essence, your creator, and that creator has created you and me, and loves each of his children," Hardy said. "It only behooves us, who are physicians, to show that same love to our patients and to each other."
The Clark County Medical Society was established in 1955 and is made up of more than 1,100 physicians. It "advocates for physicians and their patients in Southern Nevada, encouraging the delivery of quality health care within the community," a recent press release said.
In speaking to the society publicity staff, Hardy said, "I have been raised by good parents and held to a standard of caring for people. … I would hope to be accused of being one who cares for people, as many of my colleagues do. Fortunately, I think that is not unique in our profession."