Greene sells herbs to Vegas' top chefs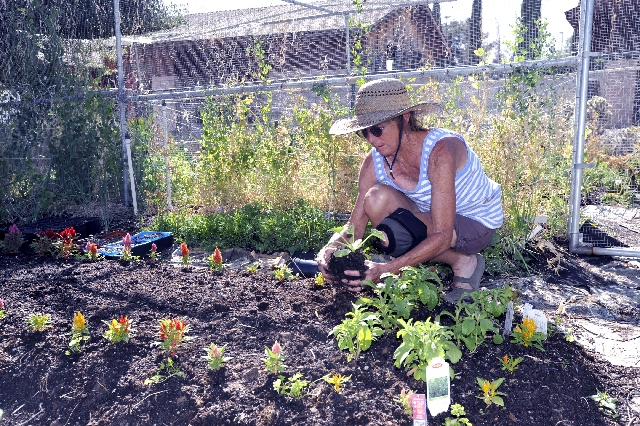 If you grow it, they will come.
Just ask local gardener Diane Greene, whose herbs and vegetables have become a hot commodity for some of the top restaurants in Las Vegas.
Her Boulder City-based business, Herbs by Diane, delivers twice a week to about 10 Las Vegas restaurants, such as Alizé in the Palms , and Carnevino Italian Steakhouse at the Palazzo .
"With the chefs, I'm more or less the garnish queen," Greene said.
Greene's greens are grown at her two houses in Boulder City, on Avenue B and San Felipe Drive.
During a recent tour of the San Felipe property, Greene showed an impressive array of vegetables and herbs scattered about the property in various gardens and a greenhouse.
Greene estimates she harvests 40 herbs alone, in addition to various vegetables and microgreens, which are tiny plants plucked in their infancy and used as a garnish.
"I try to have really interesting greens for the chefs," she said.
Although she has been gardening for 35 years, Greene said she decided to commercialize her hobby after losing her job as an archivist at the Boulder City Museum about five years ago .
It wasn't easy at the beginning, but Greene said she eventually got in contact with Doug Taylor, the executive pastry chef for celebrity chef Mario Batali's three Las Vegas restaurants: Carnevino, B&B Ristorante and OTTO Enoteca Pizzeria, both at The Venetian.
Taylor said he received a phone call from Greene, who asked him if he would be interested in seeing what she had to offer, and he decided to take a trip to Boulder City.
"I just couldn't believe what she had been doing in her front yard and backyard and side yard," Taylor said.
The rest is history.
Taylor said he began buying limited herbs from Greene, but the business relationship grew with time and he now buys peppermint, organic rose petals, microgreens, microfruit and whatever else is in season.
There are a few local producers, as Greene is technically called, but chefs seek out Greene because she is the best, Taylor said.
"There are other people doing what she does but she has a niche in what she does because the quality of her product is bar none," he said. "It is top line."
Greene said her trick to growing year round in Southern Nevada is "compost, compost, compost."
But according to Devon Tilman, one of Greene's four part-time employees, a little love also factors into Greene's gardening.
"She just lives this," Tilman said. "This is her passion from the inside out and you can tell. You can feel the love in her gardens."
One of the "cool" things about Greene, Tilman said, is that she wants to expose everyone to her passion.
Greene's enthusiasm was evident during the Boulder City Review tour, during which Greene plucked various greens from the ground and told the reporter to eat them.
After feeding this hungry journalist a bit of arugula, she asked, "Doesn't it have a lot of flavor for one tiny leaf?"
It did. And more than just journalists and chefs can find out firsthand about Greene's greens, because she sets up shop at the Senior Center of Boulder City farmers market every Friday from 8 a.m. to noon, and the Fresh52 Farmers & Artisan Market at Tivoli Village in Las Vegas every Saturday from 8 a.m. to 1 p.m.
Greene also sells soaps, made with herbs from her gardens.
For more information about Herbs by Diane, visit www.herbsbydiane.com.