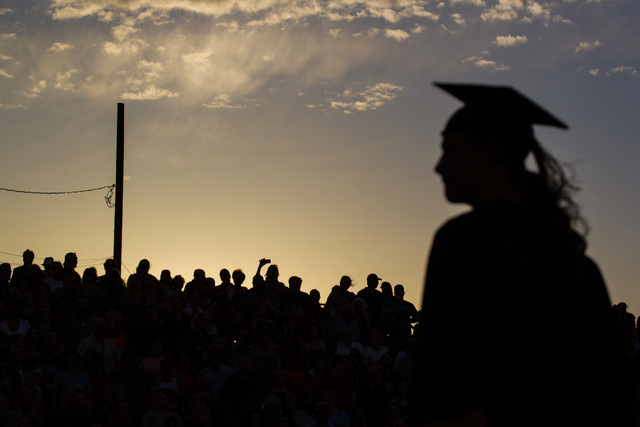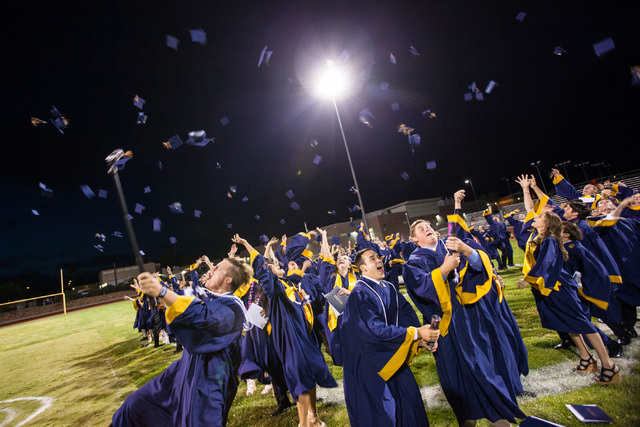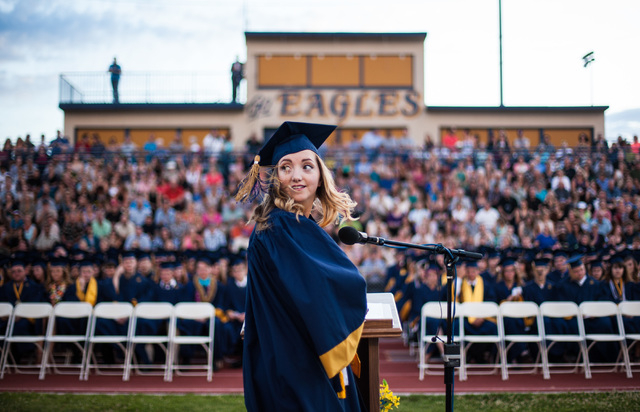 As the sun began to set and the winds turned into gusts, the soon-to-be graduates of Boulder City High School walked in pairs down the football field with their arms casually locked.
It was 7:30 p.m. June 4. The seniors took their seats, a few holding their blue caps to make sure the wind didn't blow them away. Proud parents packed the concrete seats, cameras at the go, ready to capture the moment.
After the seven valedictorians and the lone salutatorian gave speeches, Principal Amy Wagner stepped to the lectern. She reminded the audience just how special the graduating class of 2015 was, as if they didn't already feel the same.
This year's senior class, which consisted of 145 students, she said, represented 36 colleges and universities across the country. The class of 2015 earned more than $600,000 in scholarship money.
Wagner spoke of the love and passion she had for the seniors, the same students who were freshmen when she came to Boulder City as the assistant principal. As the seniors watched and listened, Wagner touched on the legacy they made.
"As I walk through the halls and I go through the gym, theater, library and cafeteria, I can see and hear you in all those places," she said. "Your presence is felt in these buildings where your class first learned and grew from the moment you stepped on this campus four years ago. Whether you graduated today or 70 years ago, you are part of the Boulder City legacy."
After a brief speech by Deanna Wright, aschool board trustee, the seniors walked across the stage one-by-one. Friends and family showed their support as each name was called.
As the 9 p.m. hour approached, the seniors made their way to the middle of the football field. They collectively bellowed out the school's fight song and, after a brief countdown, enthusiastically threw their caps into the air.
The ride was finally over, putting yet another Boulder City graduating class in the books.
"It took a lot of work to get here. A lot of hard work and dedication," senior Johnny Gutierrez said. "It's something I've accomplished in my life, and that feels good to say."
"That's what was going through my head was, 'Finally it's over," said senior Trenton Carmel.
Senior Mackenzie Murphy moved to Boulder City in the eighth grade. He said he's lived all over, including Chicago and Oklahoma, yet Boulder City really took him in as a young teenager.
"The town has really adopted me. It's like a family," he said. "It's just a special feeling that you can only have in a small town and a small school like this."
Murphy plans to attend Nevada State College to get his associate degree before transferring to the University of Nevada, Reno to study political science.
"It doesn't feel like it's over yet," he said. "I want to wake up tomorrow and come back here, but I know that's not going to happen."
Wagner said she felt extremely passionate about the graduating class of 2015. She constantly stressed over their grades and proficiency scores because she wanted each and every one of them to walk across that stage. For her, it was motherly intuition.
"When you become a principal, it kind of reminded me about becoming a mom for the first time. They give you a baby, and no one explains to you what that love feels like," she said. "To see my seniors walk across that stage and to just have that moment with them … it means a lot to me and to them to see them make this accomplishment. They will never forget this night."
During her brief speech, the first-year principal continuously praised the seniors for all of their hard work. In closing, she quoted baseball manager Jimmy Dugan, played by Tom Hanks in the 1992 movie "A League of Their Own."
"It's supposed to be hard," Wagner told the audience. "If it wasn't hard, everyone would do it. The hard … is what makes it great."
Contact reporter Steven Slivka at sslivka@bouldercityreview.com or at 702-586-9401. Follow @StevenSlivka on Twitter.