Grad Walk: Emotional tradition marches on
Updated May 18, 2023 - 8:05 pm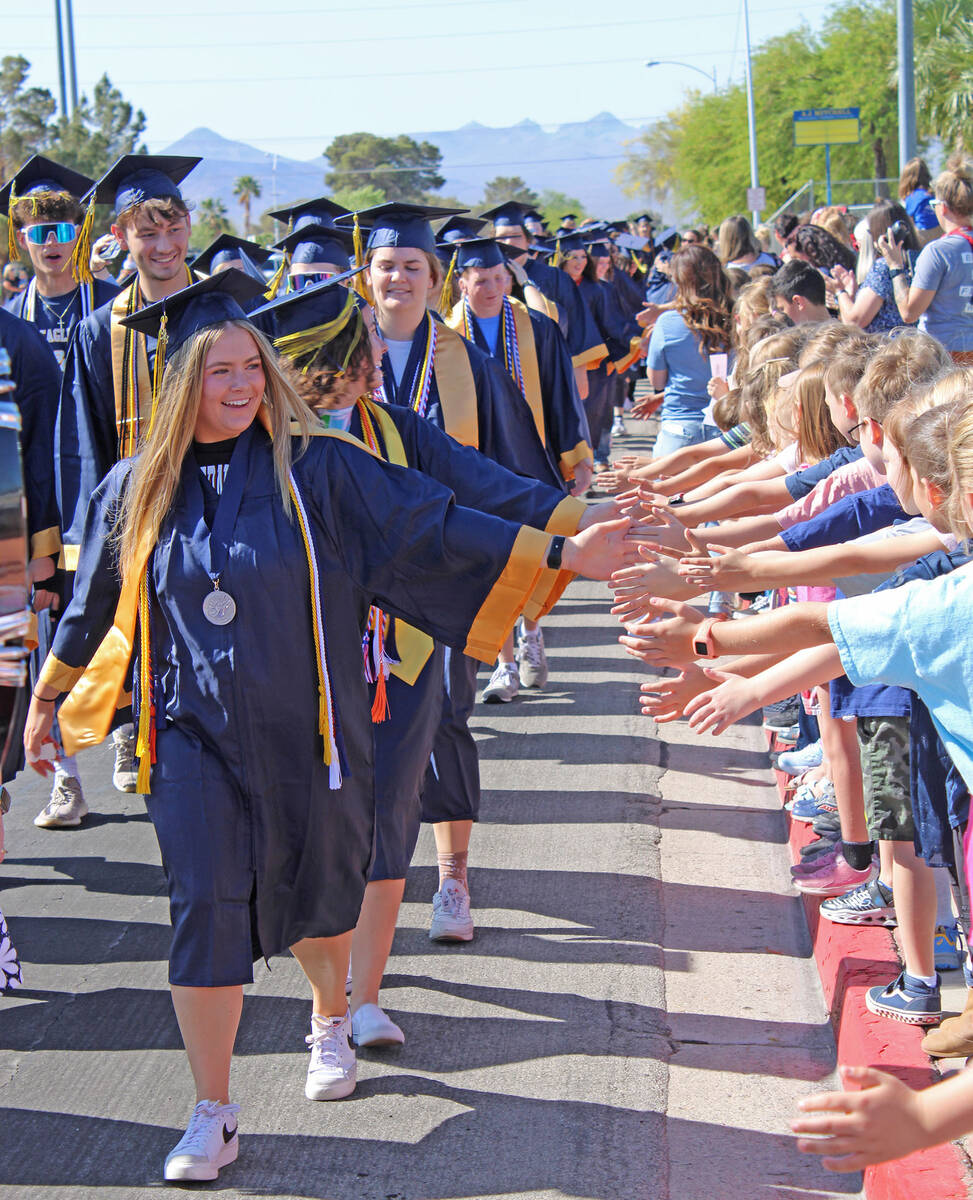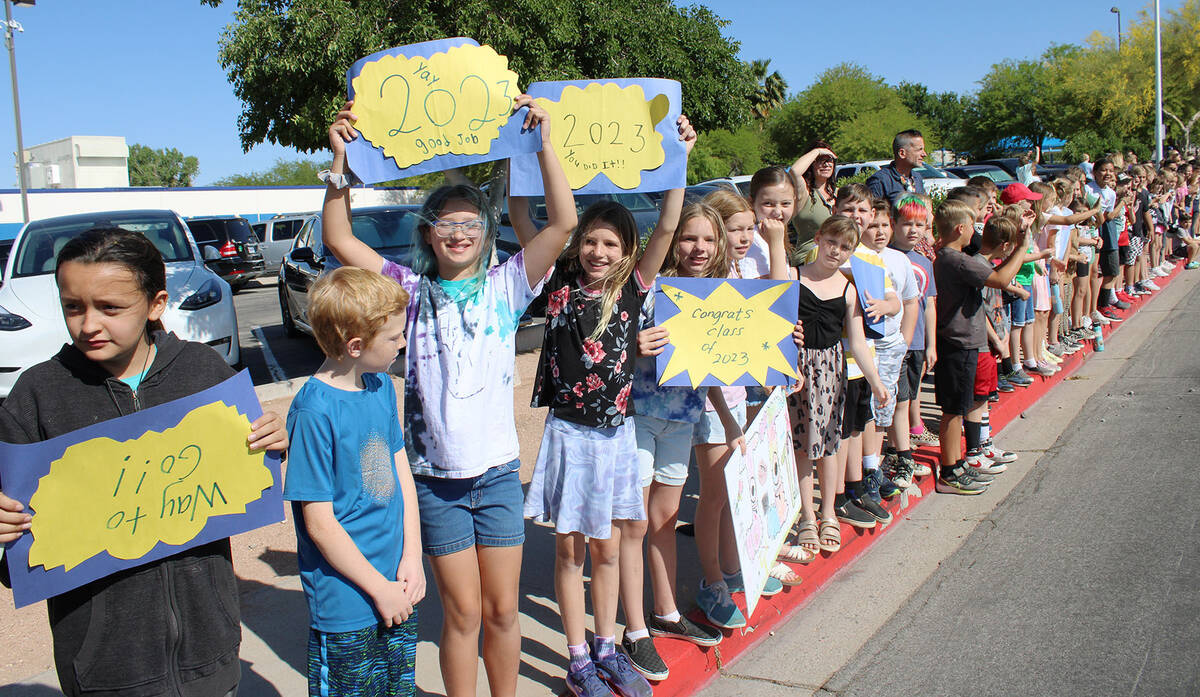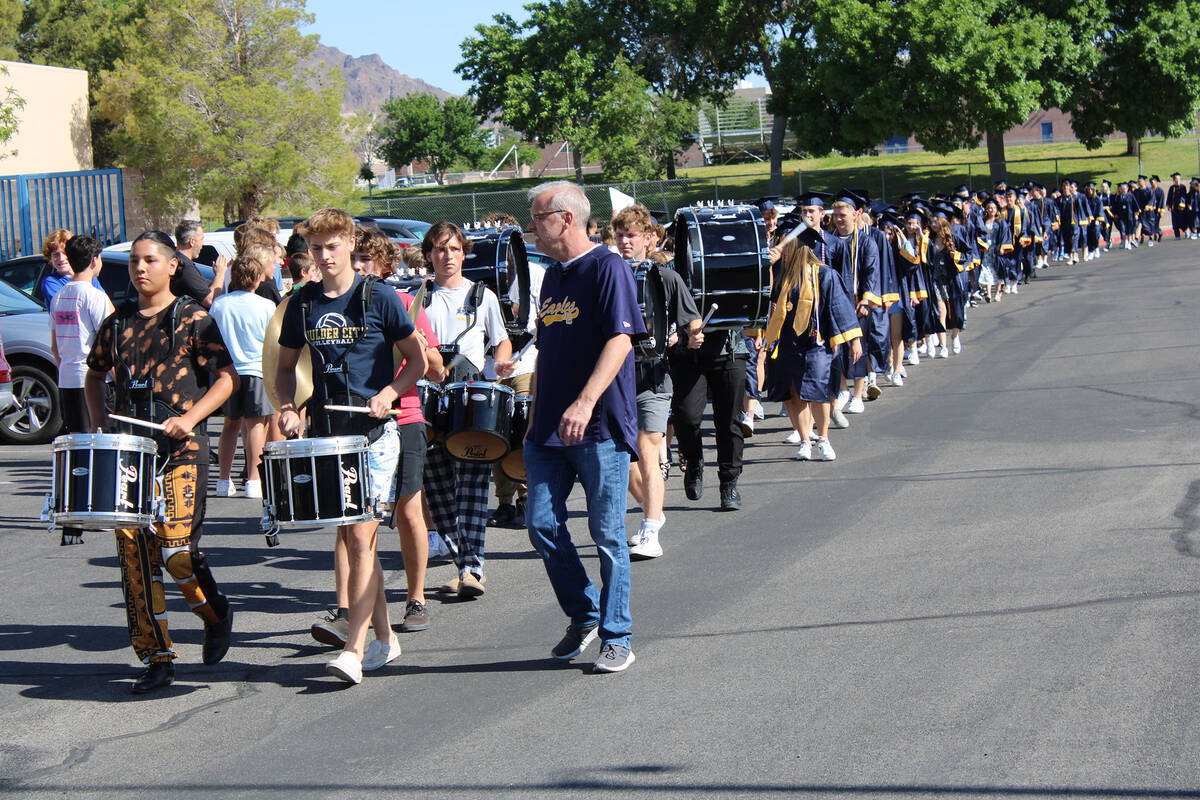 Garrett Junior High Principal Melanie Teemant may have summed it up best when she asked, "Where else do you see this?"
The question may have been somewhat rhetorical but it's appropriate.
Last Friday, more than 120 seniors from Boulder City High School took part in the annual Grad Walk. Dressed in full caps and gowns, and led by members of the school's marching band, the soon-to-be grads made their way down to Garrett Junior High where they were greeted by students and faculty, cheering them on.
They then made their way down Adams Boulevard toward Martha P. King Elementary and Andrew J. Mitchell Elementary. Along the way they were serenaded by car horns honking and well wishes from passersby.
Once at the elementary schools, the younger students stood on the sidewalk with signs of encouragement and their arms stretched out to receive a high-five from the seniors.
As the grads made their way toward the park, dozens of parents were there to cheer them on.
Once they were back on campus, the cheering didn't end. They made their way through the hallways as their fellow students and faculty were there to wish them well. They then went to the flag pole where they posed for a group picture for the last time before graduation, which is set for May 23.
BCHS Principal Amy Wagner implemented Grad Walk her first year at the school's helm in 2015. That first year, seniors received their caps and gowns and only walked the halls of the high school.
"The idea behind the Grad Walk is for others (their peers) to see that they, too, can achieve, overcome obstacles and graduate," Wagner said. "After the success of the event in 2015, the next year graduates walked through the new building being constructed and we also walked down to the elementary schools."
Grad Walk has evolved into a community event where everyone could come out and celebrate the graduates.
"For the seniors it means a lot more," Wagner said. "The event allows all of our feeder schools to cheer them on. Their faces light up when they start to hear the cheers of the little kids, their peers and even those community members who drive by. Grad Walk makes the end of their high school journey very real. This event is one that everyone looks forward to each year."
Wagner's words were echoed by some of the seniors while they ate a post-walk breakfast in the school's cafeteria. They included:
Autumn Holbrook: "I think it was really fun to be able to do what we've seen so many other seniors do for years as we went around to the other schools and saw students from kindergarten to juniors cheering us on."
Jack Werly: "It was very cool because I got to see it as a kid growing up. It's a good feeling to walk with all your friends."
James Grace-Madrigal: "I think this is an inspiration to get them (younger students) to graduate."
Josie McClaren: "It was really cool because I got to see all my siblings cheering for me. It means a lot because I remember standing out there cheering on the seniors who were graduating."